Global Perspective
Campus Welcomes International Summer Visitors
August 17, 2010
By Pamela McLaren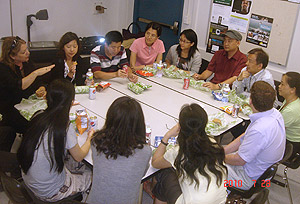 Faculty members from China Guangdong University of Technology and Dalian University of Technology have a roundtable discussion over lunch with their Fullerton peers.
As a university with a global perspective, Cal State Fullerton has an active summer program in which visitors from throughout Asia and Europe attend special programs.
This summer more than 700 university students, faculty and administrators on campus taking part in programs that improve their English language, leadership and administrative skills offered by University Extended Education through their International Program-Asia and American Language Program.
"UEE started developing international programs in 1994, and each year since then the number and diversity of international programs has grown," noted Harry Norman, dean of University Extended Education. "During the first 10 years growth was slow and steady. But in recent years it has been dramatic. The great success of International Programs Asia and the American Language Program has been due to hard work and strong leadership within these programs and the strong support of the entire UEE team."
The International Program-Asia, under the direction of its director, Lisa Xue, and assistant director, Arthur Wang, are currently working with six groups on campus, with another three set to arrive later this month.
"In terms of volume, we've never had this many groups on campus before," said Xue. "We have been active in letting Asian universities know what we can offer them and word of mouth about the quality service we provide has help increase the number of universities interested in sending their students, faculty and administrators here to learn.
"Having these groups here not only expands their knowledge, but that of our students, faculty and administrators as well," Xue added. "It creates a healthy interaction between our own people and those who travel here. It is a very positive experience for all."
Two of the groups – approximately 47 individuals from Hohai University and Chanshu Institute of Technology – are administrators attending seminars where they learn from their Cal State Fullerton counterparts about American university practices. The three groups coming later this month will be attending similar programs.
Two more groups made up from 45 faculty members from Guangdong and Dalian universities of technology. These groups are observing courses on campus to see how they are taught as well as taking part in seminars and discussions to learn more about how courses are led and directed in this country
Nearly 100 university students from China, Macau and Korea are on campus to attend an International Student Leadership Program. The four-week programs provide opportunities to expand their skills in leadership, improve their English skills, and experience the Southern California culture. As part of those opportunities, students in this program have met with several of the university's President's Scholars to discuss and compare their university experiences, and through the efforts of Philippe Perebinossoff, associate professor of radio/TV/film, attended the annual internship graduation at the Academy of Television Arts & Sciences.
Students in the program represent Beijing University of International Business and Economics, Fudan University, Jiangnan University, Nanjing Normal University, Nanjing University of Technology, Shanzi University, South China University of Technology, Southeast University, the University of Macau and Kyung Hee University.
University Extended Education runs a year around American Language Program with 16-week intensive English courses developed to prepare international students for study in an American college or university. In the summer, the American Language Program course is shorter — eight weeks.
"This summer, 173 students from 16 countries throughout the world took part," said Rhona Genzel, program director. "They studied in an academically oriented program in anticipation of attending the university in the future. Some students, like those from Saudi Arabia and Kuwait, were sponsored by their embassies, and their governments paid full tuition and living costs. Others came supported by personal or family funds. They contributed to the diversity on campus and in the community, and they took home wonderful stories and memories about their life in America."
In addition, a further 201 high school students from Brazil took part in a special three-week American Language program that involved classes in the morning and tours of the area in the afternoon and on weekends.
"The 374 students from both programs lived and dined in Fullerton and surrounding areas. They went to the movies, and the malls, bought clothes and electronics and visited Disneyland, Universal Studios, Sea World and more — all contributing to the economy of the area," said Genzel. "But far and away the most important aspect of having these students on campus and in the community is the good will and friendships forged between international students and Americans, and among the international students themselves. Students from China met students from Kuwait and students from Japan met students from Taiwan and so on. The ALP is a veritable United Nations. It is a microcosm of the world — but here we all get along!"
---
Related articles:
Faculty Study Faculty to Improve Presentations, English
Russian College Leaders Learn About U.S. Higher Education
Administrators Attend Six-Month Training Program
Asian Connections