Asia Associations
Extended Education makes International Connections
July 2, 2007
By Mimi Ko Cruz
As global competition increases and Cal State Fullerton continues to forge partnerships with universities worldwide, the university Extended Education's International Programs, Asia (IPA) is revving up its offerings.
"The mission of the Asia program is to build a bridge of communication and cooperation that facilitates interaction between Asia and the United States in academics, culture, economics and international trade," said Lisa Xue, IPA director.
The IPA recently formed an advisory board that met last month to discuss how to improve and increase its programs.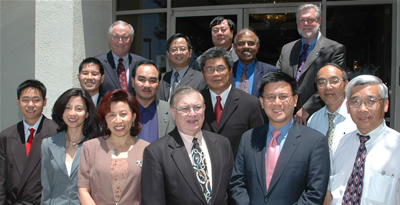 Pictured from left, back row: David Karber, James Guo, Wansheng Liu, Raman Unnikrishnan and Harry Norman. Middle row: Tam Nguyen, Tien Nguyen, Peter J. Sinambal and Ben Lai. Front row: Peter Lin, Tracy Chen, Lisa Xue, Ephraim Smith, John Chiang and Howard Wang.
The board members from the community are: Tracy Chen, Morgan Stanley senior vice president; James Guo, president of Chinese Daily News; Xiaojian Huang, deputy consul general of the Chinese Consulate in Los Angeles; Zhenying Jiang, president of the Chinese Scholars' Association of Southern California; Young Kim, director of Asian community affairs for Rep. Edward Royce; Ben Lai, president of Best In Town Marketing, Inc.; David Lau, mayor of Monterey Park; Wansheng Liu, consul of education for the Chinese Consulate; Tien Nguyen, technical director of space and airborne systems for Raytheon; James Qu, president of the Southern California Science and Technology Association; Peter J. Sinambal, president of the Asian Business Association of Orange County; and Joseph Tseng, chief executive officer of Tseng & Lee LLP, CPAs.
Board members from campus are: Judith A. Anderson, executive vice president; Peter Chan, professor of management; Owen Holmes, associate vice president for public affairs and government relations; Craig Ihara, chair of the Asian and Pacific Islanders Faculty and Staff Association and professor of philosophy; Mikyong Kim-Goh, chair of the Human Services Department; Thomas P. Klammer, dean of the College of Humanities and Social Sciences; David Karber, senior IPA academic advisor; Tam Nguyen, vice president of the Alumni Association; Harry L. Norman, dean of Extended Education; Raman Unnikrishnan, dean of the College of Engineering and Computer Science; Arthur Wang, IPA program manager; Howard Wang, associate vice president for student affairs; Xue; and Heidi Chen Zhang, IPA assistant director.
At the board's inaugural meeting June 21, President Milton A. Gordon and special guest California State Controller John Chiang, a longtime supporter of IPA programs, joined the board.
"What we're building here is going to be essential for the entire world, especially if the world wants peace," Gordon said.
"This board has been established to give us advice," Norman said. "We're interested in diversifying and expanding in order to provide access to Cal State Fullerton programs to more students throughout Asia."
Today, CSUF has partnerships with 63 universities and colleges across the globe. They involve faculty and student exchanges and research collaborations. Extended Education's partnerships with universities, government, community groups and businesses in Asia involve teaching courses that cater to particular interests.
Some of the programs offered to international students through IPA include long- and short-term courses in American business and public administration, as well as education concepts, strategies and training programs, customized for taxation professionals, public school and college administrators, public health employees, environmental protection specialists, human resources managers, technology specialists and members of the mass media.
The degree programs offered to Chinese students include:
Master's degree in communications program at Hong Kong University
Master's degree in political science program
Master's degree in education program at Fudan University in Shanghai
Other programs include:
Summer teaching programs in China
Scholar exchanges with Fudan University
Summer camps to teach English to children in Vietnam
A three-month public administration curriculum design-training program for Chinese universities selected by the Chinese Ministry of Education
A six-month financial management-training program
A seven-week training program for Shanghai Chongming County Education Bureau's English teachers
A three-month advanced public administration-training program for China's State Administration of Taxation
A three-month advanced public health training program for the Sichuan Department of Public Health
Cal State Fullerton is certified by China's State Administration of Foreign Experts Affairs as an official training channel. Xue said the designation has resulted in a number of educational partnerships with China.
She said the Asia program's growth over the years can be attributed to such factors as guidance and support from Norman and the university's eight other deans, local businesses, community members and government officials, in addition to "trust and cooperation from our partners in Asia."
For more information, visit www.csufextension.org.