Faculty Study Faculty to Improve Presentations, English
Chinese Professors Attend Special Program on Campus
January 6, 2009
By Pamela McLaren
Cal State Fullerton began 2009 by sharing American teaching and presentation methods with Chinese faculty from Tianjin University of Finance and Economics. Twenty-two professors from Tianjin University of Finance and Economics are currently on campus observing how American professors teach and present material, as well as working to improve their proficiency speaking and presenting in English. A second group will follow in February.
Business faculty are heavily represented among the visitors, but they also come from disciplines in law and social sciences, said Weili Lu, associate professor of finance, who has been working on the program in partnership with Mihaylo College of Business and Economics' Center for International Business.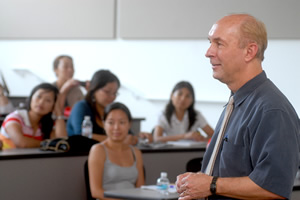 Mark Stohs, associate dean of the Mihaylo College of Business and Economics, talks to a group of visiting professors from China. Photo by Kelly Lacefield
The Tianjin faculty are spending six months at Cal State Fullerton taking part in seminars on such topics as "How to Successfully Publish Articles in America," "The Role of Discipline in Educating Students" and "Teaching Effectively." The group also takes monthly trips to other public, private and community colleges to gain a wider perspective of the higher education system.
"In Chinese universities bilingual courses required by the nation's education commission use English material but are taught in Chinese," explained Lu. "Tianjin is trying to combine the bilingual into English-only. Their president, Dr. Zhang Jiaxing, who is a passionate and innovative leader, planned a multiyear academic leadership training program with Cal State Fullerton after his visit to our campus with Dr. Gordon.
"The goal is to train 100 Tianjin faculty to teach in English in their classrooms," she continued. "The faculty are highly selected young talent who would be leading scholars in their fields at home."
The Tianjin program is part of the university's continuing effort to globalize the curriculum and expose the campus community to international visitors, in keeping with President Milton A. Gordon's emphasis on education in a global context.
Cal State Fullerton currently has numerous international agreements with institutions throughout the world in which students and faculty take part in special programs, exchanges and research opportunities.