College Begins New Chapter
Building Dedication Marks First Milestone
October 7, 2008
By Pamela McLaren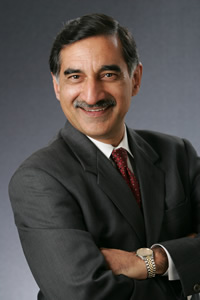 Anil Puri
"This building is the foundation to move us forward," said Anil K. Puri, dean of the Mihaylo College of Business and Economics at Cal State Fullerton, reflecting on the future for his college.
Over the last six years, Cal State Fullerton has seen the construction of a new home for the college and a successful $50 million fundraising campaign, thanks to the support of many business leaders and alumni — including Steven G. Mihaylo.
These two milestones will be celebrated during an Oct. 17 daylong celebration featuring tours, a time capsule, ribbon cutting, receptions and a 2 p.m. address by California Insurance Commissioner Steve Poizner.
What comes next?
Puri smiles and admits that for those six years, he and others have been deep in planning what new programs to integrate into the college, which ones to enhance and expand — all toward the goal of providing students the best business education and establishing Mihaylo College of Business and Economics as one of the nation's top tier business schools.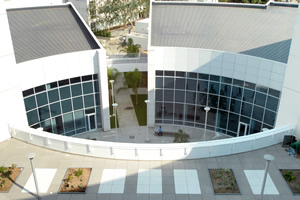 Steven G. Mihaylo Hall. Photo by Kelly Lacefield.
MBA and Honors Programs
"We've identified two curricular initiatives we want to work on right away: enhancing our M.B.A. program and our undergraduate honors program.
"Currently, we have a part-time M.B.A. program geared toward working professionals who need classes held in the evening and weekends. We also offer an M.B.A. and a master's in taxation on accelerated schedules entirely at the Cal State Fullerton Irvine Campus."
The Fully Employed M.B.A. Program begins in the fall and students attend one course at a time but two courses completed over the length of each semester through fall, spring and summer. The goal is to complete the program in 24-30 months. Students are admitted throughout the year to the MS in taxation program but courses are offered around the tax season to accommodate students' working commitments.
"But, there is a need to expand our program to offer a full-time M.B.A. program with courses in the daytime to continue to meet the region's demand for an educated, work-ready workforce," said the dean. "We'll be hiring a director to oversee this effort shortly."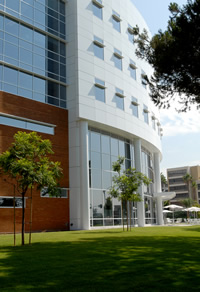 Steven G. Mihaylo Hall
The business honors program provides additional academic opportunities to top achieving students in the program. Participants in the program enroll in honors classes that are smaller than regular courses but in many ways more challenging, said Puri. Students are expected to actively participate in class discussions, participate in off-campus learning opportunities, internships and the mentor program of the college, he notes. Directing the program is Mark Stohs, associate dean of academic programs.
"We're currently in the process of recrafting this program to make it an even stronger and more rewarding program for students," said Puri.
International Efforts
"In addition, we're expanding the scope of our international education arena," Puri continued. "Among our goals is to offer more opportunities for our students to travel abroad and our faculty to teach and conduct research internationally.
"We have seen, over the years, how the international experience has enhanced our students' education and the experience is unique and invaluable to their future endeavors. Similarly, the opportunities for our faculty to work with their peers in other countries provides experiences, new skill sets and knowledge that they bring back to share with their department peers and in the classroom. It can't be emphasized enough the importance of these efforts for our region and our workforce.
"We also want to encourage more foreign students and faculty members to come here. Sharing knowledge and experience across countries enhances our future and the global marketplace. We've offered accelerated MBA programs to specialized sessions on leadership, teaching and the American business education system and seen the value of our efforts. We want to do even more of this and eventually, establish a substantial and ongoing presence in other countries."
Contributions and support have helped the college establish such new centers as the Sales Leadership Center and the soon-to-be established Center for Leadership Development, as well as enhance current programs and centers, like the Center for International Business.
Faculty Recruitment and Support
One of the biggest challenges, said Puri, is to continue to make sure the best scholars are in the classroom.
"We need to be able to recruit the best and the brightest faculty and support our new and our veteran faculty members in the classroom and in their research. We are establishing research grant, salary supplement and release time awards to ensure faculty have the support needed to excel in their areas of expertise. We're also offering professional development opportunities and workshops focused on best practices in teaching and programmatic assessment.
Puri said the college also plans increase online delivery of instruction and continue to improve existing programs. A new concentration in accounting and finance is nearing approval and "we're boosting our program in tourism and entertainment," he said.
"In accounting, we are the first ones to begin teaching the new internaitonal accounting standards," Puri said. "Our college will take the lead in training our faculty in this area, because, in a short while, these will be the standards in this country as well.
"The campaign and our new home have afforded us opportunities to do things we couldn't do before, but most importantly, Mihaylo Hall has become the place where we can bring the business community into the college."