Fundraising Campaign Exceeds $50 Million
Support for Mihaylo College of Business and Economics Surpasses Goal
October 7, 2008
By Pamela McLaren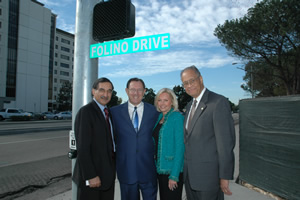 Cal State Fullerton celebrated the contributions of Paul Folino, Emulex executive chairman of the board, with a December 2007 ceremony naming the drive next to Mihaylo Hall after the business leader. Pictured, from left, Anil Puri, dean of Mihaylo College of Business and Economics; Folino and his wife, Daranne; and CSUF President Milton A. Gordon. Photo by Patrick O'Donnell
The fundraising campaign for Cal State Fullerton's Mihaylo College of Business and Economics has exceeded $50 million.
"The initial $1 million gift from Paul Folino Emulex executive chairman of the board launched the campaign six years ago, and his contribution has been followed by strong support from other business leaders and many of our alumni, such as Steve Mihaylo and Jim Woods," said Anil Puri, dean of the college.
Puri said he is "thrilled" about the success of the campaign, noting "the timing couldn't be better as we prepare for the Oct. 17 dedication of Mihaylo Hall."
Cal State Fullerton is celebrating the opening this fall of the $88 million business building with daylong tours, ribbon-cuttings and a 2 p.m. address by California Insurance Commissioner Steve Poizner.
Cal State Fullerton President Milton A. Gordon, right, and College of Business and Economics Dean Anil K. Puri, center, applaud alumnus Steven G. Mihaylo during the Jan. 3 announcement of Mihaylo's $30 million gift to the college. The gift is being used to support four specific areas: endowed chairs, faculty support, student scholarships and programmatic initiatives. Photo by Kelly Lacefield.
"The campaign and our new home have afforded us opportunities to do things we couldn't do before," said Puri, "including expanding student programs and opportunities for learning, offering more scholarships to students and support for our faculty, and offering more to the local business community."
The top donor to the fundraising effort is 1969 alumnus Mihaylo, founder and retired CEO of Inter-Tel Inc., whose name graces the college and its new building. He has committed nearly $35 million, including a record-breaking $30 million gift in January, the largest donation ever for the university and the fourth largest in the history of the California State University system.
Other major supporters who have given from $500,000 to $3 million include:
Kris and alumnus Steve Charton (B.A. '71), general partner, Islands Restaurants LP
Rick Muth, president of ORCO Block Co. of Stanton
Alumnus Scott T. O'Brien (B.A. '77), president of BAE Systems Products Group in Ontario
Estate of alumnus Michael A. Reagan (B.A. '67, M.B.A. '69)
Frank G. Robitaille, president of Armstrong/Robitaille/Riegle in Orange
Alumnus James D. Woods (B.A. '67), emeritus chairman and former CEO of Baker Hughes Inc. of Houston
Kresge Foundation of Troy, Mich.
Mercury Insurance of Brea
Zenith Insurance Co. of Woodland Hills
Recent contributions that pushed the fundraising campaign past $50 million:
$170,000 from 1970 communications graduate Terry Giles, president of Houston-based Giles Enterprises, as seed money for the establishment of a Center for Leadership Development
$150,000 from James E. Gutmann (M.B.A. '80), partner, Wood, Gutmann & Bogart Insurance Brokers in Tustin. Gutmann and Robitaille's latest gifts help support the endowment for the Center for Insurance Studies.
"I'm excited that we've exceeded our campaign target," said Mihaylo. "We want to make this the best business school in Southern California and the nation."
The campaign's original goal of $15 million was reached in 2006, then boosted to $20 million, which was exceeded with Mihaylo's gift in January. In addition to helping fund construction of Mihaylo Hall, contributions are being used to create endowments for student scholarships, academic programs and centers.
"We are grateful for all the support — not only financially, but in time and expertise — we have received from our loyal and generous alumni and top-level leaders in Orange County," said Puri.
"We've always believed that this wonderful new building would be the foundation to move our college forward, and it has done that and more."
More information about the Oct. 17 dedication is available at the dedication website.
Steven G. Mihaylo Hall
The five-story, 195,000-square-foot building features high-tech classrooms and computer labs, a 250-seat tiered lecture hall and a state-of-the-art interactive, multimedia facility.
Also housed in Mihaylo Hall are student support facilities, administrative and office space, plus the college's centers and institutes.
The building was designed to incorporate elements for energy efficiency, including energy-efficient lighting systems, a reflectant roof system, sun-shading devices, windows with high-performance glazing and an automated building control system. Landscaping for the structure includes native, draught-tolerant plants.
The architect for the project was Hellmuth, Obata + Kassabaum Inc.; the contractor was Turner Construction Co. Construction began in spring, 2006 and was completed in July.
Mihaylo College of Business and Economics
Cal State Fullerton's Mihaylo College of Business and Economics is a nationally recognized and accredited comprehensive business school, offering graduate and undergraduate degree programs developed by faculty members who integrate classroom education with the best business practices, technology, award-winning research, functional applications and real-world experience. The largest accredited business college in California, Mihaylo College is among 25 percent of business schools nationwide to be accredited by the Association to Advance Collegiate Schools of Business, and its accounting program is among the few with a separate AACSB accreditation. The college is included in the Princeton Review's 2008 "Best 290 Business Schools," a ranking based on each school's students, physical environment, admissions requirements, teaching ratios and programs.