New Opportunities
Sales Leadership Center to Offer Professional Sales Certificate Program in January
October 7, 2008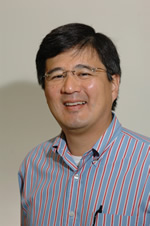 Christopher Kondo,director of the Mihaylo College of Business and Economics' new Sales Leadership Center.
"We believe our students have the potential to be great sales professionals," said Christopher Kondo, director of the Mihaylo College of Business and Economics' new Sales Leadership Center. The former corporate marketing veteran is clearly excited about the opportunities for students and industry in this newest of the centers offered through Cal State Fullerton's college of business.
"In a challenging economy, organizations will cut back in every area except sales," added Kondo. "That's why the university's Career Center has well over a 100 companies recruiting for sales talent at Cal State Fullerton." About 50 percent of all undergraduate business administration majors will go into a field in which sales is a major component — just like many of the university's alumni who are now leaders of national and international corporations.
"Selling is a vital skill for everyone," said Kondo. "Our mission is to ignite sales careers!"
The new center is dedicated to promoting leadership and professionalism in the field of sales. Kondo is developing in class speakers, a sales-specific curriculum, a certificate program and hands-on training. The Marketing Department, in which the center is housed, already offers two sales courses: "Professional Selling" and "Managing the Sales Force."
An Evening With Steven Mihaylo
Prominent Alumnus to Share His Career Experiences Oct. 16
There is no better pitchman for the importance of sales training than Steven G. Mihaylo, whose name graces the college of business and its new home. Even before he graduated in 1969 and started his own business, Mihaylo was learning the importance of sales.
Mihaylo will share his experience in sales and business success during a 5 p.m. Thursday, Oct. 16, program held the evening before the Oct. 17 dedication of Steven G. Mihaylo Hall.
For more information, go to http://www.fullertonama.com.
Kondo and the center hit the ground running in August and already have established a series of orientations for the sales training program that will lead to a Certificate in Professional Sales. The next orientation will be held from 5:30-6:30 p.m. Nov. 6 in Room 2109 of Mihaylo Hall.
"We are one of only a handful of universities in the nation that offer a sales certificate program," says Kondo. "The program consists of five 2 ½ hour sessions that will be offered in January.
"We're offering the program to not only Cal State Fullerton students — from business and other majors — but to working professionals who are entering the sales field or making a transition into the field," said Kondo.
Sessions cover communications skills, getting customers' attention, understanding customers' needs, handling possible objections and completing the sale.
The center, like other centers in the Mihaylo College of Business and Economics, will be involved in student and faculty research, as well as the development of scholarship, internships and competition opportunities. The opportunities, Kondo said, are available not only for students but for regional businesses seeking a well-trained future workforce.
"We are among the first such centers on the West Coast," said Kondo. "We'd like to become the leading sales center in the nation. And we can do it with student, faculty and corporate involvement."
The Sales Leadership Center is sponsoring a 5:30 p.m. Oct. 30 panel presentation featuring sales professionals who will provide insights into their careers, including preparation, getting started, the work and career management.
For more information, go to http://www.fullerton.edu/sales or contact Chris Kondo at 657-278-2527 or ckondo@fullerton.edu.