Expanding Beyond the Campus
Center for International Business Offers Global Education, Research Opportunities
October 7, 2008
By Pamela McLaren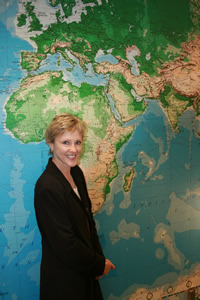 Katrin Harich
In a world where multinational corporations abound and products from around the world are available within days, a good business education must encompass a global perspective.
"Cal State Fullerton and the Mihaylo College of Business and Economics have always taken pride in having a global outlook," said Anil K. Puri, dean of the Mihaylo College of Business and Economics. "As a university, we have several international agreements with universities, where students and faculty members have the opportunity to expand their skills and knowledge.
"Within the Mihaylo College of Business and Economics, we also offer opportunities to enhance a solid business education to meet the challenges that a global economy brings," Puri added. "We offer a bachelor's degree in international business, we have centers focused on the research and study of international issues and we have the Center for International Business, which is geared to promoting internationalization of our business programs."
The center is in the midst of increasing awareness and learning experiences for students and faculty through its special programs.
"One of our missions is to create and support study-abroad programs for business students," said Katrin R. Harich, director of the center and professor of marketing. "But, we also offer opportunities that expand the knowledge and experience of our professors, as well as business and educational groups from around the world.
"Right now, we have faculty members from Tianjin University of Finance and Economics observing our classes to study how our faculty members teach and present, improving their English skills and taking part in seminars about the American educational system," explained Harich. "In the recent past, we have had delegations of government officials and business executives on campus for short training sessions, such as on human resources management, 21st-century leadership and banking regulations. We've also offered specialized executive management programs and an accelerated MBA program to various groups."
"The Center for International Business helps create and support faculty exchange programs with partner universities and we support our faculty members in the creation and dissemination of research and teaching materials on international topics," she added.
Harich, who served as associate dean of the business college, has been involved in the development and support of several international initiatives, including the Business Europe Study tour, a summer study program she established in 2005.
BEST features travel through European countries as part of a program that combines academics with first-hand insight into the European economy, business and management practices. Applications are now being accepted for the summer 2009 program and each student accepted in the program will receive a $500 scholarship from Dean Puri, said Harich.
Another summer program being offered to students is the Heidelberg Summer Program offered through the Heidelberg University of Applied Sciences. The program, open to both undergraduate and graduate students, offers two courses taught in English: "Business in Europe" focusing on marketing and management in the European market and "German and European Studies" that familiarizes students with the European Union.
Both programs take students right into the businesses that they are learning about, including business software solutions company SAP, Mercedes-Benz, Porsche and others. Both also offer students opportunities to learn about European culture and history.
In development is a new summer program in China. Participants will spend three weeks attending lectures at Tianjin University of Finance and Economics, Shanghai University of Finance and Economics and Beijing University; taking field trips to businesses and governmental agencies; and experiencing the country's cultural, social, infrastructure and international elements that impact building and facilitating business relationships and exchanges between the United States and China, said Harich.
"China is developing into a major business player on the world market and, like Europe, our students must be aware of its potential as partners and as business clients," Harich said. "It's another opportunity to expand the learning experience and enhance our students' skills to meet the needs of a global economy."
For more information, go to http://business.fullerton.edu/centers/cib/Default.htm
Related Stories
Exploring the World of Business
http://campusapps.fullerton.edu/news/inside/2007/worldofbusiness.html