Discovering a Global Perspective to Research
To Food and Festivals ó Missing Cuarto de Julio and Celebrating Noveno de Julio
By Doreen Carpio
Doreen Carpio is a fourth year undergraduate biological science major taking part in the Minority Health and Health Disparities International Research Training Program. This summer she is in Argentina, where she is conducting antibacterial resistance research under Angeles Zorreguieta at the Instituto Fundacion Leloir. This is one of a series of blogs she is writing of her experience.
Will two external guide sequences target the aac(6')-Ib mRNA and inhibit Amikacin resistance more so than a single external guide sequence?
This is the undyingly complicated research question that I am spending all summer trying to answer.
As of Friday, July 4, my experimental protocol has officially started rolling, and I am well on my way to discovering whether two EGSs are more efficient than one in inhibiting antibacterial resistance against Amikacin, a widely-used antibiotic.
After presenting all of the research I have been conducting in the last five weeks at an informal seminar with those in my lab, I gained further insight by hearing from educated individuals with different approaches I could take in performing my experimental protocol. If all goes well, all of the many hours I spend in lab during the summer will eventually answer the important research question I presented above.
Aside from work, holidays are one thing that I definitely did not expect to change as I was traveling. I woke up last Friday in an excited mood because it was the Fourth of July, and I was ready to celebrate this day as I had always done my entire life Ö perhaps with a slight change in the people and surroundings, but nevertheless, I would enjoy the holiday one way or another.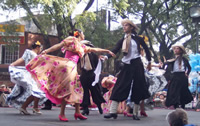 There were quite a few performances that took place on the center stage of the fair. Here is a cultural dance that I thought was really interesting and captivating.
With my first "Feliz Cuarto de Julio!" to the last look of confusion on the other individual's face, I finally realized that the Independence Day of the United States means nothing to others on a completely different continent (DUH!?).
Sadly, I did not get to celebrate my Fourth of July this year. However, despite my disappointment, Alfonso, the individual that I am working under for my latest research project, informed me that Noveno de Julio is Argentina's Independence Day! Needless to say, I ended up celebrating an Independence Day, but in a completely different country. Here are some cool pictures of una feria en Matadero (a local fair) I went to on Noveno de Julio:
Thumbs-up for fair food! Even though Jasmine and Jeanette, two girls who are students at the University of Florida; Victor, a post-doctorate from Mexico; Amir, a student from Cuba; and myself went home feeling completely sluggish and gross because of all the junk food, we still ended up showing up for work at the institute the next morning bright-eyed and bushy-tailed. There were so many different foods that I tried that I definitely loved from the first bite to the last.
Overall, I cannot believe how many different people I have met in just the five weeks that I have been here. I have met people from all over the world who are either traveling to visit relatives, to work, or even just to kick back and relax!
The fact that I am seeing the world in different colors by traveling throughout this whole country is making my summer experience a priceless and surely memorable one.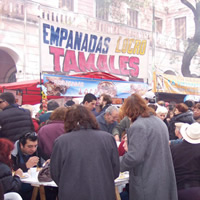 There was food everywhere! As well as people!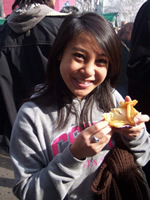 Here is my tartilla frita batata Ö I think thatís what itís called. I know it was yummy!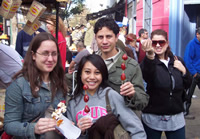 This was a concept that was muy interesante Ö different fruits on a barbeque stick, dipped in crystallized sugar and popcorn.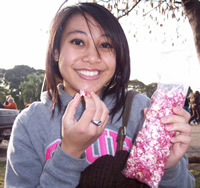 PINK POPCORN! No way! My kind of color on my kind of snack!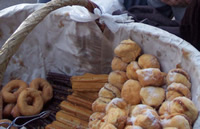 Basically Ö chocolate-covered churros, dulce de leche-filled churros, doughnuts stuffed with dulce de leche and plain doughnuts covered with sugar. Thatís gotta be one sweet basket!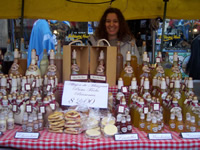 Here are more pictures of fun times and different tents at the fair.