Discovering a Global Perspective to Research
Titan Continues to Find the New and Fun During Summer Research in Argentina
June 24, 2008
By Doreen Carpio
Doreen Carpio is a fourth year undergraduate biological science major taking part in the Minority Health and Health Disparities International Research Training Program. This summer she is in Argentina, where she is conducting antibacterial resistance research under Angeles Zorreguieta at the Instituto Fundacion Leloir. This is one of a series of blogs she is writing of her experience.
Given enough time and space to get situated in an area that is unfamiliar, anyone can eventually kick off their shoes, relax and enjoy the ride of the different turns of events that could occur in the near future. This, in itself, was what I expectantly waited for ever since I arrived in Buenos Aires, Argentina … and luckily, is my present feeling of how things are going out here.
As of this moment, I have been having so much fun exploring the city of Buenos Aires!
Concluding my long days at the lab conducting research protocols with antibiotic resistance, I have the freedom to wander about and explore different areas. Here are just a couple of pictures of awesome places that I have visited, social gatherings I have attended, as well as some great people that I have met and have worked with in just the last two weeks: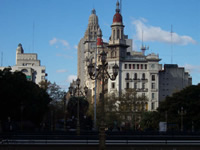 Despite the bright sun, it was still chilly enough to wear a coat.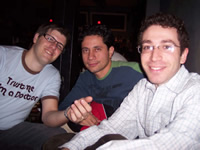 These are some of the guys from the lab that I work in.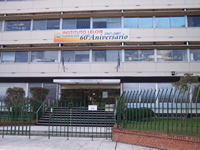 This is the building where I work: Fundacion Instituto Leloir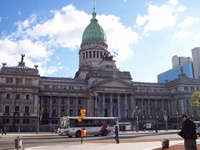 This is the National Congress of Argentina. I was awestruck by its enormity and its obvious greatness!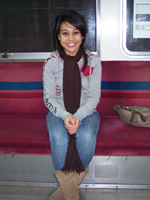 Subway rides are not as bad as they were the first week. See … I'm smiling!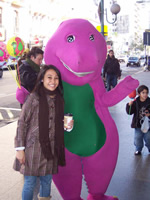 Argentineans love Barney, and apparently so do I! It was $1 Argentinean peso to take a picture with him.
I believe that my excitement in this foreign country may have peaked, for the things I have experienced are so close to that of my comfortable home in California. Having a new roommate arrive early Sunday morning — who has expressed the same excitement to venture out and visit unfamiliar places as I did — also has taken its toll on my optimistic feelings out here.
Meeting fellow U.S. students, and even foreign students from all over the world, has added to my excitement. Things have definitely taken a turn for the better here in Buenos Aires, and I, for one, am definitely glad that they have!