Discovering a Global Perspective to Research
Student Doreen Carpio to Travel To Argentina as MHIRT Scholar
June 8, 2008
By Doreen Carpio

Doreen Carpio
First off, I would like to introduce myself. My name is Doreen Carpio, and I have been chosen to travel to Argentina to conduct research in the summer of 2008 for the Minority Health and Health Disparities International Research Training Program, or MHIRT for short.
I am currently in my fourth year as an undergraduate biological science major at Cal State Fullerton, and throughout the course of the summer, I will be privileged to be working under Dr. Angeles Zorreguieta at the Instituto Fundacion Leloir.
There, I will be focusing on studies of antibacterial resistance, or simply put, the ways in which bacteria have found a way to strike back against our antibacterial movement! And lastly, I will be leaving for this trip in about two days.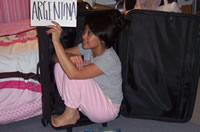 Doreen shows how small she is compared to the big black suitcase that will carry her possessions to Argentina
At the present, my all black suitcase — that is notably more than half my size — is completely empty and sitting in the middle of my bedroom just waiting to be filled with loads of clothing and little knick-knacks that I believe are important for travel.
Aside from the procrastination on my part, the hardest thing that I have had to obtain before traveling is a foreign adapter plug. It would not have been such a confusing task if there were not two adapter plugs that could easily fit for the trip: one labeled "South America" and the other "Argentina", which both had unique differences in appearance.
Needless to say, I purchased both the Argentinean adapter plug, as well as the South American plug, for a wise man once stated: "It is better to be safe than sorry." The only task left to do with the adapter plug is trying to figure out how and when to use it.
There also were other small preparations here and there. For example, researching the weather conditions in Argentina (apparently, it is the opposite of our present weather: goodbye, Summer sun! ), collaborating with individuals in Argentina to make sure I knew where I was going once the plane landed, setting up a voicemail box so that anyone could get a hold of me while gone, obtaining a student identity card, making sure my passport was still valid, etc.
However, no matter how much I seemed to prepare for the trip, it always seemed like I was missing or forgetting something. Maybe it is a mild case of what experts call "the jitters," or in other obvious cases "extreme procrastination," but either way, I feel excited and privileged to be a MHIRT scholar. Despite the mixed feelings, I will take this trip head-on! It may come to me in the midst of the night, but soon I will find the resolution in solving the case of the empty black suitcase.