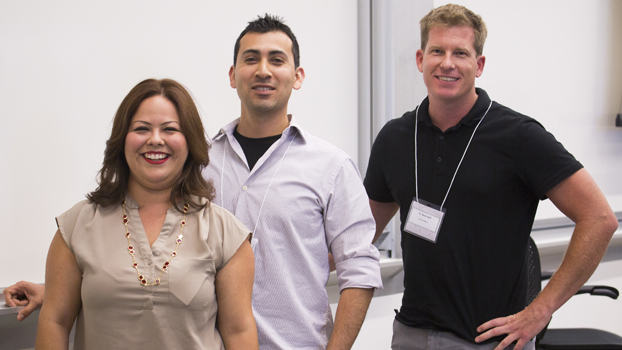 Caption: After being exposed to research experiences as CSUF students, Janette Contreras, from left, Juan Diaz and Kevin G. Hoff each earned a doctorate to become a research scientist. The alumni shared their stories of academic and career success at a recent national science conference on campus that focused on enhancing undergraduate research experiences. Photo: Matt Gush Download Photo
Alums Share Experiences
Faculty Mentors, Research Programs Inspired Scientists
Aug. 9, 2012
Three alumni — all first-generation college students — knew when they arrived at Cal State Fullerton they wanted to study science and had an interest in pursuing careers in the health professions.
But after their experiences of hands-on investigations in the lab and one-on-one mentoring with faculty members, another career option surfaced — research scientist.
Today, Juan Diaz, Janette Contreras and Kevin G. Hoff are holders of Ph.D.s. Contreras and Hoff are researchers in industry, and Diaz is a postdoctoral scholar.
At a July national science conference held on campus, each of the CSUF graduates talked about how working in the labs of faculty mentors shaped their academic journey and careers as researchers. 
Juan Diaz
Diaz, who grew up in Santa Ana, was selected as a President's Scholar and declared pre-med as his course of study as a freshman in the fall 1997.
"Going into a Ph.D. program had never crossed my mind," Diaz said. But by the time he graduated magna cum laude with a B.S. in biological science and minor in chemistry in 2002, he knew he wanted to be a researcher, instead of a physician.
What changed during his undergraduate years was working with faculty mentors, including Christopher R. Meyer, chair and professor of chemistry and biochemistry, and Eugene C. Jones, emeritus professor of biological science.
"The training and technical skills I gained while performing research at CSUF gave me a tremendous boost in self-confidence and the assurance that I could succeed in science," he said. "Without this experience, I don't think I would have felt comfortable going onto a graduate degree program. It also helped solidify my interest in science and research."
During his junior and senior years, Diaz participated in a National Institutes of Health-funded Minority Scientist Development program, as well as an NIH-funded Postbaccalaureate Research Education Program at UC Irvine. Diaz went on to earn a doctorate in chemistry at UCI, and is now an NIH postdoctoral fellow at UC San Francisco.
In his current work, Diaz is conducting cancer research on a project to develop new technologies for controlling cells' signaling pathways, which determine whether a cell keeps growing — as in the case of cancers — or dies. "The hope is to control the signaling pathways independently from one another to see what each does on their own and find the pathways that could cause cancers or other diseases," he said.
Diaz credits his achievements to CSUF mentors like Jones, who helped him to realize his potential. "Dr. Jones was my academic adviser who helped me see the big picture and guided me on where to go after finishing my studies at CSUF."
As his research mentor, Meyer showed him the "ropes" in the lab and trained him in molecular and biochemical techniques, setting the foundation for his future academic endeavors. He readily credits his high-quality undergraduate preparation for helping him become a top-ranked student during his graduate and doctoral programs.
"Without Dr. Meyer's guidance and support, I may not have chosen a career in science. He made working in the lab fun and exciting, which is key to having a successful research experience, especially at the undergraduate level."
Janette Contreras
Contreras earned a bachelor's degree from Whittier College, where she first participated in undergraduate research, and a master's degree in chemistry in 2005 from Cal State Fullerton. She went on to earn a a doctorate in pharmaceutical science at USC in 2011. She then became a research lab specialist working with a USC gastroenterologist. In June, she landed a position as a quality control analyst at Baxter Bioscience in Glendale.
Like Diaz, Contreras was selected for the Minority Scientist Development program at CSUF, working in the lab of Christina A. Goode, professor of chemistry and biochemistry, during her graduate studies.
"My research experiences at CSUF were instrumental in shaping my education and career. It was at CSUF that I honed my time-management and critical-thinking skills. These skills were imperative in my academic and research successes in graduate school," said the Whittier resident.
"My mentor, Dr. Goode, saw potential in me and made me aware of the possibilities that were out there for me," Contreras said. "Dr. Goode's advice and guidance were crucial in advancing my academic and scientific career."
Kevin G. Hoff
When Hoff started his undergraduate studies as a biological science major, he set his sights on becoming an optometrist. But after completing the National Science Foundation-funded Research Experience for Undergraduates program, he changed his mind.
"It changed everything. The summer research program opened my eyes. I realized that through research, I had the potential to impact more lives than I ever could as a health professional," said Hoff, adding that the mentoring from Meyer, Goode and Robert A. Koch, acting dean of the College of Natural Sciences and Mathematics and professor of biological science, fostered his career in research.
The Westminster native earned a bachelor's degree in biological science in 1996 and a doctorate in biochemistry from UCI, followed by postdoctoral studies in biophysics at the Johns Hopkins University School of Medicine, then studies in synthetic biology and chemical engineering at Caltech. He is now a research scientist at Genomatica Inc. in San Diego, where he applies synthetic biology to engineer microorganisms for commodity chemical production.
Now a La Jolla resident, Hoff said it is important for industry to forge ties with academic institutions to create student internship opportunities and to share with undergraduates the research and career opportunities available.
"It is critical for students to understand early in their academic careers the opportunities they have in the sciences and that the majority of these careers do not require a Ph.D.," he said.
Value of Undergrad Research
Each of the CSUF graduates stressed the importance of undergraduate research experiences, saying they allow students to begin to develop the essential skills to be successful in any future science-related endeavor.
"These include communication, time-management, critical-thinking and leadership skills. Exposure to a research environment also helps make the transition to graduate school much easier," Contreras said.
Diaz, who is now a mentor to graduate students, agreed that having the chance to train alongside faculty members early in one's academic studies opens many possibilities. "It lets you see if this is really the career path you want, rather than just imagining it could be something you are interested in. Regardless if you choose to stay in science or not, you will develop critical thinking and presentation skills and have a greater appreciation for how science is done."
The alumni also gave undergraduates advice: Ask faculty members for their help, whether academic- or career-related.
"Your faculty mentors are there for just that reason, and if they don't know the answer, you can rest assured they will point you in the direction of someone who does," Diaz added. "It's okay for you not to know what you want to do or be when you finish school, but it's also up to you look for those that could help you make that choice."
Hoff added, "The keys to success are having the maturity to ask questions and the drive to find the answers."