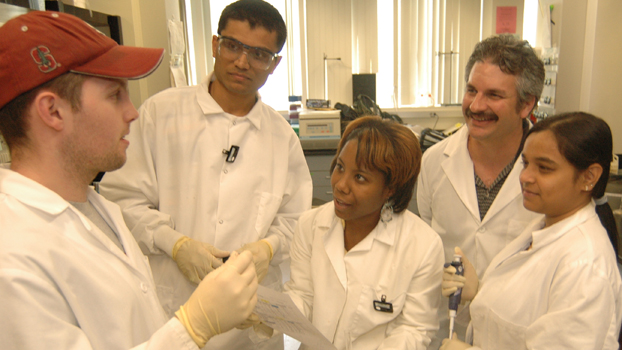 Caption: Christopher R. Meyer, second from right, talks with undergraduate students about their research. Download
Promoting Undergraduate Research
National Conference to Enhance Training of Next Generation of Scientists
July 23, 2012 :: No. 10
Science leaders in higher education meet this week at Cal State Fullerton for a national conference to advance research and educational activities at undergraduate colleges and universities.
The July 26-28 national conference, hosted by CSUF's Office of Graduate Programs and Research and College of Natural Sciences and Mathematics, will be attended by 70 invited participants from across the country. The conference begins at noon July 26 with tours of research labs and opening remarks at 2 p.m. Conference sessions begin at 8 a.m. July 27 and 8:45 a.m. July 28.
"Enhancing Biological Science Research Opportunities at Primarily Undergraduate Institutions: Advancing Discovery While Training the Next Generation of Scientists" is supported by a $128,000 National Science Foundation grant awarded to Christopher R. Meyer, chair and professor of chemistry and biochemistry.
The program includes guest speakers, workshops and best-practices discussions in efforts to further promote research and careers in science, technology, engineering and mathematics (STEM) disciplines. Participants include faculty members, administrators, program directors, industry partners, CSUF students and National Science Foundation representatives.
"This conference will bring together, for the first time at a national level, faculty from diverse undergraduate institutions to meet and discuss ideas and best practices and future prospects in building and sustaining research, crafting competitive grant proposals, integrating research into the curriculum, forging research partnerships and collaborations and accurately assessing student research training outcomes," said Meyer, conference organizer. "These are particularly important topics given the critical shortage of U.S. students being trained in STEM disciplines and the need to meet national and global challenges."
While there are many successful research programs at undergraduate institutions, including Cal State Fullerton, said Meyer, numerous challenges exist in establishing and maintaining undergraduate research, including higher teaching loads for faculty members and deficiencies in personnel, infrastructure and resources.
"A large percentage of students receive their undergraduate training at diverse, primarily undergraduate universities — from small, private liberal arts colleges and large public, comprehensive universities to community colleges. It is vital that we maintain and improve student research training at these institutions," he said, adding that providing real-world research experiences for biochemistry and biological science majors is essential for student growth and development of technical, critical-thinking and communication skills.
"These research opportunities provide the stimulus for better student retention, graduation rates, applications to graduate school and high-quality careers," he said.
A CSUF website also is being developed to share conference best practices and ideas, next steps and future needs and prospects, which will be available to the scientific community and the public.
# # #
Media Contacts:
Christopher R. Meyer, Chemistry and Biochemistry, 657-278-4173 or 657-278-3621
Debra Cano Ramos, 657-278-4027