From the Desert to the Sea
SCERP Scholars Commit to Environmental Studies
July 27, 2010
By Russ L. Hudson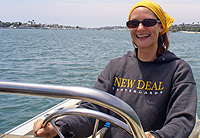 Allyson Degrassi heads to a research site.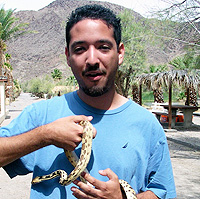 Anthony Garcia's research is seaside now, but earlier he worked in a desert environment.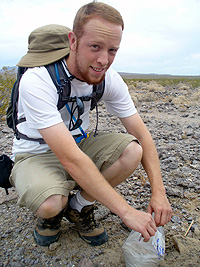 Bryan White sets up an experiment in the Mojave Desert.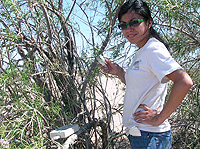 Daisha Orgeta checks a monitor on one of the shrubs she studies.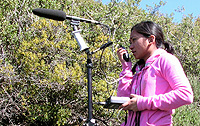 Elaine Ramos checks sound levels in a stand of chaparral.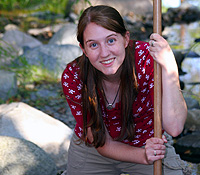 Elizabeth Hessom collects plant samples for her research.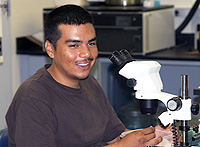 Ernesto Casillas studies metals retrieved from the mollusk Kelletia kelletii.
From the desert to the sea, Cal State Fullerton biological science students are adding to the knowledge base of ecologies and environments as part of the Southern California Ecosystems Research Program, funded by the National Science Foundation through its Undergraduate Mentoring in Environmental Biology program. SCERP has entered its fifth year of a five-year, $600,000 grant.
The students' wide-ranging projects include how to protect coastal environments from adverse human effects while still leaving them open for humans use, reestablishing California's only native oyster and songbird behavior after wildfires.
"In the eight years that SCERP has been at Cal State Fullerton, I've seen some substantial results, both in terms of our understanding of the environment and in the understanding by the students," said Bill Hoese, SCERP director and associate professor of biological science.
"The change in the students is even more stunning," he added. "Their first summer with SCERP, they are just learning the rigor of properly conducting a field experiment, and how to overcome the inevitable problems without getting derailed or discouraged. Two years later, they have completed full, scientifically rigorous research and are confident in presenting their findings. They know they have contributed to science. They are ready for industry or graduate school. It's quite a transformation."
Participating students receive up to a $12,000 stipend during their two-year commitment to SCERP, take summer field courses on Southern California ecosystems, develop independent research with a faculty mentor, travel to local and national scientific meetings to present their results and plan their future career paths. The stipends cover material, equipment and travel expenses, and allow the students to devote more time to their research rather than jobs.
In addition to their studies, the students must take intensive courses in field ecology. They must devote at least 30 hours a week to their research in summer and 15 hours a week during the academic year.
SCERP prepares students for careers in ecology, the environmental industry, government agencies and for graduate school.
Conducting research this summer are:
Ernesto Casillas of Desert Hot Springs, a senior working with Zacherl studying what metals accumulate in the mollusk Kelletia kelletii.
Crossen of Costa Mesa, a senior working with Zacherl on restoring the population of California's native oyster, Ostrea lurida, to Newport Bay.
Allyson Degrassi of Laguna Niguel, a senior working with Steven Murray, professor of biological science, and Jayson Smith, lecturer in biological science, on feeding patterns of native marine invertebrates when fed native and non-native kelp.
Anthony Garcia of Diamond Bar, a senior working with Murray and Smith on what makes a coastal site an attractive destination to people and the effects on that site of the human activities.
Patricia Gonzalez of Santa Ana, a senior working with Jennifer Burnaford, assistant professor of biological science, on thermal stress at low tide when the sun shines on the Ostrea lurida.
Elizabeth Hessom of Diamond Bar (B.S. biological science '10), just finished working with Jochen Schenk, associate professor of biological science, on how chaparral plant species repair themselves after being damaged.
Daisha Ortega of La Puente (B.S. biological science '10) just finished working with Schenk on how two desert shrubs, similar except for how they photosynthesize energy from the sun, use water in their systems.
Elaine Ramos of Cerritos (B.S. biological science '10) just finished working with Hoese on how sound travels in a habitat devastated by fire.
Tracie Treybig of Orange (B.S. biological science, '10) is working with Kathryn Dickson, professor of biological science, on how delayed hatching affects the larval development and swimming speed of grunion.
Bryan White of La Verne, a senior working with Paul Stapp, associate professor of biological science, on the effects of artificial light on nocturnal Mojave Desert rodents.