$2.6 Million in Stem Cell Grants
Undergrad Research Promotes Careers in Regenerative Medicine
July 23, 2012
Following a seven-month stint conducting stem cell research involving the treatment and understanding of multiple sclerosis, Class of 2011 grad Leslie Kirby (B.S. biological science) landed a job as a researcher.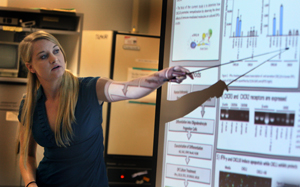 Caption: Leslie Kirby presents her research project as part of the Bridges to Stem Cell Research program in this photo from 2011. Photo: Karen Tapia Download Photo
Kirby, a scholar in the 2010-11 inaugural class of the Bridges to Stem Cell Research program, credited the program with giving her the hands-on experience and knowledge for such a position.
"Without the program I would have never had that kind of exposure to a potential employer. During my internship, I was able to prove myself as a researcher — making it much easier to get hired," said Kirby, who has been working at UC Irvine's Sue and Bill Gross Stem Cell Research Center.
The two-year-old program, under the direction of Nilay Patel, assistant professor of biological science, just received $1.3 million in new funding from the California Institute for Regenerative Medicine. The funds will help 30 more biological science students receive specialized training in stem cell research through 2016. Grants for the program awarded to Patel now total $2.6 million. 
"Receiving additional funding is a validation that California's stem cell agency values what we are doing to train the next generation of stem cell scientists and researchers," said Patel. "CIRM is hoping that students will enter the workforce at multiple levels as technicians, Ph.D. researchers, medical doctors and other related disciplines."
Since June 2010, approximately 10 students a year conduct seven-month, paid internships and work full time as stem cell scientists at UC Irvine, USC and Children's Hospital of Orange County. Students work in a laboratory setting on a focused research project that they design with their internship mentors.
"From my perspective, the program has been successful in getting our biology students to consider careers in stem cell research," Patel said. "The feedback we've received from their internship mentors is that we are sending them high-caliber students who are exceeding their expectations. Once our students complete their training, they are ready to carry out independent research projects at their internship sites and are prepared to gain positions in the field."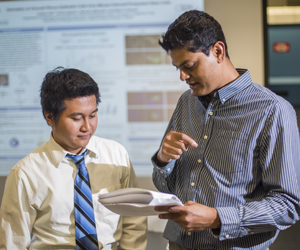 Caption: Nilay Patel, assistant professor of biological science (right), works with current Bridges scholar Pierre Samson. Photo: Matt Gush Download
The first class of 10 scholars completed the 14-month program last summer, and the second class of nine scholars will complete the program this month. Ten new scholars joined the 2012-13 program in June and began rigorous course work and lab training at Cal State Fullerton to prepare for their January 2013 internships. Of the 19 students who have completed the program, more than half are considering stem cell-related careers, Patel said.
The benefits for Kirby and other scholars include getting the opportunity as undergraduates to be involved in leading-edge research with possible clinical applications, as well as having their work published in peer-reviewed publications.
"I was able to learn many new skills that are more geared to translational research. My contribution to the project I worked on was significant enough to place me as second author on the published manuscript," said Kirby, a Newport Beach resident. Her work investigates how the immune system causes cell death, as well as the survival of stem cells, which have the potential to treat multiple sclerosis.
As a result of Kirby's research experiences, this fall she will begin studies to earn a doctorate in cellular and molecular medicine at Johns Hopkins University. She will study the cellular and molecular mechanisms of disease and the potential therapeutics targeted to help patients.
"Pursuing a doctorate will allow me to actively stay involved in the stem cell research field by opening up career opportunities," she said. "It will allow me to continue my pursuit to learn more and work towards therapies for diseases like multiple sclerosis. I hope to some day run my own stem cell research laboratory with the goal of alleviating diseases."