Summer Research Experience
Program Reaches Out to College and High School Students
July 27, 2012
Maria C. Linder, professor of chemistry and biochemistry, has spent the last four summers stimulating student interest in pursuing science research careers. Supported by more than $2.4 million in grants from the Howard Hughes Medical Institute (HHMI), the HHMI Research Scholars at CSUF program includes not only undergraduate students, but also community college and high school students, as well as science educators.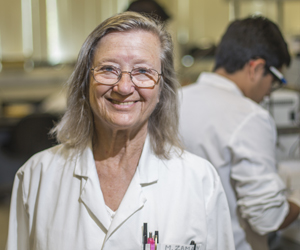 Caption: Maria C. Linder, professor of chemistry and biochemistry leads a $2.4 million program to engage students in scientific research. Photo: Matt Gush Download
"It's always exciting to see students turned on to discovery," said Linder, a Fullerton faculty member since 1977 and a recipient of the CSUF Outstanding Professor Award. "As a country, we don't have enough students going into science research. This program exposes young minds to what it's like to be a research scientist."
Linder received a $1.2 million HHMI grant in 2008 to launch a program to provide research opportunities to undergraduates, summer programs to excite other budding scientists, and a fall weekend research experience for community college and high school students, and teachers.
This spring, Linder was awarded an additional $1.2 million to continue the program. The additional funding will support students interested in becoming K-12 science educators, as well as underwrite a master's student to serve as a mentor and role model for the undergraduates.
Summer in the Lab
Right now, two CSUF undergraduates and eight community college students are taking part in the 10-week Summer Research Experience through Aug. 10. The session for college students with some background in mathematics, chemistry and biology, introduces them to hands-on, state-of-the-art research — all with the aim of stimulating their interest in pursuing a doctorate and becoming biomedical researchers.
Meanwhile, a five-week session involving eight high school students and four science teachers in basic chemistry, biology and mathematics research is underway, Linder said.
In both programs, students and science teachers work one-on-one in apprentice-based research experiences with Linder and nine faculty mentors.
"CSUF faculty members are deeply committed to teaching how scientific knowledge comes about through research," said Linder, a Harvard-trained researcher, who currently is mentoring one undergraduate, as well as two high school students and a high school science teacher. Together they are studying how iron stores are mobilized in the human body when needed and how copper enters cells. The research has implications about health and disease.
CSUF biochemistry major Cole Wheadon is working with Linder to determine whether a protein that allows absorption of iron by cells of the intestine is also effective for copper.
"Being able to do experiments and see the results has been eye-opening," said the senior, who added that the hands-on experience has helped him to decide to pursue a research career.
In the lab of Nikolas Nikolaidis, assistant professor of biological science, community college biology graduate Caitlyn Topper is learning how cells respond to stress. They are trying to determine how stress proteins change and differentiate to perform specialized functions and how these changes are genetically and biochemically associated with human diseases, such as cancer.
"The exposure I've had to different research techniques is incredibly valuable. I've learned so much regarding scientific literature, laboratory etiquette and scientific reasoning — all used to support research," Topper said.
Others in the Lab
The high school research session provides authentic research experiences for both the students and their teachers.
"We include high school teachers because we want them to learn new techniques and how to teach science more effectively — and to have their own research interests refreshed. With this program, we also hope to increase the diversity of students who study science and become interested in science as a career," Linder said.
Joaquin Alvarado, an advanced-placement biology teacher at Century High School in Santa Ana, is one of four teachers selected for this summer's competitive program. He signed up for the program to encourage his own students to consider emerging fields in science, as well as learn ways to inspire his students.
"I want to be current in scientific research methods, and I want to be able to tell my kids that they are being taught by a scientist," Alvarado said.
For the high school students, it is their first time working in a university laboratory and being exposed to real-world research.
Jessica Doumit, an incoming senior at Orange Lutheran High School, is interested in pursuing a career in neuropsychology and is involved in the science, technology, engineering and mathematics program on her campus. Working in Linder's lab has given her a real boost in her plans, Doumit said.
"The program has given me a clear insight into the research world," Doumit added. "It's interesting to see how all the different research teams within the lab work on their individual projects, then come together to form a conclusion.
"The team has been studying the issue of copper and iron absorption, and for me, to have the chance to join them and include my data, is rewarding."
For more about HHMI, visit the program website.