Caption: Biological science major and MARC Scholar Van Nguyen is working with human embryonic kidney cells this summer with Math P. Cuajungco, associate professor of biological science. Photo: Matt Gush Download 
Scientific Exploration
CSUF Students Prepare for Future in Research Careers
July 9, 2012 :: No. 5
The six newest members of Cal State Fullerton's Minority Access to Research Careers program are spending the summer in the lab or behind a computer, in order to jump start their journey to grad school or a research career.
They are joining nearly 50 others who have taken part in the two-year program, which has propelled 85 percent of its participants into master's and doctoral programs during the past seven years.
Established 17 years ago to encourage and support students interested in the possibilities of advanced university degrees and futures in scientific exploration, the MARC program is supported annually by the National Institutes of Health. Its latest award of $463,330 to Cal State Fullerton is first-year funding of a five-year grant that is expected to total $2.3 million.
Participants, who join the program as juniors or seniors, are introduced to and involved in various types of research with faculty mentors. They are required to:
complete specific science courses
conduct an average of 15 hours of research per week during both semesters of the academic year
perform research full time one summer on campus and one summer at a doctoral-granting institution
conduct a specific research project that culminates in a senior thesis, and
defend their findings before a thesis committee at the end of the program.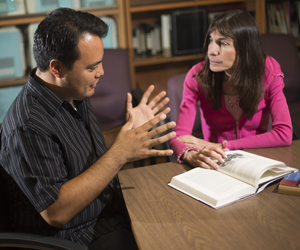 Caption: Senior psychology major Jaime Munoz Velazquez consults with Nancy L. Segal, professor of psychology, on his MARC summer research project studying creativity in twins. Photo: Matt Gush Download Photo
MARC scholars also attend a weekly seminar, where they read scientific papers, learn how to develop research presentations and hear from guest speakers. They are expected to attend and deliver presentations at local and national professional meetings.
"MARC scholars must perform real research under strict scientific standards, and they must present their work to other scientists the same way," said Amybeth Cohen, director of MARC and professor of biological science.
"They are mentored by two-dozen-plus enthusiastic faculty members in the departments of anthropology, biological science, chemistry and biochemistry, mathematics, engineering and psychology," said Cohen. "When they finish their two years in MARC, they are scientists ready for graduate school."
"The training I received is invaluable, and I am looking forward to finishing my last year strong said second-year scholar Christina Adams of Buena Park. 
She is spending 10 weeks at UC Berkeley working with Kevin Hybiske, an assistant researcher in microbial pathogenesis in Berkeley's School of Public Health. Experiences, such as attending professional conferences and hearing about research in many disciplines, "enhanced my understanding of what a career in science actually entails."
"Being in the MARC program has opened so many doors for me," said fellow second-year MARC scholar Reinalyn Echon of Walnut. The psychology major is conducting research at Princeton this summer. "I would never have imagined even seeing an Ivy League campus, never mind actually conducting research in one."
This Year's Scholars
New scholar Van Nguyen, a senior majoring in biological science with a concentration in cell and developmental biology, entered the MARC program through the Research Careers Preparatory program, established in 2009 to introduce students to the idea of research as a career.
"The program introduced me to a whole new world of research that made me realize the vital importance of research and of human participation in research," said the Westminster resident. She is studying the human transmembrane protein this summer in the lab of Math P. Cuajungco, associate professor of biological science. Nguyen hopes to continue her education through a doctorate in biology.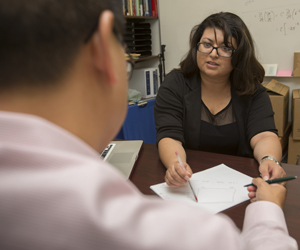 Caption: MARC Scholar Leonila Lagunes, a junior math major, draws a graph while discussing her research with Charles Lee, professor of mathematics. Photo: Matt Gush Download Photo
Pursuing her "tremendous passion for scientific inquiry," Katherine Chua, a biochemistry major from Riverside is in Argentina this summer conducting research under another university program. "I like thinking of ways to solve obstacles that I face in the laboratory and applying what I have learned in the classroom to new research techniques and projects," she said. "I believe that the best feeling as a scientist/researcher that I can get is when I am able to look at the project in front of me, realizing that I understand the whole background and how to move forward with the question at hand.
"And although I am not certain of where I will end up, I'm sure that my passion and interest, along with the MARC program, will point me in the right direction when the time comes," added Chua, who will be working with Michael D. Bridges, assistant professor of chemistry and biochemistry at CSUF.
"I became interested in research because it seemed like a natural step, in tandem with my inquisitive nature. I've always been curious about human behavior and what influences one person to behave in a certain way versus another," explained Jaime Munoz Velazquez, a Santa Ana resident and senior psychology major working with Nancy L. Segal, professor of psychology, on research about twins.
Velazquez, the first in his family to attend college, said he learned about the MARC program "through people who saw research potential in my interests and academic attitude. ... I became excited at the support the program offers and opportunities. I know that my goal to pursue a Ph.D. will be filled with greater possibility because of the research opportunities and learning experiences unique to being a MARC scholar." 
Also conducting research in psychology is Aspen Yoo, a junior studying deception detection in the lab of Iris Blandon-Gitlin, associate professor of psychology. The Fullerton resident believes that empirical research is the side of psychology "that will really push the boundaries of what we know about ourselves and how we think."
Regarding the MARC program, Yoo said: "I definitely like how organized it is and the opportunities it makes available to me. I know it is going to be a lot of hard work, but I'm excited to see where it takes me."
Other new MARC participants are: Orange resident Leonila Lagunes, a junior math major conducting research at UC Irvine and also working with Charles Lee, professor of mathematics on a study using micro-array analysis; and Palmdale resident Louis Needleman, a junior biological science major working with Melanie Sacco, assistant professor of biological science.
Enhancing the Program
Beginning next spring, the scholars will enroll in a scientific writing course — a class currently being developed to teach students how to write specifically for grants and scientific journals and how to give presentations before professional organizations, said Cohen. A collaboration between the College of Natural Sciences and Mathematics and the Department of English in the College of Humanities and Social Sciences, the course will be underwritten by the MARC grant for three years, then institutionalized and offered to all science students, not just MARC participants.
Two other courses are in the works. One is a general education course tentatively titled "Navigating Science Careers and Beyond" that will feature guest speakers and discussions on seeking grant support for research, reporting on research and aspects of working as a faculty member at a university. The second is a research careers preparatory skills course to help smooth the transition of lower classmen in the Research Careers Preparatory program to MARC.
Cohen also is developing "Family Days" as a way to integrate parents into the program. "Some parents don't understand what their children are doing and how it will benefit them," said Cohen. "By instituting fall and spring Family Day events to showcase their children's efforts and achievements, we hope to have them become a part of a big community supporting the scholars."
Media Contact:
Pamela McLaren, 657-278-4852