A Positively Green Celebration
Student Recreation Center Celebrates Gold Rating for Sustainability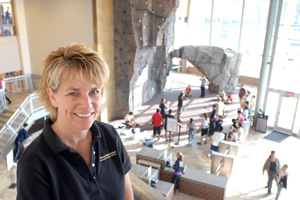 Andrea Willer, Titan Recreation Director
Going for the Gold has special meaning for Cal State Fullerton's Student Recreation Center, which has the honor of being the first CSUF building awarded a Gold Leadership in Energy and Environmental Design (LEED) certification.
A "Positively Green" celebration to recognize the award is scheduled for 1 p.m. Wednesday, April 22, at the Student Recreation Center, located on the west side of campus.
The event will include remarks by Jorden Segraves, chair of the Orange County chapter of the U.S. Green Building Council, and Jason Lorcher of Green Dinosaur, a Southern California firm specializing in assisting organizations with the LEED rating process, along with the presentation of the Gold LEED plaque.
"We are extremely proud of this important achievement and recognition," said Andrea Willer, Titan Recreation director. "Our goal is to continue our efforts through the USGBC LEED for Existing Buildings program and to be an example of a cutting-edge building and operation on a university campus."
The Student Recreation Center features a climbing wall.
Noted Rick Fedrizzi, president, CEO and founding chair of the U.S. Green Building Council: "The Student Recreation Center at Cal State Fullerton is an important addition to the growing strength of the green building movement."
The gold certification awarded by the council is verification that a building or building project meets the highest in green building and performance measures. LEED is the nationally accepted benchmark for design, construction and operation of green buildings. It rates five key elements: sustainable site development, water savings, energy efficiency, materials selection and indoor environmental quality.
"We are both proud and excited with this great news," said Michael Smith, director of campus construction and design. "We waited a year to get the final and official gold certification from the U.S. Green Building Council — our first certified LEED project on campus. It's going to set a high standard for us on our future buildings.
The center's sustainable design efforts and pursuit of the LEED certification were a collaborative effort of CSUF Design and Construction, Associated Students Inc., general contractor C.W. Driver and architects from Langdon Wilson.
"We are grateful to building contractor C.W. Driver, who actually applied for and funded this certification effort and for their support throughout the process," said Smith, noting that the cost was more than $100,000 and included the hiring of a sustainability consultant.
The two-story, 95,000-square-foot Student Recreation Center features a number of items noted for water and power savings. Effective water use is estimated to save more than 415,000 gallons per year, while energy conservation incorporated into the center exceeds Title 24 of the California Code of Regulations for Energy Efficiency Standards by 30 percent.
The building design supports sustainability through such features as interior low-emitting materials (paints, sealants and carpets), installation of additional bike racks and the use of "green" housekeeping practices in the building's maintenance.
Among its design strategies, the project emphasizes the benefits of daytime lighting and the use of sustainable and recycled materials in the building's construction. During construction, a waste management plan was established to divert large amounts of the construction waste from landfills to recycling for consumer use.
The building design was honored with the Best Practices Award for Overall Sustainable Design during the 2007 University of California/California State University Energy Efficiency Partnership Program.
"The students who spearheaded the center's funding and the campus Design and Construction Office staff always intended the Student Recreation Center to be environmentally sensitive," said Kurt Borsting, director of the Titan Student Union. "With the building in service for almost a year now, we know the goal of providing a terrific new campus facility that uses resources wisely has been met. How fantastic that the USGBC has recognized the effort."
Construction of the $41 million center began in 2006 and was funded through student fees. The fees and revenue generated through facility operations will maintain the building and its programs as part of the Titan Student Union, a program of Associated Students Inc.
Among its amenities are a 22,000-square-foot multicourt gymnasium, a 15,000-square-foot cardio/weight room — one of the largest on a West Coast campus and featuring special equipment for use by disabled students — an outdoor swimming pool, multimedia cardio room, cycling room and an indoor track.
One of its most prominent features is a 38-foot-by-28-foot rock wall, right off the center's entrance. It is designed to accommodate up to nine climbers simultaneously.
The entire facility is wireless and features cutting-edge technology throughout the building, including a biometric hand geometry reader that controls users' access to the facility.
The center boasts more than 100 pieces of fitness equipment, as well as a big-screen multimedia cardio studio — the first ever on a Cal State campus.
The Student Recreation Center is located near the Titan Student Union and the intersection of Dorothy Lane and State College Boulevard.
Building Green Emphasized on Campus
Cal State Fullerton has been focused on incorporating "green" design and construction elements into its buildings, and many have been honored for their sustainability. Although the Student Recreation Center is the first building to be certified by the U.S. Green Building Council, several buildings already constructed on campus, as well as future buildings, have been designed to meet the equivalent of the LEED ratings, including:
Fullerton Arboretum Visitor Center (completed in 2006)
Silver LEED equivalent
2005 Best Practices Award for Overall Sustainable Design, UC/CSU Sustainability Conference
Recognized as Outstanding Design for Work in Progress by Architectural Portfolio for 2005

Steven G. Mihaylo Hall (completed in 2008)
Silver LEED equivalent
Recognized as Outstanding Design for Work in Progress by Architectural Portfolio for 2005

University Police Building (under construction)
Silver LEED equivalent

Children's Center (groundbreaking spring 2009)
Silver LEED equivalent planned

Student Housing - third phase (groundbreaking spring 2009)
Gold LEED certification planned

Eastside Parking Structure (groundbreaking summer 2009)
Silver LEED equivalent planned

Photos:
Photos are available at www.fullerton.edu/newsphotos.
Related Stories:
Sweating in Style at the State-of-the Art Student Recreation Center
Rec Center Receives 'Best Overall Sustainable Design' Award
Photo Galleries:
Student Recreation Center Opens
Student Recreation Center Under Construction