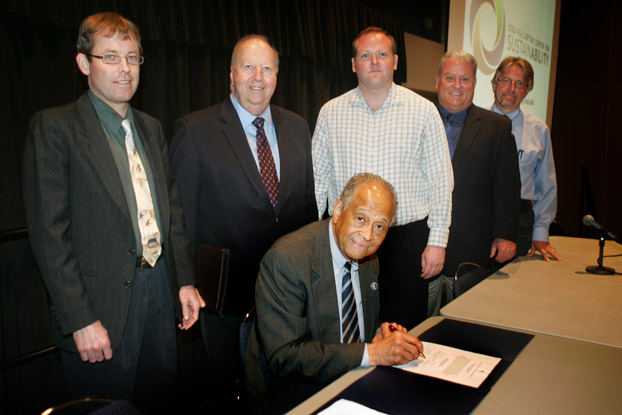 Caption: President Milton A. Gordon signs the Talloires Declaration, a statement of commitment to environmental sustainability in higher education, April 18. Joining him at the signing are, from left, A. Scott Hewitt, professor of chemistry and biochemistry; Steven Murray, acting vice president of academic affairs; graduate student Doug Moody, chair of the Associated Students Environmental Advocacy Committee; Greg Dyment, director of the Fullerton Arboretum; and Willem van der Pol, director of physical plant.Download Photo
Creating A Stronger, Sustainable Campus
President Gordon Signs Talloires Declaration, Presidents Climate Commitment
President Milton A. Gordon has joined university presidents around the world in signing the Talloires Declaration, a statement of commitment to environmental sustainability in higher education. He also signed the American College and University Presidents' Climate Commitment, a framework to implement comprehensive plans in pursuit of climate neutrality.
"I am glad, as president of Cal State Fullerton, that we have created a culture of sustainability," said Gordon Monday, April 18, during an Earth Week panel presentation on what the campus is currently doing towards sustainability.
Gordon said he is proud of the recent actions taken on campus, including the completion of the trigeneration plant, removal of chemicals from cleaning products, better irrigation controls, the partnership with the city of Anaheim to launch the Anaheim Center for New Energy Technologies, as well as current projects to retrofit campus lighting so it is more energy efficient, and installation of a photovoltaic system. Gordon also noted the number of buildings on campus that hold LEED ratings for energy and environmental design or are LEED equivalent, including the Student Recreation Center and Fullerton Arboretum Visitor Center. He also cited the establishment of a Center for Sustainability.
"I am happy to sign both these documents and stress that we have already taken many of the steps that are asked for in these documents," he said.
The Talloires Declaration was drafted in 1990 at an international conference in Talloires, France. It is a 10-point action plan for incorporating sustainability and environmental literacy in teaching, research, operations and outreach at colleges and universities. More than 350 presidents, rectors and vice chancellors of universities have signed the document, in which they agree to:
Increase awareness of environmentally sustainable development
Create an institutional culture of sustainability
Educate for environmentally responsible citizenship
Foster environmental literacy for all
Practice institutional ecology
Involve all stakeholders in finding solutions to environmental problems
Collaborate for interdisciplinary approaches to curricula, research, operations and outreach
Enhance capacity of primary and secondary schools to develop interdisciplinary teaching about population, environment and sustainable development
Broaden service and outreach nationally and internationally to promote a worldwide university effort toward a sustainable future
Maintain the movement
The American College & University Presidents' Climate Commitment was established in October 2006 during the Association for the Advancement of Sustainability in Higher Education conference at Arizona State University, when four presidents agreed to become the founding signatories. In this agreement, campus leaders commit their institutions to initiate the development of a comprehensive plan to achieve climate neutrality as soon as possible, and initiate two or more of the following actions to reduce greenhouse gases while the more comprehensive plan is being developed:
Establish a policy that all new campus construction will be built to at least the U.S. Green Building Council's LEED Silver standard or equivalent
Adopt an energy-efficient appliance purchasing policy
Establish a policy of offsetting all greenhouse gas emissions generated by air travel paid for by the institution.
Encourage use and provide access to public transportation for all faculty, staff, students and visitors.
Within one year of signing the document, begin purchasing or producing at least 15 percent of institutions electricity consumption from renewable sources
Establish a policy or a committee that supports climate and sustainability shareholder proposals at companies where the institutions endowment is invested.
Participate in the waste minimization component of the national RecycleMania competition, and adopt three or more associated measures to reduce waste.
The commitment also has campus leaders committing to making the action plan, inventory and periodic progress reports publicly available by providing them to the association for the Advancement of Sustainability in Higher Education for posting and dissemination.
April 19, 2011