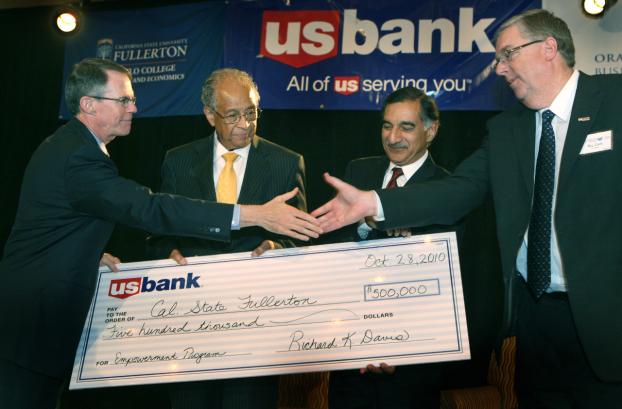 Caption: Richard Davis, left, presents a $500,000 check to President Milton A. Gordon and Anil Puri, dean of Mihaylo College of Business and Economics while reaching out to shake the hand of William R. Cave, market president for U.S. Bank in Orange County and the Inland Empire. Photo by Greg AndersenDownload Photo
Economic Empowerment
U.S. Bancorp CEO Announces $500,000 Grant to Cal State Fullerton
Oct. 28, 2010 :: No. 42
Financial education for Orange County youth got a boost today as Richard Davis, chairman, president and CEO of U.S. Bancorp, announced a $500,000 grant for the establishment of a U.S. Bank Economic Empowerment Program within Cal State Fullerton's Mihaylo College of Business and Economics.
The program and the grant were announced during Davis' presentation at the 2010 Economic Forecast Conference sponsored by Mihaylo College and the Orange County Business Council.
The empowerment program will achieve three things, said Davis:
• financial education training for middle and high school educators
• establishment of a program to provide technical assistance to small businesses throughout Orange County and the Inland Empire and
• establishment of an innovative financial education program for eighth-graders at an Orange County middle school. The program will provide financial education to the participants through their high school years. In addition, each student who enrolls in the program will be set up with a special savings account with the goal of saving for postsecondary education.
"Empowering individuals with the financial know-how to succeed financially, both personally and professionally, is important to everyone at U.S. Bank," said Davis, a 1983 Cal State Fullerton economics graduate. "I often tell our bankers that we are in the business of making dreams come true. The same could be said for the role of our educators — embracing and supporting young learners every day to blaze a path and achieve their dreams. That's why we are excited about this partnership and look forward to seeing inspiring results."
"This program will accomplish a number of goals Mihaylo College pursues, which are in line with our mission of educating students to join the workforce," said Anil Puri, dean of the Mihaylo College of Business and Economics. "Through this grant, we will be collaborating with a major U.S. business in providing education in a very important area of economic literacy, as well as building bonds with the business community. U.S. Bank can, through this program, bring a diverse and wide-ranging set of financial education programs to students and the community, and we are pleased to partner in the endeavor."
The empowerment program will be operated through Cal State Fullerton's Center for Economic Education and the Small Business Development Center, which is overseen by Mihaylo College in Orange, San Bernardino and Riverside counties.
Program Specifics
Economic Education for Teachers
The Center for Economic Education, under the direction of Radha Bhattacharya, professor of economics, will provide one-day workshops twice a year for 50 middle and high school teachers. The goal is to equip more than 250 teachers over a five-year period with the skills they need to teach financial literacy and economics in their classrooms.
Savings Program for Youth
The Center for Economic Education will partner with an Orange County middle school, providing a five-year program for participating students.
Step 1 — Students and their families will be introduced to the program, the importance of savings and the lifetime development of assets.
Step 2 — Each participating student will open an individual development account and sign a commitment to save a specified amount over a five-year period.
Step 3 — Participants will attend twice-a-year financial literacy workshops on such topics as "Budgeting Your Financial Resources," "Going to College," "Car Loans" and "Credit Card Use." The workshops will be presented by the Center for Economic Education.
Step 4 — The program will track how much the students have saved and at the end of the five-year period, students will receive a matching amount to further their education.
In addition to the benefits to the participating students, a longitudinal study of the impact of the individual development accounts on college attendance, personal money management, attitude about money and behavior will be undertaken by center researchers.
Technical Assistance to Small Businesses
The Small Business Development Center will provide technical assistance to small- business owners and entrepreneurs to begin or grow a business. After technical assistance, the SBDC will refer clients back to U.S. Bank to apply for a small-business loan.