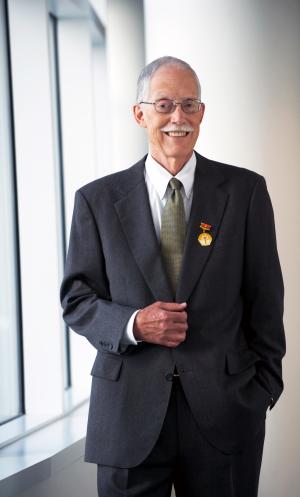 : Photo by Stephen Weissbart
A Love Story
Tracing the 40-year Career of Emeritus Dean Klammer
THOMAS P. KLAMMER fell in love with Cal State Fullerton on Valentine's Day, 1971, the day he interviewed for his first job on campus — assistant professor of English.
THOMAS P. KLAMMER

Residence: Irvine

Family: wife, Joan; daughter, Katherine; granddaughters, Gabriella, 6 and Mila, 3, of Austin; stepdaughter, Anna, and grandson Isaac, 12, of Pacifica

Education: M.A. and Ph.D. in English literature and linguistics, University of Michigan, Ann Arbor; B.A. in English, Concordia University, Chicago

CSUF Career: 1971, hired as assistant professor of English; 1975, promoted to associate professor; 1980, promoted to professor; 1982, appointed chair of English and comparative literature; 1989, appointed chair of linguistics; 1991, appointed associate dean of the College of Humanities and Social Sciences; 1995, appointed associate vice president of academic programs; 1999, appointed dean; 2009, retired and granted emeritus status

Latest Publication: Analyzing English Grammar (Longman, 6th ed. 2010), with Muriel R. Schulz and Angela Della Volpe

Favorite Book: Mark Twain's "Huckleberry Finn." "As a boy I read it as a boyhood adventure; then every time I reread it, I found new dimensions, and still do."

On What Makes a Great Writer: "A great writer captures the range of human experience and emotion: the tragic, the ironic, the hilarious."

Favorite Music: "I love all classical music and traditional jazz. But, the music of Johann Sebastian Bach seems to me to express the human spirit most profoundly."

Favorite Play: Shakespeare's "A Midsummer Night's Dream." "How better to capture the magical transformations of love?"

On Life: "All we can do is live with as much empathy and appreciation for others as we possibly can."
"I arrived here in sunny California, having left Detroit in a sleet storm, and I smelled this wonderful aroma of orange blossoms that I had never smelled before," he recalled. "That was the luckiest day of my life."
He was offered the $7,500-a-year job, which he accepted immediately. As the decades of his career — from professor to dean of the College of Humanities and Social Sciences — unfolded, the university fell for him, and his colleagues call themselves fortunate to have worked with him.
That's how Sandra Sutphen, emerita professor of political science, puts it.
When she met Klammer 40 years ago, she picked a fight with him.
"I tried to tell him how to teach writing," Sutphen recalled. "He said something like 'it doesn't matter how they say it, just as long as they are able to get something down on paper.' And, I said, 'it matters enormously how they say it! They're going to be college graduates and they should be literate!' Or, something like that."
Klammer, a rookie English professor at the time who became an authority on linguistic analysis and grammatical theory and instruction, calmly explained his side of the argument. In the end, Sutphen said, "as is always the case with Tom Klammer, we wound up agreeing that both of us had a point. That is what happens when you argue with Tom: everybody wins!"
That is no understatement, according to scores of Cal State Fullerton's faculty and staff members, students, alumni and administrators. Mention Klammer's name and people immediately start raving about the beloved man, now spending his retirement days traveling with his wife, Joan Klammer.
A retired high school art teacher, Joan calls her husband of three decades a "very thoughtful and generous man who really listens."
"He is incredibly thoughtful in all his relationships," she said. "He is a wonderful husband, who has given me a life I couldn't have imagined."
Klammer, 65, announced his retirement last year after being diagnosed with stomach cancer.
In a memo to his faculty and staff, he wrote: "This university has provided me with a wonderfully rewarding and meaningful life, and it has offered me repeated opportunities for personal and professional growth. As I begin retirement, I will take with me lifelong gratitude to the university and the countless faculty, staff, and administrators who have enriched my years at CSUF. ... With deep gratitude, I wish you the very best."
In CSUF President Milton A. Gordon's four-page letter granting Klammer emeritus status, he wrote:
"Tom, you have always held an optimistic and visionary outlook, seeing the university as the hub of the community. You have always been sensitive to student needs. You have consistently engaged in collaborative work and efforts across institutional boundaries to create for students and faculty a student-centered learning community based on principles of equity in an environment where all have a meaningful opportunity to succeed."
As dean, Klammer hired hundreds of professors and took great joy in getting to know them and their research. He handled their annual evaluations himself, mentored them and helped them reach tenure. And, his support extended to all his faculty members, the college's professors agreed.
For example, Ronald D. Rietveld, emeritus professor of history and an Abraham Lincoln scholar, recalls a phone call he received from the White House in 2002.
"I was being invited to a special Lincoln bicentennial reception at the White House with President Bush and I had to come up with money to fly there within days," he said. "I asked for assistance from the History Department and was turned down for lack of funds, so I immediately went to Tom, and he told me, 'you plan to go. We will find the money for your trip.' I'm so grateful to Tom for that opportunity."
For Klammer, there was no question that Rietveld would attend.
"The dean, like any administrator, is supposed to make sure we're keeping the bigger picture of things and evaluate what's important in that bigger picture," Klammer said. "So, naturally, having a professor invited to the White House is a great honor for the university and for the professor. No way would I turn that down."
During his tenure as dean, from 1999-2009, Klammer led the biggest campus college, which counts more than 528 full- and part-time faculty members among 23 academic departments and scores of centers, about 8,500 undergraduate and graduate students and more than 75,000 alumni.
Under his leadership, the college established student exchange programs with universities in Europe, Latin America and Asia. Klammer also is credited for:
championing the teaching of Persian, Vietnamese and Korean language as part of the university's Strategic Language Initiative;
chairing and promoting CSU committees, including the CSU Workshop on Support for Underrepresented Students, the Chancellor's Advisory Committee on Student Writing Skills and the California Reading and Literature Project Policy Board;
a partnership between Cal State Fullerton and Howard University that brings predoctoral fellows to campus to teach;
supporting the California State University Intelligence Community Center for Academic Excellence, which prepares students to compete for myriad careers at intelligence-gathering agencies;
playing a pivotal role in developing the University Honors Program, the Fullerton First Year Program, the Blended Teacher Education Program and the Centers for Careers in Teaching;
fostering the development of such centers as the Student Access Center, the African American Resource Center, the Asian American Pacific Islander Resource Center and the Environmental Studies and Sustainability Center;
helping lead the campus' Department Chair Support Program;
participating in the university's Project Teach program;
leading workshops on improving student writing in all disciplines; and making private donations in support of initiatives in the College of Humanities and Social Sciences, the arts, athletics and President's Associates, and encouraging faculty and alumni to also make donations.
Klammer's colleagues — Angela Della Volpe, who succeeded him as dean; Claire Palmerino, associate dean; Joe Weber, chair and professor of sociology; and professors Jack Bedell, Dennis Berg and Dan Kee — so admire his leadership style and character that in 2008, they tried to nominate him for the CSU Wang Family Outstanding University Administrator Award.
The nomination, however, was withdrawn when Klammer learned about it.
"He insisted that the nomination be withdrawn," Palmerino recalled. "He said to me, 'Claire, if ever the faculty thought that I was in this for myself, I would lose all credibility.' He has never been one to seek accolades, but rather he has worked steadfastly to further the work of his faculty to position them to accomplish, succeed and receive the accolades. I have never worked for a man of such caliber. I love him in all the roles I have known him — as mentor, boss, and friend."
Helping students succeed is what always drove his actions, Klammer said.
"When we help students, we can't tell what the outcome will be," he said. "We really don't know what our influence will be, but we must invest in them. We have thousands of students here, where new opportunities are opening up for them. We need to help them find those opportunities."
Though he took his role seriously, he loves a good pun.
Whenever he crossed paths with Joe Arnold, dean of the College of the Arts, they would tell each other "it's all theater."
"What we meant by that is that we each play our roles for the whole production to go on," Klammer explained. "It's also theater in that it's entertaining. Can you imagine a more interesting and entertaining place than a university? I think people's lives are made better by the time they spend here. In my 38 years here, I've had wonderful experiences, funny experiences, sad experiences — a wonderful life."
In appreciation of his service to the university, the College of Humanities and Social Sciences commissioned poet Irena Praitis, associate professor of English, comparative literature and linguistics, to write him a poem. She created the following:
His Work
By Irena Praitis
In the long shadows of late afternoon,
In light that ambers the earth toward evening,
A farmer tends his orange trees. He moves
Carefully while touching the dark, curved leaves
That rustle, hungry for water and sun.
He studies the fruit warming from pale green
Into orange. He knows all the white-star
Blossoms, taps their mist-born fragrance, and walks
The dirt rows slowly, almost unseen, one man
In motion among the stationary trunks.
Look well: Here is the work of a greatness
Too often left unsung. Like all manner
Of growing things, the trees need care. The tasks
That call him today, will call him again
Tomorrow. That is the joy of his work.
There is always something more to be done —
More in the time of nurturing ripeness,
More in the time of harvest, more on dark
Nights when he repels the frost that stunts
The sweetness by stoking the fire's brightness,
More as he thinks ahead, wonders ahead
To a rest well-earned, to those who will tend
These trees in the days after he's retired.
No harvest is finished until it's shared.
So he gives his knowledge of droughts and rain,
of tired soil, of caring for the new growth.
Offering his hope to all those who follow,
Holding the dreams of those who seek wisdom,
Today, in the long shadows of morning
He walks — he tends to his orange grove.
December 20, 2010