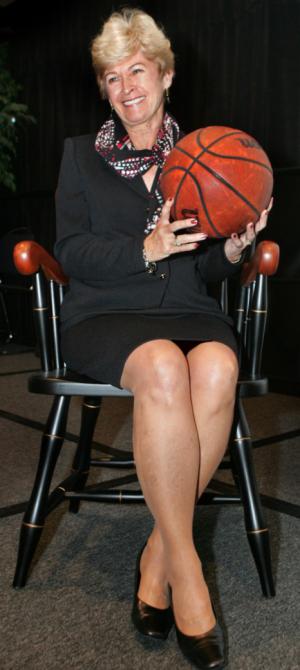 Caption: One-time basketball star Roberta E. Rikli sits in a chair given to her as a retirement gift from colleagues. Photo by Karen Tapia 
From Star Athlete and Beauty Queen to 'Quiet' Dean
Roberta E. Rikli Lauded for Effective Management Style
AS A GIRL GROWING up on farms in Oklahoma and Nebraska, Roberta E. Rikli, dean of the College of Health and Human Development, hauled wheat, plowed fields, stacked bales of hay, fed the cattle and raised a calf to show at the county fairs. While working as a checker in her parents' grocery store, she also managed to keep her academic grades high, play saxophone, edit her school yearbook, become a star basketball player, play softball, football and kickball with the neighborhood kids after school and get voted beauty queen twice.
Powered by a serious dose of self-determination and motivation, Rikli, first-born child in her family, has always been a leader, her siblings attest.
"She would make the rules, change the rules and break the rules," Rikli's youngest sibling Debbie Rikli noted in a speech she prepared to deliver at her big sister's recent retirement reception on campus. "Although there are many, Roberta's accomplishments didn't begin or end with her time at Cal State Fullerton."
As an undergrad at Phillips University in Enid, Okla., "Roberta was a leader in her sorority and still found time to be city lifeguard and teach swimming and tennis," Debbie Rikli continued. "As one of Roberta's four siblings, you can see by now, the bar was set very high early on. Roberta was driven from a young age…. Even amidst Roberta's busy educational and professional successions, she never missed a summer or Christmas at home with the family, and she didn't come home to rest. She beat us at ping pong, tennis, basketball, golf and table games. She made cranberry salad and turkey dinners. She gathered everyone up after the meal to go for walks and then watch 'Sound of Music.' When we all went to bed, Roberta would read, study and prepare her work…
"Roberta is our family's own real-life action hero. Although we have never seen it, there must be some phone booth where she morphs from her small stature to the broad shoulders she's carried us on time and time again."
The dean's colleagues use similar descriptions when talking about her and credit her for scores of successful university endeavors. During her 38-year career at Cal State Fullerton, Rikli was involved in creating, researching, overseeing and achieving the following:
On her accomplishments, Thomas P. Klammer, emeritus dean of the College of Humanities and Social Sciences, said: "What's really difficult for a dean is actually accomplishing something, bringing about change, creating something new, or motivating others to cooperate in creating something new. From my perspective as a dean, it is in actually accomplishing something that Roberta stands out in ways that astonish me."
The university's Academic Senate calls Rikli, who joined Cal State Fullerton's faculty in 1972 and will end her career on campus on Jan. 3, a "strong visionary leader whose style is quiet, yet incredibly classy and tough."
Rikli said she was interviewed at a national conference in Houston and was considering three other job offers when she accepted Fullerton's. Soon after arriving on campus, her grant-funded research related to fitness and aging received international acclaim. She co-authored with C. Jessie Jones, professor of health science and director of the university's Fibromyalgia Research and Education Center, "The Senior Fitness Test Manual," which is based on their milestone research that set national norms for those 60-94 years of age.
She served as professor and chair of kinesiology and health promotion and on numerous professional association boards and campus committees and administrative posts before 2002, when she was appointed dean of the college then known as Human Development and Community Service. Under her tutelage, Rikli split the college in two — the one she still leads, College of Health and Human Development, and the College of Education.
"Most deans, me included, seek to grow and expand their colleges, not divide them; but Roberta is a leader who seeks what is best for the university, our students and her colleagues," Klammer said. "The division took place without a revolutionary war; not a shot was fired, no one resigned in a huff. The dean wasn't impeached, and the university gained a prospering College of Education."
As the only female among CSUF's other deans for several years, Rikli served as a role model for women across campus.
"She was a mentor to all us women administrators," said Dorota Huizinga, associate vice president for graduate programs and research. "A lot of times when I didn't know about decisions, she was available to give me advice."
Several administrators likened Rikli's skills on the basketball court to her leadership style. Kathy Koser, associate dean of the College of Health and Human Development, and others said Rikli always knew how to score by building teamwork, dribbling and passing when necessary and driving hard to the net.
"I have the distinct feeling that we are going to be looking back on Roberta's time at the university and finding ourselves standing on her shoulders," said Stephan R. Walk, chair and professor of kinesiology.
He called Rikli's work on campus teachable moments.
"Roberta reminded us that life after, say 40, can and should be studied and, more important, richly lived, despite our scientific, cultural and commercial obsession with youth," he said. "She helped her discipline dust itself off from the preoccupations and apologetics of its past, encouraged it to redirect its energies to expanding the roles it has long played in helping to solve important social problems. ... Roberta took the very humility that undoubtedly comes from her Nebraska roots and quietly demonstrated the virtues of a confident pragmatist approach to being an academic leader both within her field and on our campus."
You do "learn a lot of good values growing up in a farm community — hard work, responsibility and how to get along with others," Rikli said. "In a small community, where everyone knows everyone, you have lots of good role models and lots of people watching out for you that you don't want to disappoint."
While she never dreamed of becoming a dean, she said: "the path to whatever successes I've had is probably pretty different from most people's. To be honest, I really never thought very far ahead — or had big dreams for myself as we're typically encouraged to do. Rather, I tended to just focus on the job at hand at the time and tried not to mess it up — and then move on to whatever seemed needed to be done next. Sometimes, in my earlier years, this would be how to become a better basketball player so I could help my team win, or in later years at Fullerton it might be about what new courses were needed to meet student needs, or which new programs were important for meeting community needs."
As she reflects on her career, Rikli recently answered a few questions for Spotlight:
Q: What are your retirement plans?
Besides going back and forth to Nebraska more often to see my 90-year-old mom and help take care of her, I have dozens of projects under way that need attention, as does my golf game. I've stayed quite active in my field (kinesiology and health promotion) where I have a contract for a book revision that is past due, which will be an immediate concern over the next couple of months. I'm also past president of the National Academy of Kinesiology, where I have responsibility for planning its national conference to be held in Minneapolis next September. Plus, I've already accepted a couple of consultant and task force appointments to deal with current issues in our field.
Regarding the needed attention to my golf game, I plan to join a golf club here in Orange County, and for the first time in my life, have the luxury of playing on weekdays, instead of on busy weekends when it can take six hours to complete one round. I also hope to play more golf out in Palm Desert, where I have a place not far from a number of other CSUF colleagues — an area sometimes referred to as "Fullerton East."
Q: When did you fall in love with sports?
I've liked sports for as long as I can remember, especially any sports involving balls — basketball, softball, volleyball, field hockey, tennis, table tennis and golf. I have to admit, I was pretty good at most of these sports over the years when I played them in high school and college. But, of course, that was pre-Title IX. Now, I wouldn't even make the team in most cases.
I love competition (always hated PE classes, but loved athletics). Most of the teams I played on usually won more competitions than we lost, especially in basketball. During my four years in high school, our team won 13 conference and regional tournaments, but again, this was in a small school and pre-Title IX, so things would be different now.
Q: Why is physical activity so important?
I always liked the personal challenge of seeing how good I could get at something. In younger years, I never thought about physical activity as being 'good for you' — but it was a great source of social engagement and personal challenge. To be popular in small schools, you needed to be a good athlete — and in small towns in Oklahoma, this applied equally to both boys and girls.
Now, I find physical activity to be an enjoyable diversion from other more sedentary types of work, a great stress reducer, and a help for controlling weight gain. But, I still like the competition part the most — whether it's competition with myself to see if I can improve on my last golf score — or winning more holes (and quarters) from whomever I'm playing with.
Q: What do you think about your tenure at CSUF?
I've absolutely loved my career at Fullerton and feel more than fortunate for all the opportunities I have had at every level. As a faculty member, there was never a day that I didn't walk onto campus thinking that this has to be the greatest job there is — teaching students who are eager to learn (for the most part), enjoying our peaceful and attractive campus surroundings and our flexible work schedules, and interacting with faculty colleagues who have similar interests and who enjoy lively discussions — intellectual or otherwise. As a department chair and dean, I've enjoyed the challenge of helping to set program goals and priorities, watch programs flourish, hire new faculty and see them development — and, of course, continuing to enjoy the company of colleagues as we all work together to make Fullerton and our communities a better place.
Q: What is your philosophy?
I try to remember that it's more important to focus on doing the right things than it is on doing things right. Of course, it's nice to do things right, too, but if you spend all day doing things that aren't important, you haven't accomplished much.
December 20, 2010