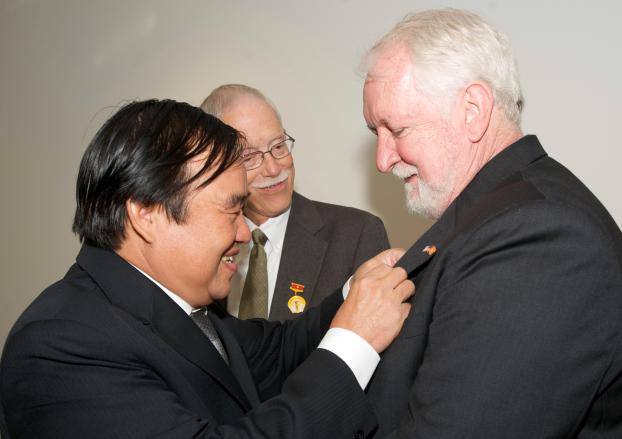 Caption: Tran Quang Quy, left, pins Vietnam's Medal of Educational Achievements on Dennis F. Berg, right, and Thomas P. Klammer looks on. Photos by STEPHEN WEISSBARTDownload Photo
Emeriti Receive Highest Honor
Berg and Klammer Awarded Vietnam's National Medal for Educational Achievements
CaptionDennis F. Berg, emeritus professor of sociology, and Thomas P. Klammer,
emeritus dean of the College of Humanities and Social Sciences, have been awarded the highest honor bestowed on educators by the Vietnamese government.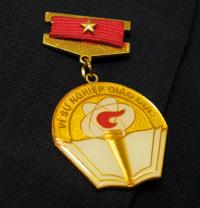 Caption: Vietnam's Medal of Educational Achievements
In a small formal ceremony Sept. 13, Tran Quang Quy, Vietnam's vice minister of education, pinned the Medal for Educational Achievements on Berg and Klammer's lapels. It was the first time the medal was awarded to anyone outside of Vietnam, Quy said.
Berg and Klammer deserve the highly coveted medals, Quy said, because of their "outstanding service to the people of Vietnam."
The educators, he said, have strengthened Vietnamese higher education and provided opportunities for advanced degrees to promising young faculty and students in Vietnam.
Klammer, who was applauded for supporting Cal State Fullerton's strong ties to Vietnamese universities, credited Berg for his work there.
Berg first visited Vietnam in 1991 as part of a delegation training English teachers. He has returned numerous times in the past 20 years to serve as an exchange professor and a foreign expert on higher education and lived in the country as a Fulbright Scholar for a year (2001-02).
Berg and Klammer said they were honored to be the first foreigners to receive the medal outside of Vietnam.
"I never dreamed of such an award and, if I had, I would have never thought it was in my reach," Berg said. "I've worked blindly in Vietnam, just trying one thing after another, never counting the days or years or trips or students or campuses. The point was to make a difference in lives. I think over time, I did that and so they are the real medals. But, this medal from the government is pretty special. I knew they were watching me for security purposes, but I didn't expect to ever be recognized."
President Milton A. Gordon said Cal State Fullerton supports the long-standing exchange programs with Vietnam and plans to continue them and develop new ones in the future.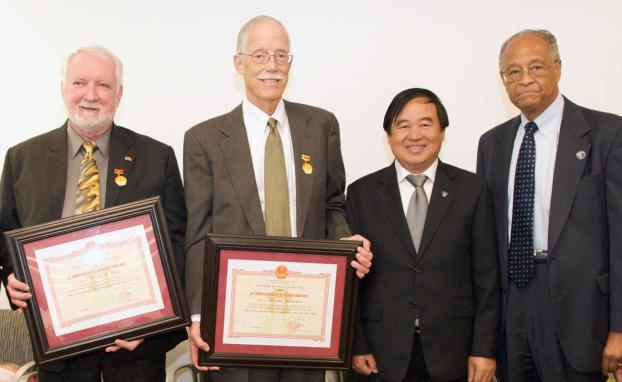 Caption: From left: Dennis F. Berg, Thomas P. Klammer, Tran Quang Quy and Milton A. GordonDownload Photo
Sept. 28, 2010