Persian Practice
Students Learn Language and Culture in Immersion Program
June 30, 2009
By Mimi Ko Cruz
At the beginning of the summer, Vida Christensen was taking notes in English. Today, she's jotting down thoughts in Persian.
"I was born and raised in Iran but I've been away from my culture for 33 years," said Christensen, who is one of a dozen students taking part in Cal State Fullerton's Intensive Immersion Language Program in Persian. "I was unable to read and write in Persian, but now I can and I'm even thinking in Persian. It's what I've always wanted to do."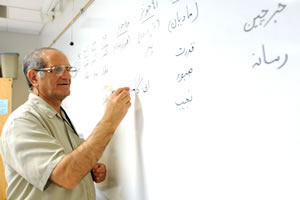 Seyed-Ali Miremadi writes a phrase in Persian. Photo by Kelly Lacefield
The 45-year-old Cal State Fullerton student, of Brea, said she hopes her language skills will land her a job as an English-Persian interpreter.
The 12 students this week are completing a six-week summer Persian immersion session, which is part of the California State University Strategic Language Initiative, a program co-sponsored by U.S. Rep Ed Royce (R-Fullerton).
As part of the program, the students will enroll in two more Persian studies classes — one in the fall and one in the spring — and travel to Tajikistan next year. They are receiving scholarship support that covers virtually all expenses.
The CSU Strategic Language Initiative was designed to teach Persian, Arabic, Korean and Chinese so Americans can work more effectively with the citizens of countries where those languages are spoken.
Cal State Fullerton has been offering classes in Persian for several years but the intensive summer program, now in it's third year, is designed for those who wish to learn the language more rapidly.
The U.S. departments of Defense and State have called for collaborative efforts to fill critical shortfalls in speakers of Persian, Korean, Arabic and Chinese. Those languages have been chosen as "strategic" because they are considered critical for national security, diplomacy, intelligence-gathering and international business and for developing deeper levels of cross-cultural understanding.
Seyed-Ali Miremadi, director of Cal State Fullerton's Persian Institute, said the summer course featured trips to Iranian temples, restaurants and cultural venues and special lectures on Persian music, history, geography, film and literature.
"This week, the students are learning about the women's movement in Iran," he said.
Miremadi and Parastoo Danaee teach the courses.
The students who make up this year's cohort and the universities they attend: Mona Abbasi, CSUF, Paramount; Bruce Christensen, CSUF; Vida Christensen, CSUF; Jessica Fain, CSUF; Mary Mckelvie, Cal State Long Beach; Roxanne Neely, Cal State East Bay; Amy Ostrerman, Princeton; Babak Safaei, CSULB; Tiffany Seeley, CSUF; Shahrooz Shahandeh, UC Irvine; Jacoba Wells, CSUF; and Behrad Hosseinzade, CSUF.
For more information about the program, visit http://hss.fullerton.edu/persian.
Related Story: