Honoring a Historian
Lincoln Expert Ronald Rietveld Feted May 16 with Lecture on 16th President
May 12, 2009
By Mimi Ko Cruz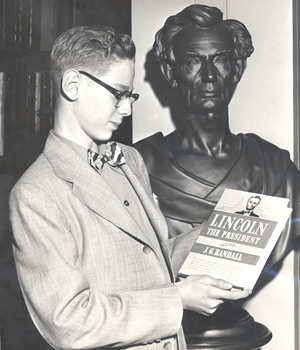 Ronald Rietveld, at 14, taken at the University of Iowa, Bollinger-Lincoln Collection dedication in 1951, the year the fledgling historian discovered a photograph of Abraham Lincoln lying in his coffin.
Ronald D. Rietveld was 14 when he found a picture of Abraham Lincoln lying in his coffin. The photograph had been lost for 87 years and its discovery made front-page news.
The year was 1951, the 71-year-old history professor recalled. He had been allowed to look in the Lincoln files at the Illinois State Historical Library.
The fledgling historian looked at the photograph and recognized it immediately because he had a copy of the Harper's Weekly May 6, 1865 issue that ran a line drawing of the same scene.
"I knew that photograph shouldn't exist," Rietveld said. "On behalf of Lincoln's wife, Mary Todd Lincoln, and their son, Robert Todd Lincoln, Secretary of War Edwin Stanton ordered that it be destroyed. The four-lens plate was destroyed, but the sole print was preserved by Stanton and was given by his son to John G. Nicolay, Lincoln's former secretary, who put it in his files."
It remained in those files, forgotten until Rietveld discovered it. And, so began Rietveld's decades-long journey into Lincoln scholarship.
Today, Rietveld is considered a leading authority on the 16th president. He is retiring this year, 200 years after Lincoln was born.
Lecture Notes
As a tribute, Cal State Fullerton is presenting the inaugural Rietveld Lecture May 16.
The 2-4 p.m. event in Room 1502 of Mihaylo Hall is free and open to the public. A special reception in Rietveld's honor will follow the lecture, from 4:30 to 6:30 p.m. at the Golleher Alumni House. Cost is $30 per person. To reserve a ticket, call 278-8475 or go to www.fullerton.edu/supportCSUF/hss/Lincoln.
The lecture, all about Lincoln, will feature seven noted historians: Larry Burgess of A.K. Smiley Public Library, Don McCue of Lincoln Memorial Shrine, Thomas Schwartz and Glenna Schroeder-Lein of the Abraham Lincoln Presidential Library and Museum, Keith Pacholl of the University of West Georgia, Ryan Swanson of George Mason University and Eric Walther of the University of Houston.
Schroeder-Lein, Pacholl, Swanson and Walther are former students of Rietveld.
Rietveld, who holds a doctorate in history from the University of Illinois, joined the university 40 years ago and his classes, especially those on the Civil War, have always been popular. The professor is so well liked, his students and colleagues call him Doc, an endearing nickname he revels.
Many of Rietveld's students have pursued doctorates and become historians themselves. One such former student is David Freeman, who now teaches history on campus.
"I took Professor Rietveld's Civil War course in the spring of 1995, the semester I graduated from CSUF with a B.A. in history," Freeman said. "Doc is one of the best lecturers I have ever encountered and has a lasting impact on his students. Many times when I have told people who attended CSUF that I now teach history here, the first reply I get is that they took history with the Doc and wish to know how he is doing. Some of these people attended Fullerton nearly 40 years ago!"
Schroeder-Lein has said that she was so enthralled by Rietveld's lectures in the early 1970s that she became a Civil War historian instead of a violinist.
Rietveld's History
Rietveld's road to teaching and his love of Lincoln history began when he was about 6.
"I had a heart murmur, so the doctor said I could not play sports," he recalled.
So, Rietveld spent all his free time reading. He loved history books and by the time he became a teen, he had already read Lincoln scholar and Pulitzer Prize-winner Carl Sandburg's six volumes on Lincoln.
Coincidentally, Lincoln also was a voracious reader, Rietveld said, adding that the young Lincoln read everything.
"He borrowed and read every book available within 50 miles of his home. He read newspapers aloud because he wanted to see it and hear it. He would do that all of his life.
"I admired his desire to learn," Rietveld said of his hero. "That was my desire, too."
Rietveld's reading led to writing to the people he read about and authors of his favorite books. He wrote to and received correspondence from all kinds of people, including those connected to Lincoln, and he got to meet some of them in person.
Among them: Sandburg and all the best known Lincoln historians of the time, Civil War veterans, daughters of Civil War veterans and the son of Lincoln's White House gardener. And, when Rietveld began teaching in 1969, one of his students was the son of an American slave.
From them, Rietveld learned everything he could about life in Lincoln's era.
"I'm so fortunate," he said.
Related Story: