New to McNair
Sixteen Incoming Scholars Join Undergraduate Research Program
August 10, 2010
By Mimi Ko Cruz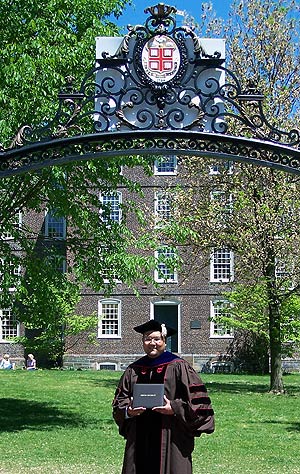 Clifford Frez earned his doctorate in chemical engineering at Brown University in 2008 and now works as an engineer at NASA in Pasadena. He graduated from Cal State Fullerton as a McNair Scholar in 2002.
Sixteen undergraduates have become Cal State Fullerton McNair Scholars.
As McNair Scholars, the students are taking part in special seminars and being paired with professors who will mentor, conduct research and present findings with them at conferences throughout the world. They also are learning what it takes to get into graduate school to pursue doctoral degrees.
The federally-funded program, established by the U.S. Department of Education in 1986, is named for the late astronaut Ronald E. McNair, the second African American to fly in space. Cal State Fullerton has received more than $2 million in grants for the program, which was instituted at CSUF in 1999. It provides low-income and first-generation college students opportunities to seek advanced degrees.
McNair Scholars Staff
Director: Gerald Bryant
Academic coordinator: Patricia-Anne Johnson
Administrative specialist: Michele Gomez-Maddex, former CSUF McNair Scholar who completed her bachelor's degree in business administration and Spanish in May
Program website: www.fullerton.edu/mcnair
Phone: 657-278-7315 or 657-278-7667
Campus office: University Hall, Room 230
The new McNair Scholars, their hometowns and their majors are:
Dora Armenta, Porterville, sociology
Jacquelin Bebawi, Mission Viejo, history
Jennifer Coons, Placentia, psychology
Erin Crecelius, Costa Mesa, psychology
Lisa Garcia, Whittier, computer science and communications
Danielle Gibbons, Yorba Linda, art and French
Stephen Hager, Orange, psychology
Nancy Heredia, Anaheim, biological science
Brittany Herrick, Orange, psychology
Joe Lam, Diamond Bar, psychology and philosophy
Leslie Moreno, Fullerton, psychology
Emily Nguyen, Fullerton, biological science
Stephanie Ramirez, Santa Ana, psychology and sociology
Angie Rodriguez, Riverside, criminal justice and sociology
Maria Ruelas, Inglewood, sociology
Anna Diaz Villela, Anaheim, Spanish
Most of the new scholars took part in a campus college tour this summer. As part of the tour, they visited the University of Michigan, Michigan State University, Ohio State University, University of Notre Dame and Bowling Green State University, and spoke with graduate students and professors about their graduate and research programs.
Armenta, Crecelius, Garcia and Herrick attended the annual McNair Symposium held last weekend at UC Berkeley, and Gibbons and Lam recently participated in San Jose State's McNair boot camp. The universities introduced the students to the rigors of graduate school, explaining what it takes to gain admission and what they can do to prepare.
"This program is great," Hager said. "It's allowing me to do things that I never thought I'd be able to do. The graduate school tour was really something quite exceptional. Just being a McNair Scholar has exponentially increased my chances of getting into a good graduate school where I will work on my Ph.D."
As seniors graduate, new McNair Scholars are chosen each academic year. Students must have completed 59 units and have earned at least a 3.0 grade point average to apply.
Scholars receive a stipend, plus assistance to build their GPA and boost research skills to be competitive in applying for graduate school, said Gerald Bryant, director of CSUF's McNair Program.
Scholars also present their research at professional conferences and some see their work published in journals.
The program has graduated 135 scholars to date. Of those, several have completed masters programs and doctoral degrees, including: Clifford Frez (B.S. chemistry '02), who earned his doctorate in chemical engineering at Brown University in 2008 and now works as an engineer at NASA in Pasadena; and Omar Khalid (B.S. biochemistry '03), who earned his Ph.D in biochemistry from UCLA in 2008 and now works at UCLA as a researcher.
Other recent graduates include: