The $100,000 Grad
Cal State Fullerton Bio Major Wins National Science Foundation Fellowship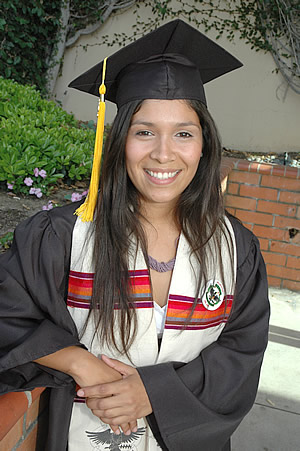 Carmen J. Cortez
Degree/Major: Cal State Fullerton bachelor of science in biological science, concentration in biodiversity, ecology and conservation biology, May, 2009
Graduate School: UC Davis, doctorate in ecology, expected in 2014
Hometown: Lynwood
Family: Parents Raquel and Gustavo Cortez, and younger brothers Martin, Gustavo Jr., Emmanuel and Carlos
Favorite scientist: Ethnobotanist Arturo Gómez-Pompa
Favorite quote: "We believe that the world must realize fully its responsibilities and commitment to the individuals and communities of today who, by design or default, maintain the natural resources on which we all rely. In addition, conservation that sacrifices basic human needs at present for those of the future is fundamentally unjust." — Arturo Gómez-Pompa
Favorite pastime/volunteer service: Playing traditional Mexican instrument, jarana, at events and donating all proceeds to El Centro Cultural de Mexico, where she is a volunteer offering free music lessons
Favorite book: "Caramelo" by Sandra Cisneros
Her high school teachers may not have believed in her ability to become a scientist, but Carmen J. Cortez is completing her Cal State Fullerton bachelor's degree in biological science, and the National Science Foundation is awarding her $101,500 to conduct scientific research.
The 23-year-old student from Lynwood defied naysayers with self-determination, passion and hard work. She will be among those taking part in the pomp and circumstance of the university's commencement ceremonies Sunday, May 24.
Cal State Fullerton's McNair Scholars and Equal Opportunity programs, professors and administrators provided the encouragement. Cortez — who will attend UC Davis' doctoral program in ecology this fall — brought the drive.
"Coming from a humble background with aspirations just to be able to get a bachelor's degree, Carmen is living proof that with a strong support system and an opportunity to showcase her talents, there are no limits to what she can achieve," said Gerald L. Bryant, director of the McNair Scholars program, which encourages students to pursue graduate studies and provides opportunities for them to participate in research studies with faculty mentors.
Cortez is now a scientist — a goal she set for herself after reading a chapter in her 12th-grade science book.
The chapter was on photosynthesis, and it struck her like no other lesson in her high school career.
Carb Connection
"I was fascinated by the plant process by which carbohydrates are synthesized from carbon dioxide and water using light as an energy source and releasing oxygen as a byproduct," Cortez recalled. "As inner-city kids, we tend to see plants just as decoration in our landscape, but photosynthesis really teaches you about the world, how we're connected to the Earth."
She excitedly turned to her biology teacher to ask how to go about pursuing a science education in college.
He took a look at her so-so grade-point average — 2.95 — and offered discouragement.
"He shrugged me off and told me that it takes a lot to be a biology student," Cortez said. "He really didn't see me getting into college at all."
In fact, UC Santa Barbara rejected her application for admission, and her precalculus teacher explained why. "He told me: 'You're just not a good student,'" she said.
Her hopes were crushed, but she didn't give up — and became the first in her family to attend college.
Gaining Guidance
Cortez credits Cal State Fullerton professors and mentors, who provided her with guidance, support and direction.
"In my freshman year, I heard Gerald Bryant talk about graduate school, the McNair program, the importance of undergraduate research and the opportunities we have here at Cal State Fullerton," Cortez said. "And, I was extremely intrigued with Dr. Sandra Banack's ethnobotanical research on cyanobacteria and cycad symbiosis and neurotoxins associated with life-threatening diseases that biomagnify through trophic levels. Her integrative approach at understanding an illness from a cultural and botanical perspective incited my interest."
Through the McNair program, Cortez was teamed with Banack, professor of biological science, who became her mentor.
"I learned from her that everything is interconnected," Cortez said. "We're all a part of our ecosystem."
Banack called her student "a rising star, who already is an amazing scientist with insight, drive and great promise."
World View
Besides working in the lab with Banack, Cortez also has conducted research at other universities, as well as in Mexico and West Africa.
Last summer, she studied plant ecology, pollination biology and the ecology of cocoa agroforestry in Ghana.
"I left Ghana as a more critical, self-reliant biologist with a different understanding of the world and a desire to continue to conduct research," Cortez said.
She also conducted fieldwork in the Sierra Nevada native grass seed zone, where she learned about ecophysiology in plants.
She's in the midst of completing a restoration project with Darren R. Sandquist, CSUF associate professor of biological science, dealing with an endangered plant species in the Santa Ana flood plain, as part of the Southern Ecosystems Research Program at Cal State Fullerton.
In Mexico, Cortez took part in an ethnobotanical study that looked at the use of an aquatic plant.
"I found that people were using that plant to treat kidney and liver ailments and as a condiment in salads and tacos," she said. "The plant sequesters heavy metals that get into the wetland from industrial waste. People are consuming it, and their health may be at risk. Studies to assess water quality in this region are critically needed."
Cortez said she plans to conduct research in Veracruz, Mexico, where the threat of deforestation is high.
"I want to work with sustainable agriculture and conservation and bring in indigenous practices of agriculture," she said. "I want to help find a way to conserve the environment in a way that is just and fair to the people who live there.
"We are all in a rapidly changing world — a world in which those who are in power seek to homogenize society and are, unfortunately, those who perpetuate a system that continues to exploit people and our natural resources," she added. "In this changing world, there needs to be a different outlook to the co-existence of our civilizations and natural process of the environment."
Future Focus
After completing her doctorate, Cortez plans to work as a university professor, research scientist and part-time high school biology teacher.
"There are many students like me, who get written off in high school, because we're people of color or because we're poor or because our families lack higher education," she said. "That's why I want to teach in an inner-city high school. I know there is so much potential, and it is a disservice to discourage any students who want to further themselves academically. It is the responsibility of teachers to encourage their students to succeed."
Bryant called Cortez "a good steward of the Earth's ecological system" and, he said, the knowledge she has gained and will continue to gain "will be beneficial to humankind the world over."
Currently living in Anaheim, Cortez will be packing her belongings in the fall for UC Davis, where she has been awarded a full scholarship, in addition to the NSF fellowship, for her doctoral studies.
Following Sunday's 8 a.m. main commencement ceremony on the sports fields north of Titan Gym, Cortez will participate in the College of Natural Sciences and Mathematics exercise on the lawn west of the Engineering Building, beginning at approximately 9:45 a.m.