Fruits of Labor
Student Wins Fulbright to Work and Study in Mexico
May 12, 2009
By Mimi Ko Cruz
Diana Lira's parents were living the American dream as owners of a produce distribution company that kept their family financially secure for more than a decade.
Mismanagement of the business, however, caused it to fail and the Liras went into debt and were forced to file for bankruptcy seven years ago.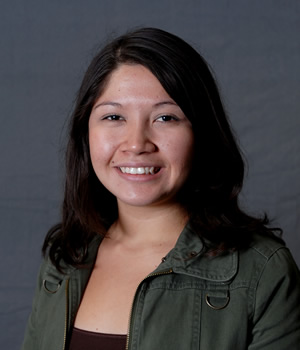 Diana Lira
Age: 22
School: Cal State Fullerton
Major: International business, concentration in Spanish
Year: Senior
Expected graduation date: May 2009
Hometown: La Puente
Family: Parents, Manuel and Graciela; and four siblings, Gustavo, Manuel Jr., Monica and Sophia (Diana is the middle child)
Favorite book: "Bless Me Ultima," by Rodolfo Anaya
Favorite quotes: "Be the change you want to see in the world," by Mahatma Ghandi and "To be a student and not a revolutionary is a contradiction," by Salvador Allende
"I was a sophomore in high school when my family went from being economically stable to being on the welfare system," Lira recalled, with tears in her eyes. "The hardest part was seeing my mom have to accept handouts for us to survive. It was a time of desperation. Our lifestyle changed completely. But, there was no time to be sad."
Lira worked at a retail shop after school during the week and, on the weekend, she, her four siblings and her parents would pick unwanted fruit. Friends who owned wholesale produce companies allowed the Lira family to take any fruits they couldn't sell.
The Liras would find the best of the worst, repackage and sell those fruits to local convenience store owners, who would pay up to 70 cents for each package.
"That's when I decided I have to help my parents get out of this situation," Lira said. "Minimum-wage jobs weren't enough. I figured out that I needed to learn how to take care of myself by doing something that would, hopefully, be good for the whole family. So, I started thinking about college."
Desire and Determination
With encouragement from her high school teachers and counselors, Lira applied to Cal State Fullerton and was accepted. A number of scholarships have helped her pay the costs and, today, she is a senior international business major with a concentration in Spanish.
As she completes her bachelor's degree this month and prepares to take part in commencement, Lira also is preparing to spend a year in Mexico as a scholar under the Fulbright-García Robles Program.
The Fulbright, America's academic exchange program, was established in 1946. The Mexico-U.S. Commission for Educational and Cultural Exchange (COMEXUS) oversees the Fulbright Program in Mexico. Under a 1992 agreement, all of the Fulbright scholarship programs administered by COMEXUS are financed by the United States and Mexican governments, and the scholarship was renamed Fulbright-García Robles in honor of Mexican Ambassador Emeritus and Nobel Peace Prize winner, Alfonso García Robles.
During the 2009-10 academic year, Lira will work for a nonprofit agency by day and take night classes at a university in Mexico City or Monterrey.
Lira is no stranger to Central America. Her parents are immigrants from Mexico and she spent last spring there, learning about social movements.
"It was a study-abroad program that took students through the entire country," Lira said. "We learned about indigenous resistance and autonomy and about advocating for marginalized communities against larger global policies that negatively affect them. I came away form that experience, recognizing how privileged I am as an American citizen."
Public Policy Research
As a Cal State Fullerton McNair Scholar, Lira researched the impact of public policy programs in the lives of rural farmers in Zacatecas.
"I studied the success and flaws of the programs, and that really furthered my understanding of agricultural policy," she said. "I want to continue studying the economic development in rural areas, which are predominately low-income, with a high level of poverty."
"It's rare when you find someone with integrity, intelligence and commitment to community fully integrated in his or her life," said Silas H. Abrego, associate vice president for student affairs, and one of Lira's mentors who supported her application for the Fulbright grant. "Diana has that and is very passionate and dedicated in her service to the Latino community. Moreover, she has joy for learning and sharing her knowledge with others. I have no doubt she will make a difference in this world."
Last summer, Lira earned a scholarship to attend UC Berkeley as part of the Public Policy and International Affairs Fellowship Junior Summer Institute. During that time, she completed three courses on economics, quantitative methods for policy analysis and policy analysis. She said she produced four policy memos, and learned that "the voices of students from underrepresented communities are missing in the discourse of policy decisions."
Lira hopes to fill the void by continuing her studies, and she serves as an inspiration for other students through her volunteer work in the community.
Serving Her Community
Since she was a freshman, Lira has been a member of Cal State Fullerton's MEChA and, through the student group, volunteers as a mentor to high school students, encouraging them to pursue college degrees.
"I'm the first in my family to go to college," she said. "Many of the kids I mentor also have no college-educated family members. So, I tell them about the value and importance of higher education. I know what it's like when your family doesn't understand how college can help you prosper. But, even though it's hard at home, I tell them: 'Once you get your education, you're able to change your situation and be more influential in making positive changes for yourself and your family in the long-run."
Her words and her deeds serve as inspiration to many, said Janette L. Hyder, a counselor for Cal State Fullerton's Educational Opportunity Program and one of Lira's mentors.
"What I love about Diana is her compassion for humanity and her desire to make society a better place," Hyder said. "She does not take her responsibilities to her community lightly. Everything that she has earned will be beneficial for the entire community. I am extremely proud of her and I know she will continue to reach out to others and continue to be a change agent."
As for Lira's parents, they've re-started their company, Manny's Cold Storage. It's smaller and the office is run out of a shipping container in downtown Los Angeles, but this time, Lira is with the accounting, and "I'm teaching them all the business management skills I've learned at Cal State Fullerton," she said. "They have four delivery trucks and the business is growing and doing well."
What's Next?
Upon her return from Mexico, Lira plans to pursue master's and doctoral degrees in public policy.
"I chose to study business administration as an undergrad to help my parents, but I want to follow my heart and study public policy in graduate school," Lira said. "My ultimate goal is to influence economic development policy for marginalized communities, specifically in Latin America.
"I've always had a deep desire to create positive changes in underrepresented communities, and I think my own experiences have led me to this path."