Educational Experiences Beyond the Classroom
Students, Faculty Members & Local Partners Honored for Contributions to Community Service
June 24, 2008
By Debra Cano Ramos
Cal State Fullerton's Center for Internships & Community Engagement recently lauded students, faculty members and local partners for their participation and support of community engagement in higher education.
Two students received top honors last month: Melanie McCook was given the "Extraordinary Acts of Service" award and Jessica Angeles received the "Outstanding Student Leader" award.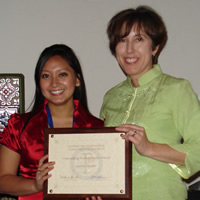 Jessica Angeles and Dawn Macy
McCook, who graduated this year with a bachelor's degree in human services, volunteered with the center's WECARE program — Working to Enhance Care and Resources for our Elders. Through the program, trained volunteers work with local agencies that provide a variety of services to senior citizens. McCook, who served her hours with the Alzheimer's Association, plans to pursue a master's degree in social work.
Angeles, a senior majoring in child and adolescent studies, volunteered with the center's Jumpstart program, working with local preschool children to help them build language, literacy and social skills. In the Jumpstart program, students majoring in child and adolescent studies are placed as preschool tutors in schools where children are from low-income families. The program gives them the opportunity to link theory and real-world practice.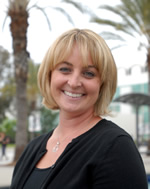 Melanie McCook
Angeles volunteered with Fullerton School District's School Readiness Program at Richman Elementary School and gave more than 450 hours of service. Angeles also is the president of the university's new Jumpstart Club. Both WECARE and Jumpstart are AmeriCorps programs.
McCook and Angeles, along with 42 other seniors who participated in service learning and academic internships during 2007-08, received "senior medals," presented to them by President Milton A. Gordon. The award is given to students who participated in experiential education opportunities during their academic studies, while completing twice the amount of service-learning coursework required for their major, said Dawn Macy, the center's associate director.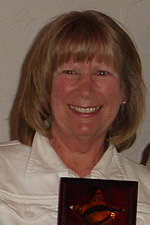 Susan Shipstead
"These students are all extraordinary — they have gone above and beyond to further their own learning through acts of community engagement tied to coursework," Macy said.
Two faculty members who "take risks, go beyond their comfort zones and create experiences for their students that truly support the university's mission" also were honored for contributions to the center and its programs. Kathy Brzovic, lecturer in marketing, was awarded with "Outstanding Service-Learning Instructor" and Susan G. Shipstead, lecturer in child and adolescent studies, was named "Extraordinary Internship Coordinator."
Brzovic teaches business writing and has worked with Cal State Fullerton students in applying classroom concepts and skills to real-world situations. Shipstead works with the Jumpstart program and helps to coordinate students who work as preschool tutors.
Two community partners also were given accolades for providing Cal State Fullerton students the opportunity to perform meaningful community work tied to their academic studies.
Topaz Head Start in Fullerton was honored with the "Stellar Student Support" award and the city of Stanton received the "Most Committed Partner" award. Topez Head Start works with the university's Jumpstart program.
"The school's support has given college students the confidence in their ability to handle a classroom of their own in the future," Macy said.
The city of Stanton and the university have partnered to give students the chance to put what they learn in the classroom into practice. Most recently, the city's parks and recreation division worked with business majors to improve awareness of Stanton's Community Services Center.
"None of this would be possible without the support of community businesses and organizations that partner with the center," Macy said. "It is through these people that the experiences for our students are provided. It takes a real commitment on the part of a community partner to serve in the role of co-educator."
During the last seven years, the Center for Internships & Community Engagement has generated more than $4 million in grant monies to support internships and service learning, Macy said. In February, Cal State Fullerton was named to the U.S. "President's Higher Education Community Service Honor Roll with Distinction," an honor recognizing the 717,661 hours of service performed by the university's students last year.
At the awards event, center officials also announced the center's new name, the Center for Internships & Community Engagement (formerly the Center for Internships and Service-Learning).
"The name change is appropriate because this partnership among students, faculty members, community agencies and the university reflects the meaning of what a fully engaged campus can and should be," Macy said.
For more information about the center and its programs, visit the center's website.