WECARE Givers
New University Program Provides Services, Resources to Elderly
January 22, 2008
By Debra Cano Ramos
Melanie McCook's 79-year-old grandmother — who leads mall walks for seniors and teaches wheelchair exercise classes to people in nursing homes — is the Cal State Fullerton student's inspiration to serve the elderly. For Fullerton resident Pat Trotter, it's an opportunity to continue her advocacy for agencies and programs that promote successful aging.
Because both deeply care about helping elders, McCook and Trotter have signed up to be a part of a new university program to ensure older adults' ability to maintain independent living. They are among the volunteers of WECARE, an Americorps program offered through the Center for Internships & Service-Learning and the Institute of Gerontology in partnership with more than 20 Orange County community organizations serving the elderly.
WECARE — Working to Enhance Care and Resources for our Elders — is an intergenerational, multicultural corps of experienced and trained volunteers.
More than 50 Cal State Fullerton students and alumni, as well as area university students and community members, have stepped up to serve, committing to a minimum of 450 service hours over a year period. The focus is to recruit baby boomers ages 42 to 60, pre-boomers ages 61 and older, as well as the younger generation, said Adrienne Stokols, WECARE founder and director.
"I think that by having a corps of volunteers like WECARE is providing helps seniors see that people do still care," said McCook, 28, a human services major and student intern with the program. "We are all committed to a year of serving this population because we genuinely care about them and want to make a difference."
With the elderly population rapidly rising, including an estimated 838,000 baby boomers in Orange County turning 65 in 2011, there is a growing need to address issues they are facing, said Jeannie Kim-Han, director of the Center for Internships & Service-Learning.
"WECARE gives participants the opportunity to gain new skills, meet new people, learn about aging issues and community resources for eldercare and participate in cultural and social activities," Kim-Han said.
Program participants, more than half of whom are age 40 and older, will provide a range of services, such as in-home visits, delivering meals, information on healthy aging and resources for aging, and special classes on fall prevention and health issues.
Through the program, seniors learn new skills to live longer, healthier lives and get the opportunity to make new connections and friendships, McCook said.
"I hope that the services we provide will help them to want to get out and get engaged in the community again," said McCook, who hopes to pursue a master's degree in social work. She sees the program as a way to boost her college studies.
"I think that the opportunity to work in the field with the aging population can only enhance the knowledge that I am gaining in the classroom regarding the field of gerontology," she said. "I hope to gain a better understanding of the issues affecting the aging population and find my part in being able to help the cause."
After 25 years of service as the city of Fullerton's manager of human services and in charge of two senior centers, Trotter, 63, retired in 2005. Since retirement, she has been active with the university's Ruby Gerontology Center and was the originator of pending Senate Bill 977 — authored by Cal State Fullerton alumnus and state Sen. Lou Correa (D-Santa Ana)— that addresses refurbishing and reinventing senior centers statewide to meet the needs of the growing aging population. A Cal State Fullerton research study of the state's current and future senior center infrastructure needs also would be commissioned, Trotter said.
"The AmeriCorps project fulfills my desire to continue to work and provides me with the opportunity to use my skills, talents and abilities," said Trotter, who also serves on the California Senior Legislature and Orange County Senior Citizens Advisory Council.
"I will get a tremendous amount of satisfaction in knowing that I am part of a larger organization that believes helping others to be successful is a worthy goal. Serving with AmeriCorps also will enable me to be on the cutting edge of senior services. I can think of nothing more gratifying than being associated with an organization that will bring dignity to aging."
AmeriCorps is the domestic version of the Peace Corps, which offers adults the opportunity to get involved in service activities in their local communities.
Participants in the WECARE program become AmericCorps members and in return for their community service receive a modest living award and may qualify for an educational award the underwrites college tuition/fees and even educational cruises.
WECARE also invites individuals to volunteer for service activities without becoming an AmeriCorps member. As a volunteer, individuals are not required to commit to a specific number of hours and would not receive any monetary benefits, but would be able to participate in all training and personal development opportunities.
For more information, call 278-4659, email WECAREproject@fullerton.edu or visit http://campusapps.fullerton.edu/cisl/WeCareAC/index.htm.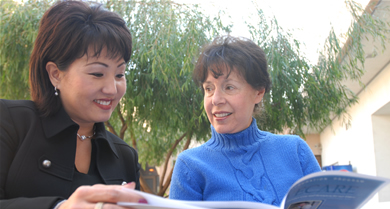 Reviewing material from the WECARE program, an intergenerational, multicultural corps of volunteers helping serve the senior community, are Jeannie Kim-Han, director of the Center for Internships & Service Learning, and Adrienne Stokols, WECARE director on campus.