Cal State Fullerton: A Campus That Cares
Students Give 700,000 Hours of Community Service
January 21, 2008
By Debra Cano Ramos
89,384 — that's the number of eight-hour workdays Cal State Fullerton students racked up serving the off-campus community last year.
Through volunteer activities, academic internships and service-learning course work, nearly 9,000 students worked a total of 715,061 hours during the 2006-07 school year for a host of community activities benefiting children, elderly, sick, homeless and others in need.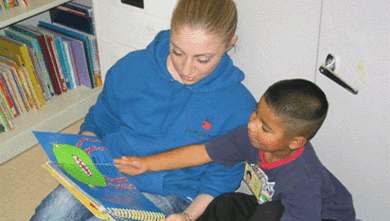 Jumpstart, an AmeriCorps program, engages child and adolescent studies majors as preschool tutors at schools in local, low-income communities.
According to Jeannie Kim-Han, director of the university's Center for Internships & Service-Learning, Cal State Fullerton students are going above and beyond to create a more socially conscious society.
"Our students are doing extraordinary work outside of the classroom," Kim-Han said. "And faculty are going out of their way to develop service-oriented learning experiences that benefit students, the community and the campus."
Students' exemplary service efforts are facilitated through internships and fieldwork experiences overseen by academic departments, and through programs and projects offered by the Center for Internships & Service-Learning, Volunteer & Service Center, Associated Students, and other campus organizations. Click here to see some examples of the programs in which students are working for the community.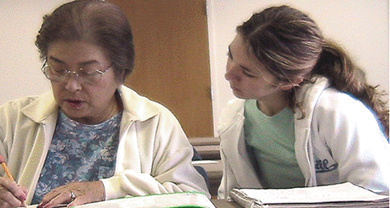 Project SHINE, a program in which students enrolled in sociology, TESOL (Teaching English to Students of Other Languages), education or language courses serve as English tutors in community settings.
The university's mission includes fostering civic engagement and exposure to the social issues of the day, Kim-Han explained.
"In a deliberate way, we are providing service opportunities to enhance their learning and to improve the quality of life of community residents, particularly low-income individuals," Kim-Han said.
Besides the obvious benefits to the community, students' service work often leads them into jobs and careers after graduation.
Kim-Han compiled the community service data as part of the university's application for inclusion on the President's Higher Education Community Service Honor Roll, a national program administered by the Corporation for National and Community Service and supported by the U.S. Departments of Education and Housing and Urban Development, USA Freedom Corps and the President's Council on Service and Civic Participation. Honorees and Presidential Award winners will be announced in February 2008.
"We wanted to capture this information to show the breadth of our students' service efforts, as well as the importance of engaging with the community in meaningful ways," Kim-Han added.
For more information about the university's volunteer and service-learning programs visit www.fullerton.edu/cisl or www.fullerton.edu/deanofstudents/volunteer/. For information about the President's Honor Roll, visit www.learnandserve.gov/about/programs/higher_ed_honorroll_2006.asp.