Thinking Ahead
Future Careers Focus on Sustainability
March 16, 2010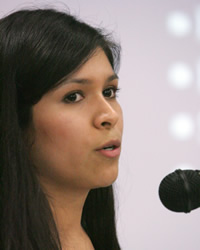 Carmen Cortez
There are and will continue to be new jobs and careers based on sustainability in education, government and myriad industries, and today's students need to think ahead.
That was the message of one of the panel discussions at last month's Cal State Fullerton "Sustainable Futures: Diversity and Green Initiatives in Graduate Education."
The panelists were: Frank Dela Vara, director of Disneyland Resort's environmental affairs and conservation; alumna Carmen J. Cortez, a doctoral student in ecology at UC Davis; John Hoffman, assistant professor of educational leadership; Melem Sharpe, program developer, University Extended Education; Mark Martinez of Southern California Edison; Mariann Long of Anaheim Public Utilities — AC-NET; and Kim Davis of Southern California Edison/Smart Grid. Alexandro J. Gradilla, professor of Chicana and Chicano Studies, served as moderator.
Gradilla kicked off discussion with a call to integrate social equality with sustainability. He provided statistics and a history lesson (PowerPoint presentation) on the topic.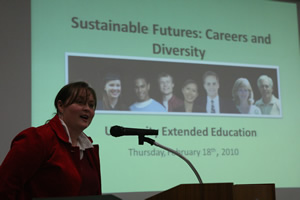 Melem Sharpe speaks about University Extended Education's certificate programs in "green" jobs. Photo by Karen Tapia
"Legacies of institutional racism have eroded the power of minority groups over time," he said. "Latino populations are often looked upon as sources of cheap labor. We need to see this group as offering intellectual labor. We do this by providing educational opportunities to our children. We need to move our thinking from seeing Latinos as laborers to seeing them as leaders."
Hoffman echoed Gradilla's thoughts, saying that creating diversity in higher education in needed.
Cortez discussed some of her experiences (PowerPoint presentation) as a Latina scienctist and explained how her education at Cal State Fullerton prepared her for her doctoral program, studying environmental change.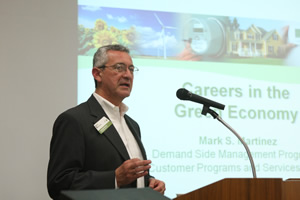 Mark Martinez encourages Southern Californians to establish sustainability practices. Photo by Karen Tapia
Sharpe discussed how University Extended Education has developed a range of certificate programs and courses focusing on "green" jobs — more than 60 so far. Her PowerPoint presentation outlines details.
Among Dela Vara's topics were how Disney recycles two-thirds of the water it uses, how it moved its steam trains to bio-diesel fuels, and uses compressed natural gas for many rides such as guest shuttles, Jungle Cruise and Main Street vehicles. Rides such as Storybook Land and Submarine Voyage now run on electric power and water conservation measures have reduced total water consumption at the resort by 10 percent.
Martinez, who encourages the passage of laws that promote green disciplines, spoke of the need for Southern Californians to establish practices that focus on sustainability such as recycling, using energy-efficient appliances, and learning more about sustainability practices. His PowerPoint presentation defined "green" jobs.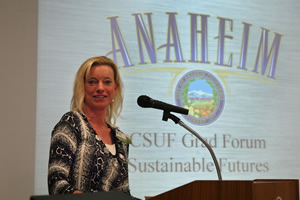 Mariann Long speaks about Anaheim Public Utilities' AC-NET (Anaheim Center for New Energy Technology). Photo by Karen Tapia
Long focused on what is driving the green market: federal stimulus funding, state legislation and new technologies. She said the AC-NET (Anaheim Center for New Energy Technology) will look at new ideas and test new "green" technologies. The city itself is using LED street lights and will be roofing the Anaheim Convention Center with a "green" roof. Through the use of a smart grid (PowerPoint presentation), the city will be made aware of power outages or problems instantly.