Advancing Creativity and Critical Thinking
June 5 Event Lauds Local Teachers, Students for Music, Artworks
June 1, 2010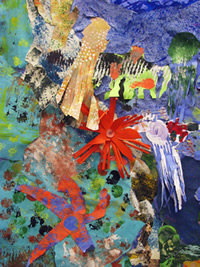 The students in Karen Rechnitzerís special education class at Woodcrest Elementary in Fullerton created an ocean mural in painted papers.
What:
Cal State Fullerton's SchoolsFirst Center for Creativity and Critical Thinking in Schools will recognize local elementary school teachers and their students as a result of the teachers' participation in a music and visual art development programs offered by the center.
When:
1 p.m. Saturday, June 5
Where:
Cal State Fullerton's Titan Student Union, 800 N. State College Blvd., Fullerton 92831
Program:
The event's Teachers and Students as Artists Reception will feature more than 140 pieces of art created by Brea and Fullerton elementary school students. Teachers and students will receive certificates of recognition for their work of integrating music and visual art with core curriculum study. A musician will perform songs with the students.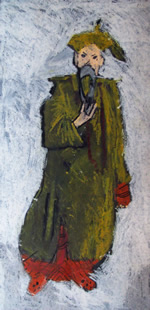 A sixth-grader at Woodcrest Elementary School in Fullerton created this portrait of a Chinese emperor.
Background:
Twenty-six Kindergarten through third grade teachers from five Placentia-Yorba Linda Unified School District schools attended the center's Music & Movement Institute in August 2009. Ten Kindergarten through sixth grade teachers from Brea's Fanning Elementary School and Acacia, Fern Drive, and Woodcrest elementary schools in Fullerton completed the center's Advanced Visual Art program in 2009-10 and integrated visual art in their classroom curriculum, in part through field trips to the Long Beach Aquarium, Fullerton Arboretum and Brea's Craig Park. Cal State Fullerton students in the College of Education's elementary and bilingual education program served as docents for the arts-focused classes, planning and facilitating the art activities during the field trips.
About the SchoolsFirst Center:
The College of Education established the center in 2009 to better prepare K-12 students for a changing world and the 21st-century workplace. The center promotes educational approaches and methods that infuse the arts, science and technology as central components in school curriculum. "The center is a catalyst and focal point for faculty and student research, as well as a resource for educators to develop and disseminate effective models promoting creativity and critical thinking," said Teresa Crawford, center director and professor of elementary and bilingual education.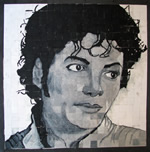 This portrait of the late pop star Michael Jackson, a grid drawing with oil pastels, was created by sixth-graders in Dionne Sincire's class at Woodcrest Elementary School in Fullerton. The students created it as a persuasive essay project.
Community Support:
SchoolsFirst Federal Credit Union pledged $250,000 in support of the center's activities. Last spring, the center was named in recognition of the credit union's gift. Dixie Shaw of Placentia, a retired elementary school teacher, donated $18,000 to help fund the Music & Movement Institute, which supported a stipend for teachers and materials and instruments for their classrooms. Orange County philanthropist Sandy Segerstrom Daniels and the Anaheim Ducks also have given donations in support of the center.
Related Stories:
Promoting 21st-Century Learning