Promoting 21st-Century Learning
New Center Supported by SchoolsFirst Federal Credit Union
March 10, 2009
By Debra Cano Ramos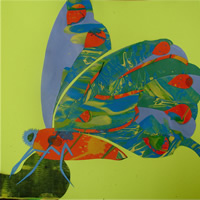 One of the pieces of artwork created by a sixth grade instructor who attended the 2008 visual art institute.
The College of Education's new Center for Creativity and Critical Thinking in Schools — recently established to better prepare K-12 students for a changing world and 21st-century workplace — has received a financial boost from SchoolsFirst Federal Credit Union.
The credit union is contributing $250,000, or $50,000 a year over the next five years, in support of the center's planned activities, said Claire Cavallaro, dean of the College of Education, who noted that it is the largest gift the college has received to date.
To further support center activities, the college is seeking funding from private foundations and government-sponsored grant programs.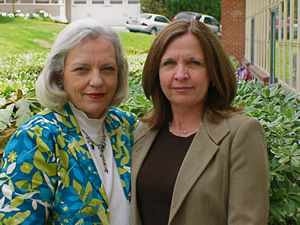 Ginger Geftakys, lecturer in elementary and bilingual education, left, and Teresa Crawford, director of the new Center for Creativity and Critical Thinking in Schools and professor of elementary and bilingual education.
An April 5 event has been planned to formally launch the center and to recognize SchoolsFirst Federal Credit Union, honor participants of the 2008 summer visual art institute and feature an exhibit of artwork created by teachers, student teachers and elementary school students.
The center will promote educational approaches and methods that infuse the arts, science and technology as central components in school curriculum.
"We'll be addressing the growing need to develop learning approaches that engage students in creative and critical thinking processes, decision-making and collaboration, while also addressing state and national content standards," Cavallaro said.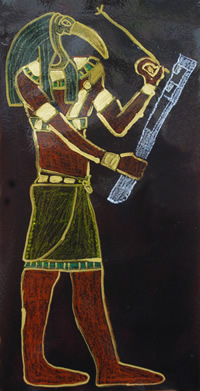 A sixth grade student created this artwork in connection with a social studies lesson on ancient Egypt.
Because of changes brought about by technological advances and globalization, there is a need to rethink how young learners are being prepared for the workforce, said Teresa Crawford, the center's director and professor of elementary and bilingual education.
"Business, education and policy leaders have raised alarm about America's ability to maintain its global competitiveness and to assure a high standard of living for its workers," Crawford explained. "Some leadership groups have called for improved education in science, technology, engineering and mathematics; others have emphasized the need to better prepare preschool through 12th grade students with the problem-solving and collaborative skills they will need to succeed in a highly global economy."
Crawford said that the center will serve as a catalyst and focal point for faculty and student research, as well as a resource for educators to develop and disseminate effective models promoting creativity and critical thinking.
In addition to offering professional development for practicing teachers and student teachers, future plans for the center include hosting a Web site that will enable teachers to network and share innovative curriculum and teaching methods, and holding exhibitions and conferences to promote the center's goals. The center also will be sponsoring an online journal and engaging in school and community collaborations.
As part of the center's professional development efforts, Ginger Geftakys, lecturer of elementary and bilingual education who is the instructor for the visual art institute, and Crawford are currently assisting and supporting educators who attended the 2008 visual art institute in their efforts to train fellow teachers how to use visual art in teaching core academic subjects. A 2009 visual art institute is scheduled for this summer.
More Information:
Teresa Crawford, Director
SchoolsFirst Center for Creativity and Critical Thinking in Schools
College of Education, CSU Fullerton
657-278-8668
tcrawford@fullerton.edu