Learning Song & Dance
Music Institute Hits High Note With Local Teachers
September 10, 2009
By Debra Cano Ramos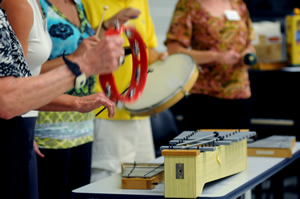 Elementary school educators, community members and elementary and bilingual education faculty members were among attendees at the Music & Movement Institute, presented by SchoolsFirst Center for Creativity and Critical Thinking. Photo by Kelly Lacefield
With tambourines, egg shakers and music triangles in hand, and tapping xylophones and other percussion instruments, local elementary teachers and community members sang and played to the beat of popular children's songs like "Row, Row, Row Your Boat" or "Are You Sleeping?"
"Beautiful! I'm impressed. I'm inspired," cheered Dennis Siebenaler, Cal State Fullerton associate professor of music.
Siebenaler applauded the Placentia-Yorba Linda Unified School District teachers and community members taking part in the first held Music & Movement Institute.
The two-day workshop, held in August, was presented by the College of Education's SchoolsFirst Center for Creativity and Critical Thinking in collaboration with the College of the Arts.
Participants had the opportunity to learn musical skills and activities to integrate into the study of science, math, language arts and social studies, said Teresa Crawford, director of the center and professor of elementary and bilingual education.
The institute was attended by 24 kindergarten through third grade educators, along with several community members — including a Placentia children's librarian — and three university elementary and bilingual education faculty members.
"The goal is to teach teachers how to infuse music into core curriculum instruction," Crawford said. "We want to help teachers integrate methodologies that stimulate the right side of the brain, which helps develop creative thinking skills necessary to be successful in the 21st-century workplace."
Siebenaler, assisted by Ginger Geftakys, lecturer in elementary and bilingual education, led the program, where participants were taught movements to combine dance and music to their classroom curriculum.
Music Helps in Early Education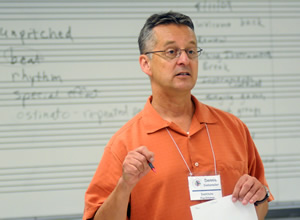 Dennis Siebenaler, associate professor of music, led the August "Music & Movement Institute" for local elementary teachers and community members. Participants learned how to infuse music into core curriculum instruction. Photo by Kelly Lacefield
Studies show that there are many benefits of incorporating music into early childhood education, explained Siebenaler, who also teaches courses designed to prepare elementary and high school music teachers.
"Music is important for so many reasons," he said. "It engages children and enhances their cognitive development."
With many public school districts no longer offering music programs taught by specialists, Siebenaler said that general education teachers can take the lead when integrating music into their classrooms.
"Through this institute, the regular classroom teacher is learning the necessary skills to have the confidence to teach music," Siebenaler said.
Donna Guiles and Jill Nesbit, institute participants and teachers at Sierra Vista Elementary, agreed the workshop gave them ideas to employ music in creative and fun ways.
"Using music is a great way for students to learn," said Guiles, a 25-year educator who teaches second grade. "I've learned that there are so many ways to add music and still teach California standards and core studies."
Nesbit, an educator for 34 years who currently teaches first grade, has always made an effort to include music in her classroom.
"Music enriches the curriculum and helps students remember concepts," Nesbit said. "It grabs students' attention and is really motivating."
Teachers lauded the program and plan to share what they have learned with their school peers. Institute participants will return to campus next spring for a follow-up session.
Program Supporter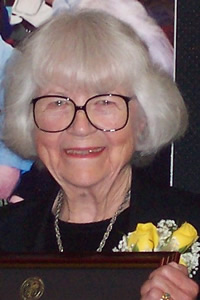 Dixie Shaw at the 2006 dedication of the Gordon C. and Dixie M. Shaw Wellness Resource Room.
Dixie Shaw, 85, a retired elementary teacher who lives in Placentia, donated $18,000 to help fund the Music & Movement Institute. The funds allowed teachers to receive a stipend for their participation, as well as materials and instruments to take back to their classrooms.
Shaw, who had a 25-year teaching career in Anaheim schools, completed the speech and hearing credential program and earned a master's degree in reading at Cal State Fullerton. She was the founder and first president of the university's Reading Educators Guild.
Over the years, Shaw and her late husband, Gordon, have been generous supporters of numerous Cal State Fullerton programs and projects. The couple's first gift to the university was an endowed scholarship for theatre and dance students.
The Shaws also supported and became involved with the fundraising campaign to build the Ruby Gerontology Center. In 2006, Shaw gave a $75,000 donation to the Center for Successful Aging, in which the Wellness Resource Room is named after the couple. More recently, Shaw contributed to the Children's Center and President's Scholars. She also is involved with Women & Philanthropy, which promotes women's giving, volunteerism and leadership at Cal State Fullerton.
"Music is so important in our lives," said Shaw, who attended the institute and was excited to see the roomful of teachers learning about music to enrich their students' lives. "These teachers are influencing students every year and we need to support them in as many ways as we can."