First in Class
Principal Completes Dissertation to Earn Doctorate in Educational Leadership
May 18, 2010
By Debra Cano Ramos
Updated June 8, 2010
As an elementary school principal, Cal State Fullerton doctoral student Jaymi Abusham realizes the demands placed on educational leaders today.
For her dissertation, she set out to examine how preK-12 administrators can be better prepared and more successful.
Jaymi Abusham of Fullerton graduated in May from the university's new independent doctoral program in higher education. Photo by Karen Tapia
"I wanted to see if I could figure out if belief in one's ability to succeed even in the face of challenges plays a role," Abusham said.
Abusham, principal of La Veta Elementary School in Orange, was among the inaugural class of students in Cal State Fullerton's doctorate in educational leadership program.
The 17-year educator was the first in her class to complete her dissertation, "Developing Efficacy in School Leaders," and have it approved by Educational Leadership Department faculty members.
"As for being first to complete the doctoral program, I consider that to be a combination of luck and support," she said. "My committee worked seamlessly together, and my faculty chair, Dr. Ronald Oliver, really kept me moving forward and on track."
After earning a teaching credential in 1995, Abusham landed her first classroom job in a Compton elementary school. She later taught in Santa Ana and Anaheim elementary schools and in 2005 was honored with the Teacher of the Year Award at Gauer Elementary School in Anaheim.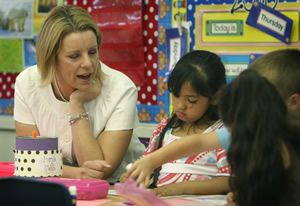 Jaymi Abusham, the first to complete Cal State Fullerton's new independent Ed.D. program, is the principal at La Veta Elementary School in Orange. Ausham talks with student Angelina Quiroz in her classroom. Photo by Karen Tapia
That same year, she completed the master's degree in education at Cal State Fullerton and was named a Carr Fellow, an honor given to graduate education students judged most likely to make a significant impact.
Abusham, who will turn 40 in June, also served as vice principal of Marshall and Mann elementary schools in Anaheim before being appointed principal of La Vita Elementary Schoolin August 2008 while still in the doctoral program.
The Fullerton resident is married with two grown stepchildren. Her stepdaughter, a U.S. Marine, was recently deployed to Afghanistan, and in June, her husband, John, will earn a bachelor's degree in mechanical engineering from Cal Poly Pomona.
Q&A With Ed.D. Student Jaymi Abusham
Abusham shares her experiences of being in the doctoral program, the work involved for her 140-page dissertation, and why she aspires to be a top-notch school leader.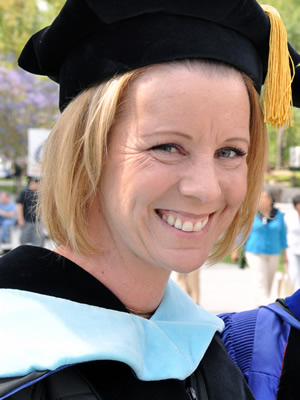 Jaymi Abusham
Why did you want to earn a doctorate degree?
My upbringing was a bit tumultuous with divorced parents and moving around a lot. School was the one place where things seemed to "work" for me. It has been my goal to earn a doctorate since I can remember — long before I chose education as a career. While the doctorate was more a personal than professional goal, the experience means I approach challenges in a different way; I now feel confident that I can address significant issues in school leadership through research and scholarly practice.
How would you describe your learning experience at Cal State Fullerton?
Completing a doctoral degree in less than three years is extremely intense, especially because you must begin working on your dissertation in your first semester of coursework. It was very stressful at times, and quite a challenge overall. But I also met new people, and many of my peers continue to be friends and professional colleagues. Our relationships have endured beyond the program.
Why did you choose the topic of your dissertation, and what did you conclude?
Many new school leaders will be needed in the coming years, and the demands placed upon them are increasingly complex. Research has shown that leaders need a strong sense of self-efficacy and I wanted to identify the impact of efficacy-building experiences upon educational leadership programs.
Why did you want to become an educator/educational leader?
As I said earlier, school was always a safe place for me. I wanted to be able to help others find their strength from school like I was able to do. I will always consider myself a teacher first, and I have worked hard to make my classroom a place where dignity and high expectations came together. I became a school leader because I hope to be able to shape that kind of climate throughout my school. My Cal State Fullerton education has prepared me well for the work ahead.
Related Story:
Cal State Fullerton Celebrates Commencement 2010