First Class
Local School Leaders Earn Doctor of Education Degree
May 18, 2010
By Debra Cano Ramos
Updated June 8, 2010
Seven Cal State Fullerton students were the first to earn doctorates in the university's independent Ed.D program.
The students —all educators — are part of the Ed.D. in educational leadership program, launched in fall 2007. The three-year program is designed to prepare leaders for California's preK-12 schools.
The participants are full-time professionals who serve as school principals, assistant principals and hold district- and county-level administrative positions.
Members of the inaugural class will be honored during the university's May 22 commencement ceremonies.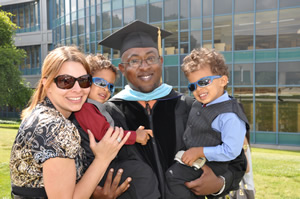 Doctoral candidate Ivan Christopher Hauck is scheduled to complete the university's independent Ed.D. program this August. Hauck participated in commencement ceremonies May 22 and got hugs from his wife Megan, and twin sons Telos and Christopher. Photo by Patrick O'Donnell
Jaymi Abusham, a 17-year educator and principal of La Veta Elementary School in Orange, is the program's first doctoral student to have her dissertation approved.
The Fullerton resident and six other doctoral candidates are completing the program one semester ahead of the three-year target, said Louise Adler, chair and professor of educational leadership.
Another eight doctoral students in the inaugural class are expected to complete the program either this summer or fall.
"Cal State Fullerton's Ed.D. program builds on the campus's two decades of successful experience working with surrounding school districts in addressing the major challenges faced by the rapidly changing demographics of the region," said Claire Cavallaro, dean of the College of Education.
"We're proud of these Ed.D. graduates. Each is equipped with the knowledge and skills to become an effective leader in California's schools and make an impact on the state's educational needs."
Currently, 59 students, including this year's candidates for graduation, are enrolled in the Ed.D. -preK-12 leadership concentration. In fall 2008, the College of Education introduced a second concentration —community college leadership — with 31 students currently enrolled.
The doctoral program's focus is on applied research and requires students to begin their dissertations in the first year, rather than wait until the third year.
"The students' doctoral studies are aimed at identifying approaches to significantly improve student learning in preK-12 schools," Adler said.
Cal State Fullerton was among the first campuses in the California State University system to offer the doctor of education in educational leadership. Gov. Arnold Schwarzenegger authorized creation of CSU's first independent doctoral program in 2005, when he signed legislation introduced by state Sen. Jack Scott. The Western Association of Schools and Colleges gave final approval to Cal State Fullerton and other CSU campuses to independently offer the doctorate in education.
Before that, the CSU was permitted to offer a limited number of joint doctorates with other universities, and in 2003, CSUF partnered with UCI to offer a joint doctorate in educational administration and leadership. The first graduates from that program earned their degrees in 2007.
The Ed.D. program's 2010 May candidates for graduation are listed below with cities of residence, position, dissertation titles and abstract briefs (complete abstracts posted online).
• Jaymi Abusham of Fullerton, principal, La Veta Elementary School, Orange Unified School District
Dissertation: "Developing Efficacy in School Leaders"
Abstract: New school leaders will be needed in the coming years, and the demands placed upon them are increasingly complex. Research has shown that leaders need a strong sense of self-efficacy in order to succeed. This study examines the relationship between the leadership readiness beliefs of prospective school leaders and the efficacy-building experiences in which they participated during university preparation programs.
• Christie Baird of Huntington Beach, coordinator, instructional services, Orange County Department of Education
Dissertation: "An Examination of Preschool Teachers' Knowledge, Skills and Dispositions About Academic Language"
Abstract: A qualitative case study that examines teachers' knowledge, skills and dispositions as they relate to the academic language of preschool children and the teachers' classroom practices. The results have implications for the design of preschool programs, teachers' professional development and the implementation of foundations and other expectations, particularly in regard to collaboration and time, which are needed to develop a high-quality program.
• Dori Barnett of La Mirada, school psychologist, ACCESS Program, Orange County Department of Education
Dissertation: "Constructing New Theory for Identifying Students with Emotional Disturbance: A Grounded Theory Approach"
Abstract: Children with emotional and behavioral disabilities with unidentified needs pose substantial challenges for schools, teachers, parents and peers. The study addresses the identification of students with emotional and behavioral disabilities for special education support and services, given the federal criteria for emotional disturbance. Six emergent themes emerged and were integrated into a grounded theory to explain practitioners' core processes for identifying students in a contemporary practice setting.
• Laurel Mullally of Fullerton, director, health services and child development, Chino Valley Unified School District
Dissertation: "Parent Perceptions and Priorities for Providing School Health Services in San Bernardino County Public Schools: A Mixed Methods Study"
Abstract: Research examines relationships between parent-reported experiences and importance ratings for school health services, as well as factors that explain parents' views on the need for health services in schools. Information collected may be used in agenda setting for health services leaders in political and professional advocacy efforts to expand such services, including legislation and adequate funding to provide minimal nurse-to-student ratios in schools.
• David Posthuma of Lakewood, assistant principal, Sunny Hills High School, Fullerton Joint Union High School District
Dissertation: "The Impact of At-Risk Students Enrolled in Advanced Placement Courses on a High School Culture"
Abstract: Research focuses on student, teacher and administrator perceptions regarding historically lower underachieving students that are growing in numbers participating in advanced placement courses in high school. Emergent themes suggest that past and present gate-keeping practices have restricted, and continue to restrict, student access to AP courses. In contrast, inclusive practices are gaining strength and providing positive changes away from exclusion to including more students in AP classes. With the findings, the hope is to increase student learning and achievement.
• Philip Schuler of Victorville, assistant principal of discipline, Chaffey Joint Union High School District
Dissertation: "The Fourth Amendment in Policy and Practice: An Examination of Search and Seizure in San Bernardino and Riverside County High Schools"
Abstract: Dissertation examines case history and creates a framework for decisions that impact public school search and seizure practice. Results indicate that generalized searches, when compared with a school's setting and suspension history, are statistically significant in their relationship. Schools classified in urban settings are more likely to use generalized searches than suburban schools.
• Cathy Wietstock of Mission Viejo, manager, instructional services; program director, preschool-grade 3 programs; Orange County Department of Education
Dissertation: "Bridging the Education Divide: Preschool and Early Education Alignment"
Abstract: Study developed to describe assumptions, beliefs, perceptions, practices and visions that preschool-grade 3 leaders from disparate settings hold in regard to system alignment as a means to identify effective bridges for programs in California. A notable finding was that, unless principals receive support from the district administration, identifying such bridges is unlikely. Implications for policy and practice, as well as recommendations for future research, are provided.
A hooding ceremony for the candidates will be conducted during the university's main commencement ceremony at 8 a.m. Saturday. Their College of Education commencement exercise will follow at approximately 10 a.m. in Titan Gym.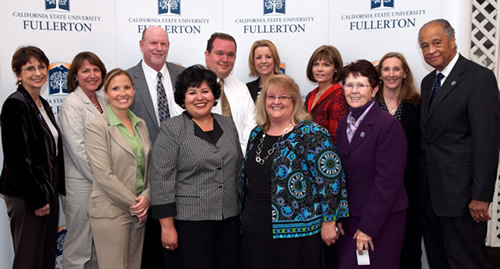 These Cal State Fullerton students will be among the inaugural class to complete the university's doctorate program, launched in 2007. The doctoral students were recently recognized at a special dinner, hosted by CSUF President Milton A. Gordon, far right, and attended by Claire Cavallaro, dean of the College of Education, far left, and Louise Adler, professor and chair of educational leadership, right front row. The Ed.D. students are, from left back row, Cathy Weitstock, David Posthuma, Philip Schuler, Jaymi Abusham, Laurel Mullally and Dori Barnett; also, from left front row, Valinda Owen-Fitzgerald, Yvonne Rodriguez and Christie Baird. Photo by Jessica Elizabeth Photography