Investing in Higher Education
University Programs Receive More Than $3.3 Million in Federal Stimulus Grants

September 15, 2009
Cal State Fullerton received more than $3.3 million in federal stimulus funding from June through August through the American Recovery and Reinvestment Act. Designed to restart the economy, it provides funding for the sciences, engineering, research and infrastructure. More limited funding is available for education, social sciences and the arts.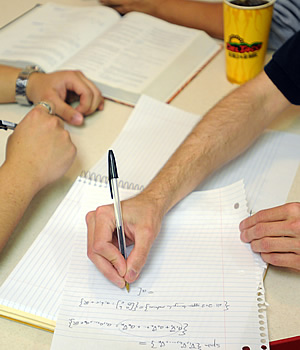 The largest of the federal stimulus funding is going to Teachers Assisting Students to Excel in Learning Mathematics. Photo by Kelly Lacefield
Cal State Fullerton has applied for more than $55 million in stimulus funding and while many requests still are under review, others are moving forward.
"The current budget crisis is, I believe, a critical wake-up call for our university not to conduct business as usual in relation to external funding," said Dorota Huizinga, associate vice president for graduate programs and research. "We must aggressively seek these external funds and the stimulus funding provides a great opportunity for pursuing grant activities."
The largest grant of $2,094,045 was awarded to Teachers Assisting Students to Excel in Learning Mathematics. The long-standing program is designed to present motivational classroom strategies to entice area school district students to learn mathematics. The funding will enable mathematics professors Paul DeLand, David Pagni and Gerald Gannon to continue the successful program.
A grant of $899,998 was awarded for a new program designed to collaborate with local high schools and colleges to implement Teaching as a Primary Profession in Biology and Biochemistry, or TAPP. The program, overseen by Barbara L. Gonzalez, associate professor of chemistry and biochemistry, seeks to recruit, support and maintain highly qualified secondary science teachers for California schools through activities that promote a conceptual understanding of fundamental concepts in biology and chemistry, as well as provide opportunities for students to enrich their understanding of the nature of scientific inquiry through research experiences.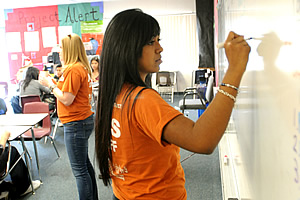 Stimulus funded programs help recruit, support and maintain highly qualified secondary science teachers, support research projects in copper transport and nonlinear analysis of heart rate variability and expand a service program that helps the elderly.
The funding will help support 50 scholarships in the amount of $10,000 each over the next four years. Applications for scholarships will be available this fall to those who have earned a bachelor of science degree and plan to apply for the credential program for entry in spring 2010. In spring 2010, applications will be available for undergraduates who will make an early commitment to teaching for support to complete their bachelor of science degree, Gonzalez said. This funding is renewable through the degree and credential program, contingent on the student's progress and commitment to teaching, she added.
The university's College of Natural Sciences and Mathematics and College of Education will collaborate with Anaheim Union High School District, Mt. San Antonio College and University of California, Los Angeles to implement the TAPP program.
A project on copper transport in lactation, overseen by Maria Linder, chair and professor of chemistry and biochemistry, received $15,131. This funding will allow Linder and university undergraduates in chemistry, biology and biochemistry the opportunity to conduct "hands on" research in this field. A high school science teacher will also work with Linder and the students to develop a better understanding of how scientific research can be taught to high school students. Linder's research focuses on the genetics, structure and function of proteins that store copper and iron and then transport it where it's needed, including large amounts to the breasts of lactating women so it can be passed on to infants. Zinc and copper are trace elements important in many metabolic processes and enzyme systems. Infants whose diets are deficient in copper and/or zinc may suffer anemia, skin changes, diarrhea, growth retardation as well as failure to thrive. Linder and her student research team also examine iron and copper's roles in cancer and inflammation.
The Working to Enhance Care and Resources for Elders program has received $232,123 in ARRA funds to expand its services to older adults, ages 40 and older, who are experiencing problems due to the economic crisis. Services include offering employment and skills training, providing education and assistance with financial literacy and helping them with needed health services and/or health education. WECARE is offered through the Center for Internships & Community Engagement and the Institute of Gerontology in partnership with more than 25 Orange County community agencies that serve older adults.
Another funding recipient is Fleur Tehrani, professor of electrical engineering, who received $24,086 for a summer administrative supplement to further her study on nonlinear analysis of heart rate variability. In other words, Tehrani, in cooperation with colleagues from MIT, is looking at how different treatments with continuous positive airway pressure ventilators work best on infants with congenital heart failure. Using computer modeling and simulation, Tehrani hopes to discover which approaches are most successful.
The final program to receive ARRA funding since June, was developed to provide summer research experiences for Pacific Islander students through WINCART (Weaving an Islander Network for Cancer Awareness, Research and Training), a program that seeks to develop cancer awareness among Pacific Islanders in Southern California, as well as improve access to cancer prevention and interventions among members of this ethnic group. Sora Park Tanjasiri, professor of health science and director of the university's Center for Cancer Disparities Research, received $44,135.
Other areas where funding is pending include projects for the colleges of Natural Sciences and Mathematics, Engineering and Computer Science, Health and Human Development, University Police and the university's physical plant.