Working With the Smallest of Patients
Professor Researches How Better Breathing Helps Heal Hearts
September 15, 2009
By Russ L. Hudson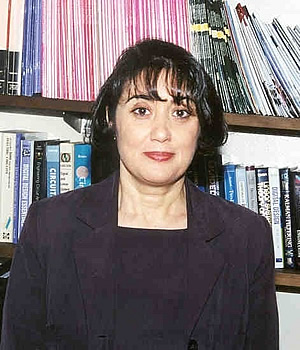 Fleur Tehrani
Fleur Tehrani, professor of electrical engineering at Cal State Fullerton, has found that helping infant patients with congestive heart failure breathe more efficiently can help heal their hearts. It won't work for every patient with a heart condition, but it has helped some a lot and others at least a little.
Tehrani, who focuses much of her work on biomedical engineering — the application of engineering to understanding biological systems and developing therapeutic technologies and devices — received a $24,086 federal science stimulus grant administered through Massachusetts Institute of Technology to conduct her study. Her research was part of an ongoing joint respiratory physiology research project in the MIT-Harvard Division of Health Sciences and Technology, where Chi-Sang Poon is a principle research scientist.
"Although we didn't know each other personally," said Tehrani, an Anaheim resident. "Dr. Poon and I were familiar with each other's work in biomedical engineering. He asked me to work on the nonlinear analysis of heart rate variability, that is, how the heart problem affects breathing, which in turn affects the heart."
By using a mathematical modeling and computer simulation system she developed, Tehrani was able to complete the project in eight weeks this summer, including two weeks at MIT in August.
She tested a wide variety of infant heart conditions leading to congestive heart failure, including congenital heart disease and development of patent ductus arteriosus, a heart problem that can accompany premature birth. She looked at a spectrum of conditions and investigated the effects of ventilatory treatments, including application of different regimens of continuous positive airway pressure (known as CPAP), to reduce the symptoms of congestive heart failure.
Her results have been sent to Poon, who said: "This grant provided an opportunity for Dr. Tehrani and me to interact on a research project that can have a positive impact on the recovery of heart patients. The results of her part of the project are informative and helpful with regard to therapeutic effects of ventilatory treatments in alleviating the symptoms of congestive heart failure patients. It helped us advance the knowledge we need to customize treatments."
Tehrani joined Cal State Fullerton's engineering faculty 24 years ago and specializes in biomedical engineering. Her inventions include metabolic rate monitors and adaptive support ventilation technology, which can be tailored to individual conditions and patient needs. Two of her patented inventions have been licensed to industry and are used worldwide.
Nearly four dozen of her articles have been published in refereed and peer-reviewed publications, as well as 17 others in research publications or as technical reports. She has reviewed many books and scientific journals and has repeatedly served as an invited panelist for National Science Foundation conferences. Tehrani has received two NASA fellowships and a number of awards at the local and national levels for her research contributions. On campus, she has been honored with an outstanding recognition awards for creative and scholarly activities and for scholarship. Tehrani is a fellow of the Institution of Engineering and Technology and Institute for the Advancement of Engineering, a senior member of the Institute of Electrical and Electronics Engineers and a national life member of Graduate Women in Science.
She holds a bachelor's degree in electrical engineering from Sharif University of Technology Tehran, Iran; a graduate diploma from Imperial College of Science and Technology, London; and a master's and a doctorate in electrical engineering from the University of London.