WECARE Responds to Tough Times
Program Expands to Help Older Adults Get Jobs, Access Health Care
August 11, 2009
By Debra Cano Ramos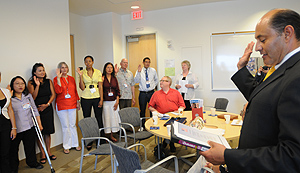 State Sen. Lou Correa (D-Santa Ana) recently swore in the new WECARE members who took the AmeriCorps pledge to do their part to provide a range of services to Orange County's older adults. Photo by Kelly Lacefield
---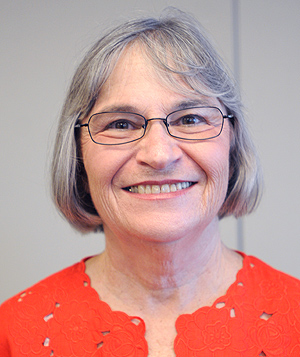 Harriet Dolgin of Fountain Valley has stepped up to serve as a WECARE volunteer. Photo by Kelly Lacefield
At 70, Harriet Dolgin is stepping up to help her peers — eager to ensure that older adults get the services they need to secure jobs and health care to live independent, healthy lives.
Dolgin is part of a new corps of volunteers, ranging in age from 21 to 78, participating in the expansion of Cal State Fullerton's Working to Enhance Care and Resources for Elders program.
The WECARE program, founded on campus in 2007, is offered through the Center for Internships & Community Engagement and the Institute of Gerontology in partnership with more than 25 Orange County community agencies that serve older adults.
The campus program recently received $232,773 in federal funds through the American Recovery and Reinvestment Act Funds, administered by California Volunteers, to support a new program component that focuses on employment and health care access for adults ages 40 and older, their caregivers and/or their dependents.
For this special outreach, 20 volunteer college students, professionals and retirees, have signed up to provide a range of services to older adults, their caregivers or dependents, adversely affected by these tough economic times, said Adrienne Stokols, WECARE founder and director.
"With the downturn in the economy, some new issues have arisen with older adults: they've lost their jobs, they can't find new jobs and they no longer have health insurance for themselves or their families. Additionally, many seniors who were retired have seen their retirement funding dwindle to the point where they are forced to return to work," Stokols said.
"With this grant money, we'll be helping these older adults with services that will include job training, placement, transition and skills development to obtain employment, as well as assistance to secure affordable health care."
The services are needed because Orange County has one of the highest older adult populations in the country, and within this group, these adults are currently facing job and pension loss and salary cuts at an unprecedented rate, explained Kathy Carchidi, WECARE Economic Recovery Program manager and social worker with experience working with older adults.
"The financial burdens and deficits for this age group is very real," Carchidi said. "Helping these individuals secure alternative employment is critical, and many will need new job skill development to help them become eligible for new positions. Added to this, their health care benefits have been decreased or terminated and they are unable to afford benefits."
Taking the Pledge of Service
WECARE is a project of AmeriCorps, a national service program, and is often referred to as the domestic version of the Peace Corps. Volunteer participants become "AmeriCorps members" and make a pledge to provide service in their communities. They also are eligible for stipends to help offset costs associated with their service.
The latest class of WECARE volunteers took the AmeriCorps pledge during a July 21 swearing-in ceremony led by State Sen. Lou Correa (D-Santa Ana), a Cal State Fullerton alumnus. As they took the pledge, they made a commitment to do their part to provide a range of services to Orange County's older adult population.
"I am looking forward to being part of the WECARE project," said Dolgin of Fountain Valley, who was among those who pledged to serve. "There is a great need in my nearby and surrounding community to help the elderly, and I want to help and contribute by using the skills that I have."
Additionally, six volunteers pledged to serve in WECARE's primary program, which also serves seniors. The new group joins the 54 AmeriCorps members currently in the program.
These volunteers — Cal State Fullerton students and alumni, area university students and community members — are placed through local senior-serving organizations to provide a myriad of services to the aging local population. Services include making home visits, delivering meals, assistance in navigating the health care or social service system, providing information on healthy aging and resources, and leading special classes on fall prevention and health issues.
Economic Recovery Project
The WECARE Economic Recovery Program volunteers commit to serve either 900 hours a year or 1,700 hours a year and earn a stipend of either $6,000 or $12,000, depending on hours served, Carchidi said. They also are eligible for an education award to pay for college expenses, including student loans.
New volunteers are receiving training and support through WECARE and this fall, will begin their service at senior centers, employment centers, community clinics, faith-based organizations and residential facilities, as well as community college and university settings, Carchidi said.
"Our new WECARE members are compassionate people who want to help their fellow man. By serving, it gives them a sense of purpose, positive and rewarding community involvement, the opportunity to develop their personal and professional skills, and to learn about life from a very important generation — our seniors," Carchidi added.
Dolgin, who helps out at other local organizations, including the American Cancer Society, is excited about joining the WECARE program.
"Being part of the WECARE team will benefit my life and give me the opportunity to help others. I will do my best to be an asset to the team. I am looking forward to see where my skills and interests are matched."
For more information or to volunteer, call 657-278-3746, e-mail WECAREproject@fullerton.edu or visit http://campusapps.fullerton.edu/cisl/WeCareAC/index.htm.
.
MEDIA CONTACTS:
Adrienne Stokols, WECARE, 657-278-3827 or astokols.wecare@fullerton.edu
Kathy Carchidi, WECARE Economic Recovery Program, 657-278-4659 or kcarchidi@fullerton.edu
Debra Cano Ramos, Public Affairs, 657-278-4027; 657-278-2414 or dcanoramos@fullerton.edu