Science at Work
Preparing Undergraduates for the Rigors of Original Research
September 22, 2009
By Russ L. Hudson
From its earliest days, Cal State Fullerton's science faculty has been committed to educating scientists — men and women trained to use the scientific method to answer questions regarding the quantifiable universe.
Scientific discovery takes many paths, but all involve a systematic effort to connect disparate facts, identify patterns and determine cause and effect in pursuit of the most logical explanation or theory of the matter under investigation. Each discovery that answers one question suggests another, in the ongoing process that propels the advance of scientific knowledge. Even the rare serendipitous discovery calls for systematic confirmation.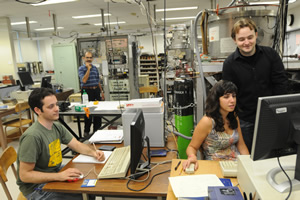 Students, from left, John Muse, Bahar Ajdari and Colin Cambell with Murtadha A. Khakoo, professor of physics, in the background. Photo by Kelly Lacefield
Integrating Instruction and Research
Those first science faculty were determined to get undergraduates majoring in the sciences actually doing the work of science by integrating classroom education and research. The young campus was still mostly orange groves when they set about convincing the university's first president, William B. Langsdorf, that the first two permanent buildings should include laboratories versatile enough to support both instruction and research. By the time construction was completed, Miles McCarthy, a founding member of the science faculty, set the pace by winning a National Science Foundation grant to start research on burns.
That building, since named McCarthy Hall, now houses the office of the dean, who oversees a college encompassing 103 full-time faculty, 100 part-time faculty, 1,881 students and greatly expanded facilities on and off campus. The College of Natural Sciences and Mathematics also operates five specialized research facilities in Southern California and other western states, including the Tucker Wildlife Sanctuary in Modjeska Canyon and the Ocean Studies Institute/Southern California Marine Institute on Santa Catalina.
In addition, NSM's Department of Chemistry and Biochemistry established the W.M. Keck Foundation Center for Molecular Structure, a comprehensive x-ray diffraction and computational research center. The advanced diffractometers in the department's Keck center are just a few of the dozens of pieces of highly advanced equipment that NSM has amassed to support, broaden and deepen research.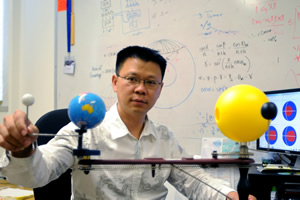 Charles Lee, associate professor of mathematics, uses a motorized model of the solar system he installed in his office as a teaching tool. Photo by Kelly Lacefield
The college also administers six externally and one internally funded program combining undergraduate research opportunities with added advising, lab and equipment training, and mentoring to prepare incoming students for the rigors of original research.
For the biological sciences, the Research Careers Preparatory program introduces freshmen, sophomores and transfer students to biology research opportunities at Cal State Fullerton and training in the laboratory skill sets. The university's Opportunity Center for Science and Mathematics Students provides services that include listings of research opportunities, internships, graduate assistantships and careers, and tutoring for chemistry, biochemistry and physics.
Discovering the Work of Science
NSM established a department, Science Education, designed to collaborate with the College of Education to improve the teaching of science and mathematics in schools and colleges. Nearly two dozen NSM faculty members have turned their research efforts to how students in grades K-16 best learn those subjects.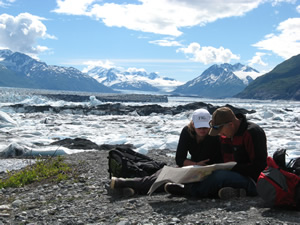 Kassandra Sendziak, a senior geology major, and Phil Armstrong, associate professor of geological sciences, plot their next research site at the foot of a glacier in the Chugach Mountains in Alaska.
"The national call for improvements in science and mathematics education has prompted research and evaluation to determine best practices for teaching and learning," said Victoria Costa, Science Education director. "As a result, scientists and mathematicians in the Colleges of Natural Sciences and Mathematics are researching how students learn science and math, and are evaluating existing programs to determine the most efficient and productive ways to present science and math in the classroom."
Mathematics Department research coordinator and associate professor of mathematics Alfonso Agnew believes the college's emphasis on research experience provides the seasoning that gives Cal State Fullerton students a leg up in their careers.
"In a research project, one does not have solution manuals to consult or professors with ready answers," the coordinator said. "Undergraduate research exposes students to a more realistic scientific environment, where intelligence and information gathering must be fused to produce the desired answers."
Those scientific investigations also provide the students with oral or writing skills when they present their findings, he said, "which gives them a distinct advantage over peers in competing for graduate school admissions or industry jobs."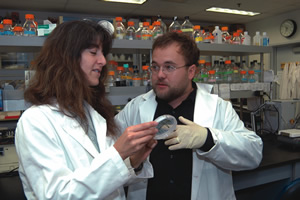 MARC director Amybeth Cohen, professor of biological science, left, works in the lab with former MARC Scholar who went on to a Ph.D. program.
At Cal State Fullerton, Kristy Tran (B.A. mathematics '08), now a graduate student in applied mathematics at Claremont Graduate University and working in the Radar and Communications Division of JPL, spent a year working closely with Charles Lee, associate professor of mathematics, on an extraction algorithm to analyze stock performance. Tran said that actual experience was key to understanding how algorithms could be useful in addressing a wide range of situations.
"Working on research with Dr. Lee taught me about applied mathematics and different research possibilities. Also, experiences like the Southern California Conference for Undergraduate Research, which recognizes faculty-undergraduate collaborative projects, helped my communication skills grow sharper." As a result, she said, she saw more clearly what she could do as an applied-math major.
Mentors Bring Science to Life
NSM instructors are required to mentor undergraduate students, and good mentoring can make science come alive. It certainly did for Carmen Cortez, a May graduate.
Cortez is now a scientist, a goal she set for herself after a breakthrough encounter with her 12th-grade science book. She was just a middle-of-the-road senior when the chapter on photosynthesis struck her as no other lesson had.
"As inner-city kids, we tend to see plants just as decoration in our landscape," Cortez recalled, "but that chapter on photosynthesis awakened my sense of how we're connected to the Earth."
When she asked her teacher about pursuing biology in college, Cortez remembers, he shrugged her off with the remark that she didn't have what it takes to be a biology student.
But she applied to Cal State Fullerton anyway and, once admitted, worked hard and leaned heavily on her teachers.
"NSM has great faculty who go above and beyond in mentoring and guiding future scientists," Cortez explains, singling out Sandra Banack, the professor of biological science with whom she was teamed at the beginning of her studies.
"I was extremely intrigued with Dr. Banack's ethnobotanical research on blue-green algae, palms and neurotoxins associated with neurodegenerative diseases like Alzheimer's. I learned from her that everything is interconnected."
Besides working in the lab under Banack, Cortez conducted research last summer on plant ecology, pollination biology and the ecology of cocoa agroforestry in Ghana as part of the university's McNair Scholars, a program that works with underserved students who are committed to going on to higher degrees. Original research is a required component. Working in Ghana was a special turning point for her. "I left Ghana as a more critical, self-reliant biologist with a different understanding of the world and a desire to continue research," she said.
Banack is one of many NSM instructors noted for their mentoring. Steven Murray, the college's dean, is another.
Murray, who was honored in 2003 with the university's highest teaching recognition, the Outstanding Professor Award, still fully involves his students in projects.
His coastal management, marine ecology and restoration research is cited internationally and has been used to set policy and support legislation in California. One study, done with student Susan Frisch on an invasive Australian seaweed discovered in Southern California's coastal waters, resulted in legislation banning that seaweed from sale for saltwater aquariums.
Helping Students Become Authors
In a practice common with NSM faculty, many of the 28 articles and reports Murray has published on his research since 1990 list students as co-authors. Publication is the primary means by which scientific research is subjected to the assessment of the larger scientific community, and authorship is a highly-prized marker of scientific achievement. Because a scientist's ability to publish is a major determinant in the course of a career, NSM faculty make a point of assisting as many students as possible with the daunting challenges of authorship.
Like Cortez, Kyle Keane (B.S. physics '07), a former student of Morty Khakoo, professor of physics, immediate past department chair and multiple award winner for his research and mentoring, also credits NSM's undergraduate research opportunities for turning him into a scientist. Keane is now a doctoral student in theoretical physics at UC Riverside.
"While working in his laboratory on low-energy electrons, I learned many valuable tools for research and life. My undergraduate research is what developed me as a scientist. Without the time spent in his lab, my skills may never have developed, for I would not have discovered the potential inside me to search out answers." One search, Keane said, led to co-authoring a paper with Khakoo on electron impact that published in May this year in the Journal of Physics B: Atomic, Molecular and Optical Physics.
"My experience is that students learn more about the scientific research process through hands-on experiences than by any other method," said volcanologist Brandon Browne, assistant professor of geological sciences. "Only when students are doing the work themselves can they understand the methodology and the project's significance."
The department undergraduate thesis project required of geology majors is a particularly powerful opportunity, Browne said, because students are involved from the initial observations through developing the hypotheses, gaining approval from their adviser for the project, then collecting and analyzing the data and writing the final report.
Experience is Transformational
Scott Mata (B.S. geological sciences '07), an earth sciences doctoral student at USC, seconded Browne's assessment, giving full credit for his transformation to his research as an undergraduate. Citing his work on a Permian Mass Extinction project with Adam Woods, assistant professor of geological sciences, Mata explained that "I am very grateful that geological sciences emphasized independent research because it is the key aspect of my time at Cal State Fullerton. It prepared me for life after graduation and a future as a scientist. While continuing in academia was my choice, I would have been equally well prepared to get a job as an industry professional. It was that research that changed my mindset from student to scientist."
For a degree in geological sciences, undergraduates must complete a course in geological field techniques and spend part of a summer in the department's Western Field Camp at the University of Montana-Western, a base for geological research in the western U.S. They must write a full report of their summer studies.
Similarly, undergraduates seeking a degree in chemistry or biochemistry must complete a research project from beginning to end by the end of their senior year. They work with faculty members on the faculty members' research or gain admittance to one of NSM's seven research programs. Although very rarely done and difficult to do, it is possible to get approval for their own project. Required preparation includes laboratory training courses and classes in science writing and career options
Students Becoming Scientists
In 1987, Navid Madani (B.S. biochemistry '89, M.S. chemistry '92) began classes under Maria Linder, chair and professor of chemistry and biochemistry, who advised her as well. Linder, who involves students in all her research, won a string of teaching awards since arriving at CSUF in 1976, including the Wang Family Excellence Award in 2007, the highest honor the California State University system can bestow on a faculty member for teaching, mentoring and having a positive effect on how their discipline is taught. Only four are given each year among the tens of thousands of faculty members on the 23 campuses.
With a doctorate in biochemistry and as an expert on the AIDS virus, Madani went on to become a researcher and a pathology instructor at the Dana-Farber Cancer Institute, an affiliate of Harvard Medical School. She became involved in AIDS awareness and education programs through that position and has developed an international reputation.
"The combination of laboratory investigation and my international work has allowed me to pursue a career where I can make an immediate impact on people's lives," Madani said when Linder won the Wang Award. "I believe that my success in science and humanitarian work is largely due to Maria Linder and her mentorship."
Asked about her approach to teaching science, Linder said, "I try to make clear to my students how relevant science is to people's lives, and I teach them to think critically and to think for themselves. I encourage them to be creative, I encourage them to challenge accepted notions, even mine. Consequently, I learn more, because they are constantly teaching me, showing me new ways to look at things, new ways to teach.
"Many of my students became my friends," Linder added. "Now they're all over the world. We still learn from each other."
Science the Fullerton Way
"This system works," said another contemporary of founding faculty member Miles McCarthy, Robert Koch, chair and professor of biological science and a multiple award winner for his teaching since he arrived in 1976. "This college's students clearly benefit from the inclusion of undergraduate research in the curriculum and from all the mentoring and support programs. It's fantastic to see students like Carmen Cortez who enter as wide-eyed freshmen and walk out confident and poised scientists."
NSM Dean Murray harked back to the early faculty's vision during the dedication of the Raymond V. Adams Faculty Wall of Honor last November. The wall was named after the founder of the physics department and honors all the tenured faculty who have taught in NSM since then.
"McCarthy, Adams and other early faculty reasoned that the fledgling college would emphasize student inquiry and research so they could see applied science at work," Murray told the crowd. "Miles McCarthy knew way back, when the university amounted to a few buildings, a handful of faculty and orange trees, that close interaction between faculty and students had to be the benchmark for science education."
It remains the benchmark at Cal State Fullerton today, where the college's long tradition of collaborative faculty-student research exemplifies applied science at work.
Related Stories: