Demanding and Supportive
Research Programs Offered Students Mix High Intensity with Mentoring
September 22, 2009
By Russ L. Hudson
Entering or transfer students majoring in the sciences and mathematics arrive at the university in late August varying widely in their exposure to those subjects. Yet all Natural Sciences and Mathematics students face the same requirements in their majors in order to graduate.
NSM faculty advise and mentor them, even taking a hand in resolving time constraints and organizational problems. But, for some of those students, that may not be enough.
To bring everyone up to speed, the university offers three tutoring programs, the Math Tutoring Center, the Opportunity Center for Science and Math Students (biological science, biochemistry, chemistry and physics), and the University Learning Center (math, biological science, chemistry, physics and computer science). The university's efforts are further bolstered by seven research programs that offer stipends allowing participants to focus on their scientific investigations instead of working for a paycheck.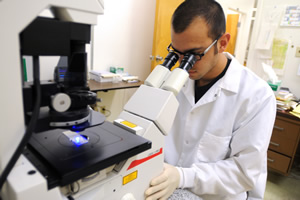 Biological science student Jeffrey Evans studies fluorescent proteins using a confocal laser-scanning microscope. Photo by Kelly Lacefield
Acquiring the Basic Skill Set
All seven programs combine additional research opportunities with supplementary mentoring support. Each program has its own criteria and area of specialization but, between them, they offer summer programs, year-round programs and study in other countries. And in each of the programs, the students' preparation includes training in presenting research findings for peer review, working collaboratively across other scientific disciplines and networking with post-graduate research administrators and potential employers.
NSM's biology department offers special course work to freshmen, sophomores and transfer students majoring in the sciences and math through its Research Careers Preparatory program. It raises awareness of research opportunities at Cal State Fullerton and provides students with the skill sets needed to be successful scientists. Students completing the RCP program are eligible to apply to four of NSM's seven funded programs: Minority Access to Research Careers, Southern California Ecosystems Research Program, Minority Health International Research Training and the newest one, the Howard Hughes Medical Institute Undergraduate Research Program funded by a $1.2 million, four-year HHMI grant to Maria Linder, chair and professor of chemistry and biochemistry, in 2008.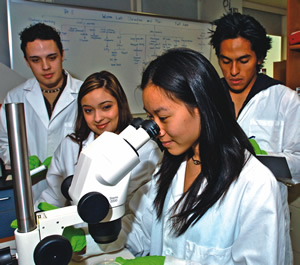 Student researchers in the lab of Chandra Srinivasan, whose research focuses on prolonging life.
Refining Teaching in Science and Math
NSM's Science Education program works with the College of Education to refine how K-16 teachers teach science and math. COE administers teacher-credentialing, and COE students who want to teach science and mathematics take courses from NSM faculty on how best to transfer knowledge to their K-12 students. The information is also used by NSM faculty to make their classes more effective. Nearly two dozen NSM faculty currently or recently conducted research in teaching methodologies and techniques.
The National Science Foundation-funded study by Michael Loverude, associate professor of physics, is an example of the research projects. Loverude explores both the teaching and the learning dynamics of thermal physics and how students learn physics through laboratory experiences. Victoria Costa, Science Education director, conducts her own study. In 2008, she started examining changes in seventh- and eighth-grade student achievement when middle school teachers collaborated to support English language learners. The study focuses on developing a consistent method of assessing successful teaching methods in every school in the state. "Monitoring of what works, and what isn't effective, while teachers are in the classroom ranges from inconsistent to nonexistent. Generally, students are tested at the end, and if the scores went up, the teacher was a success. But what did he or she do that worked? How well did it work? Why? Can other teachers do the same thing, starting immediately, while classes are still being held? It needed to be shared with others," Costa said. The California Department of Education funds her research.
Marty Bonsangue, longtime professor of mathematics and a veteran in researching how to teach better, put the challenge in simple terms when he was praised by Fullerton School District officials during a school board meeting in 2006 for his work with teachers: "You have to do something different in the classroom to get students excited." He helped the teachers move away from lecture-style, teacher-oriented approaches and toward more student-oriented approaches. In that approach, children make conjectures, use tested hypotheses and draw conclusions based on their own interaction with the subject.
Student Affairs administers McNair Scholars but, because its primary focus is on math and the sciences, most of the scholars are from NSM. McNair focuses on underrepresented minorities and first-time college students who intend to pursue doctorates.
Ecology and Environment
• CSUF Southern California Ecosystems Research Program Funded by the National Science Foundation
The SCERP home page makes clear immediately what is expected: "If you like to work outdoors, enjoy working with animals or plants, getting your hands dirty, meeting new friends interested in ecology and environmental biology, networking with other students, getting to know faculty, and seeing new areas in Southern California, then SCERP could be for you!"
Students receive up to a $12,000 stipend for two years, take intensive summer field courses in Southern California ecosystems, develop independent research with a faculty mentor, travel to scientific meetings to present their results and plan their future career paths.
"I entered in the SCERP program in 2004, knowing that I wanted to study the marine ecosystem. I had little idea what research was, but upon completing the program and earning a bachelor's in biological science in 2007, I had become completely immersed in research and I was hooked. I am now working on my master's degree in biology in the same lab I entered as a SCERP scholar, and I am looking forward to a doctoral program or an environmental conservation career when I graduate." — Biology graduate student Andres Carrillo
"Many of the scholars have described the intensive summer field course as 'ecology boot camp.' It is intense. They work on a series of challenges, designing experiments to address an ecological problem. Clearly, their creativity and discipline are refined by the experience." — Bill Hoese, SCERP director, environmentalist and assistant professor of biological science
Two-Year Immersion Program
• Howard Hughes Medical Institute Undergraduate Research Scholars Funded by the Howard Hughes Medical Institute.
HHMI offers an intensive two-year immersion program of research, supportive studies and workshops for four promising undergraduates majoring in biology, chemistry, biochemistry and mathematics, with exceptional potential for graduate and professional studies in the biomedical fields.
Mentors provide them with a solid grounding in statistics and research ethics, reading and analysis of relevant literature, writing and presentation of research findings, and producing a senior thesis. Students interact directly with ethnically diverse scientists from across the country, present their research at local and national conferences and learn how to prepare applications for graduate and professional schools. They also receive a stipend, tuition assistance and travel funds, and they visit doctorate granting institutions.
"I have benefited from the HHMI program because I have developed skills in critical thinking, reading, understanding and presenting scientific research and managing stress. I value the weekly meetings with our program director, Dr. Maria Linder (chair and professor, chemistry and biochemistry), and my cohorts because they provide encouragement, and constructive criticism to help me develop into a proficient researcher." — Sophomore biology major Katrina Taylor
"The first Weekend Research Experience in March, 2009 engaged 16 community college students from Santa Ana, Saddleback, Fullerton and Mt. San Antonio College, as well as four high school science teachers and 10 high school students in a research project. I feel that this really did stimulate interest in biomedical research careers and it was a refreshing experience for us as well for the science teachers." — Maria Linder, HHMI director, chair and professor of chemistry and biochemistry
Overcoming Barriers
• Louis Stokes Alliance for Minority Participation Funded by the National Science Foundation, the California State University and the 22 participating CSU campuses
LSAMP's goal is increasing the number of students who graduate with degrees in the sciences, technology, engineering or math. The targeted undergraduate students are individuals who have faced or face social, educational or economic barriers to careers in these fields.
"LSAMP gave me the means to excel in my research and provided the funding that allowed me to travel to conferences and carry out research. Without this critical research experience and the contacts I made at scientific conferences, I would not be as strong a chemist as I am now. My application to graduate school would also have been much weaker. I am on my way to graduate school to attain a Ph.D. following my final semester here at CSUF. I will be studying organic chemistry." — Biology graduate Gary Gallego
"The LSAMP program offers services and guidance that students might never get on their own." — Junior physics and math major Casey Sanchez
"These are students who have the talent and desire to enter the science, technology, engineering and math fields, but haven't had the opportunities others have had. We push them and test them, but we also support them. By the time they graduate, they are much more aware of what opportunities await them and how to achieve their goals. It is very exciting to see how far these students can go when given the opportunity." — Christina Goode, LSAMP director and professor of chemistry and biochemistry
Biomedical Sciences
• Minority Access to Research Careers Funded by the National Institutes of Health
MARC provides training to honors undergraduate students in scientific research. The goal is to increase the number of students selecting graduate studies and research careers in the biomedical sciences. In addition to ongoing research on campus, these programs typically involve an enriched curriculum and a summer research experience at another institution. Students must be from an ethnic group under-represented in the fields of scientific research and medicine and must intend to pursue a Ph.D.-M.D. or other combined degree. Students receive a stipend, tuition reimbursement and travel funds to conferences.
"After being in the MARC program, I have learned how to think critically when working in the lab. Also, with the help of MARC I feel confident that I will get a Ph.D. in biology because I enjoy learning about all the different processes that occur in the cell. Not only do I like cell biology, but I like doing research and it's something that I can do for a long time." — Senior biological science major Rolando Ruiz
"Most students who enter the MARC Program embrace the concept of a career in biomedical research. We help them realize their dream by preparing them for entry to and success in a high-quality doctorate program. While each student enters the program at his or her own level, all leave much improved and prepared for graduate school. It is very rewarding to watch the transformation!" — Amybeth Cohen, MARC director and professor of biological science
Addressing Health Problems
• Minority Health International Research Training Program Funded by the National Institutes of Health
MHIRT supports international research experience for both graduate and undergraduate students in order to raise awareness of minority and international health problems and to seek novel approaches to address them. It also aims at increasing the cooperation between foreign and U.S. scientists. Students participate in a 10-week research experience working with faculty in universities in England, South America or Thailand. They receive a stipend, room and board, university fees and transportation.
"Being a part of MHIRT was definitely a life-changing experience for me. I learned that life is much more than school, research, work and studying as an end in itself. I was able to interact with people from a very different lifestyle and immerse myself in their culture. The experience was priceless." — Senior health sciences major Jonathan Lozano
"The students experience first hand the health issues in different parts of the world and they understand how they relate to health issues in our country. For many of them, it is a life-changing experience that determines the direction of their future careers. I can see the change when they return." — Marcelo Tolmasky, MHIRT director and professor of biological science
Developing Research Skills
• Research Experience for Undergraduates Funded by National Science Foundation
The National Science Foundation's support for undergraduate research enables sophomore and junior chemistry and biochemistry students from Cal State Fullerton and anywhere in the U.S. interested in developing their research skills to participate in a 10-week summer program of laboratory research. Minority and older "late bloomer" students find the program especially supportive. From 10 to a dozen NSM faculty work with the students. REU participants receive stipends and travel expenses are paid. REU also provides housing for out-of-town participants.
"The NSF-REU program provided me with a wonderful chance to develop my laboratory skills, as well as a taste for conducting research full time. The program not only cemented my desire to pursue a Ph.D. in a chemistry-related field, but gave me confidence as a scientist. Workshop faculty advisers helped me to write, read and analyze publications better, and develop skills in presenting scientific work. The social outings were a great way to share and appreciate other young scientists from around the country. Because of my experience, I was chosen to conduct summer research with the Huang Lab at the Stanford University School of Medicine, and I was accepted into the Ph.D. program in cellular and molecular biosciences at UC Irvine." — Stephanie Sprowl, chemistry graduate
"Many students enter the program with eagerness but undeveloped awareness. We actually ask them to present an outline of their project in the first week of the program, which is naturally low level and raw. Ten weeks later, they've progressed tremendously. They have experienced the rigor of a lab research environment, they have collaborated with peers and mentors, they have discovered new things from their own work and they have participated in workshops. When they present their final posters and papers, the contrast with the first week's presentation is astounding. The experience is as gratifying to us as it is to them." — Mark Filowitz, NSF-REU co-director and NSM associate dean
Sustainability in Thailand
• Environmental Science Research in Thailand Funded by CSUF Associated Students, Inc.
Upper division undergraduates and master's students with laboratory or field experience, who adapt quickly to new situations and for whom research is so important that the experience will enrich their future studies and career are chosen, said ESRT director Richard Deming, who conducts the applicant interviews. The annual ESRT groups focus on utilizing Thailand's environment in sustainable ways to create useful products, increase crop yield and reduce diseases. Two Cal State Fullerton faculty members, and as many as eight students, go each year. The Associated Students Inc. fund the research efforts as an Instructionally Related Activity.
"After participating in the ESRT program, I have returned to CSUF with a new outlook on life and a better understanding of the Thai culture. Conducting a research experiment in another country allowed me to learn new techniques and evaluate their scientific methods. I was able to immerse myself in another culture, learn another language, eat great Thai food and communicate with Thai people about the need to understand their environment in order to help the community. This program was definitely an incredible once in a life time opportunity." — Senior biological science major Kimberly Nelson
"There is so much more to scientific research than the science itself, and the work in Thailand certainly teaches that. Getting to know the people, the culture, the laws involved, all play a part. It is always so gratifying to see how much the students' outlooks have grown by the time they return." — Richard Deming, ESRT director and professor of chemistry and biochemistry
Each program takes students on a journey through a different part of science, but there is one goal: To help them develop into scientists who can fit into research positions or take places in industry.