College Bound
Federal Funding Supports Effort to Prepare Students for Higher Education
March 17, 2009
By Debra Cano Ramos
Getting young students ready for college and ensuring access to higher education is what Cal State Fullerton's Educational Partnerships is all about.
Educational Partnerships, under the division of Student Affairs, has a number of programs that provide a range of services and activities to prepare students for college and to be successful in graduate studies.
The U.S. Department of Education has awarded nearly $1 million this academic year in support of the university's Upward Bound, Talent Search and McNair Scholars programs — all three are federally funded TRIO programs designed to motivate and support students from disadvantaged backgrounds.
Upward Bound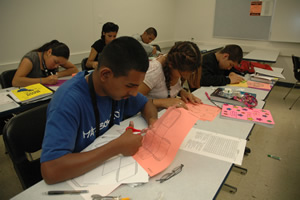 Through the Upward Bound Summer Residential Program, high school students receive mentoring, tutoring, career advising and academic development.
"The primary goal of the program is to provide services that will prepare high school students to enter and succeed in postsecondary education," said Hortencia Cuevas, campus program director. "We're committed to assisting students in overcoming social, class, academic and cultural barriers to higher education."
Upward Bound provides academic instruction, personal counseling, mentoring, educational activities and career exploration to students from four Santa Ana Unified School District high schools: Santa Ana, Saddleback, Valley and Century.
This year, Cal State Fullerton received $345,000 for Upward Bound — part of a $1.5 million, 5-year grant awarded in 2007. The funding will underwrite after-school tutoring, academic and career advising, field trips, cultural events and "Saturday Academies," designed to cover core curriculum instruction in math and English. In June, a six-week summer residential program will be offered where students live on campus and experience college life firsthand.
McNair Program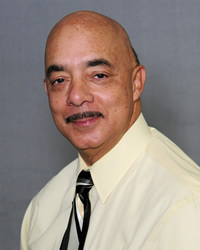 Gerald Bryant, director of the McNair Program
For the last decade, the Ronald E. McNair Post-Baccalaureate Achievement Program has provided promising Cal State Fullerton low-income and first-generation undergraduate students the resources and guidance necessary to prepare for post-baccalaureate studies, said Gerald Bryant, program director.
The scholar program was established by the U.S. Department of Education in 1986 and is named for astronaut and Challenger space shuttle crewmember Ronald E. McNair, the second African American to fly in space.
Students selected as scholars come from a variety of disciplines and are paired with a faculty member who mentors them through their research projects. Of the 127 students who have gone through the program since 1999, 87 percent have gone to graduate school with 27 students currently in doctoral programs, Bryant said.
In May 2008, Cliff Frez became the program's first doctoral recipient, earning his degree in chemical engineering from Brown University. Frez works at NASA's research laboratory in Pasadena, and will be the keynote speaker for the university's EOP/McNair Banquet in May, said Bryant.
Last fall, Patricia Ann Johnson, a former Cal State Long Beach faculty member, joined the program to serve as the first full-time McNair academic coordinator. Johnson — who taught in black, women and religious studies — works with scholars as they conduct academic research with their faculty mentor. She also assists them in applying to graduate school and identifying a school that would be a good match for them.
This summer, Johnson and Bryant will facilitate workshops designed to prepare the scholars on the path to graduate school. This year's $225,000 in funding brings the total U.S. Department of Education support to about $1.1 million during the last five years.
Talent Search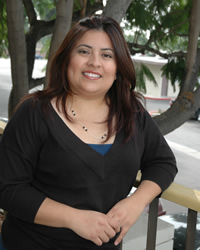 Adriana Badillo, director of the Talent Search Program.
Cal State Fullerton's Talent Search Program, designed to assist and encourage students from disadvantaged backgrounds to successfully complete high school and enroll in a college or university of their choice, serves students in the Anaheim Union High School District.
"The goal of the program is help students reach their full academic potential and assist them to make their college dream a reality," said Adriana Badillo, program director.
The program provides academic tutoring, career and financial aid counseling, educational field trips and workshops, including a two-week, on campus summer enrichment program for 9th- and 10th-grade students. In addition to assistance in math, English and computer science, the enrichment program will introduce them to career options.
This year, the Cal State Fullerton effort received $226,600 — the final installment of a three-year award.
For more on Cal State Fullerton's other education partnerships visit:
Collaborative for Higher Education
Related Stories:
Santa Ana Teens Live on Campus, Experience University Life
Participants Speak Out About Upward Bound