Sixth-Graders Go to College
Students Tour CSUF Campus, Experience Science Labs
April 23,2007
Debra Cano Ramos
During a recent visit to campus, more than 240 sixth-graders from Anaheim and Garden Grove schools experienced what it's like to go to college at Cal State Fullerton.
Students from Anaheim's Palm Lane Elementary School and Hazard and Riverdale elementary schools in Garden Grove toured the campus, participated in various science labs in the College of Natural Sciences and Mathematics and met with faculty, staff and students. For most, it was their first visit to a university.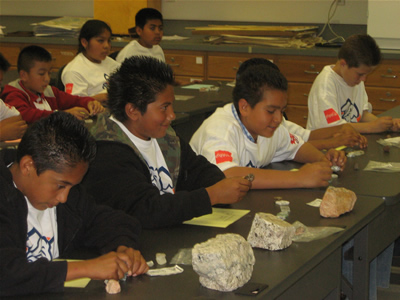 Kids to College students identify minerals during a special activity in the geology lab
Biochemistry major Kristina Morey, a research student in chemical education who plans to become a high school chemistry teacher, helped the students with a hands-on experiment. The students obtained samples in order to describe the physical and chemical properties of four powders. Using this data, they then determined the identity of an unknown powder.

"It's a great inquiry-based activity that gave students experience with different aspects of doing science — from developing theories and describing evidence, to safe practices when handling chemicals," said Kereen Monteyne, assistant professor of chemistry and biochemistry, who coordinated the lab experiment.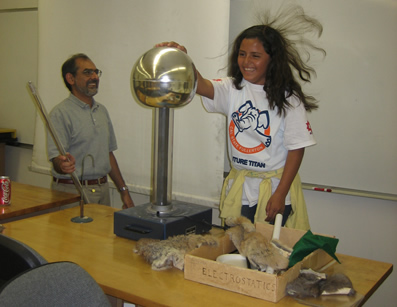 Murtadha Khakoo, chair and professor of physics, demonstrates the charging effect of a Van der Graaf electrostatic generator to Kids to College students who visited the College of Natural Sciences and Mathematics. As a result of the high electric field between the sixth-grader and her surroundings, there is a force of attraction that causes the student's hair to stand on end.
The students' field trip to the university was made possible through the Kids to College program, a collaboration between the Tomás Rivera Policy Institute, a nonprofit policy research organization; the Sallie Mae Fund; and, the California State University Chancellor's Office. The Sallie Mae Fund contributes $25,000 a year to the three-year program, which gives students and families in underserved communities information on the pathway to college, including financial aid options.

"Kids to College serves as a launching program toward college exploration for sixth-graders in the local school districts surrounding Cal State Fullerton," said Mark Kamimura-Jimenez, the university's director of educational partnerships.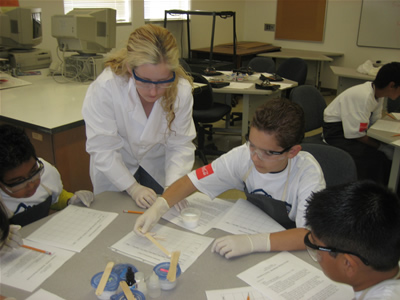 CSUF biochemistry major Kristina Morey helps Kid to College students with a hands-on chemistry experiment to identity an unknown powder.
The three-year goal of the program is to offer this experience to 3,700 students, Kamimura-Jimenez said. But this spring, the second year of the pilot program, an estimated 3,200 elementary students will have the opportunity to learn about college, how to prepare for a higher education and what to expect when attending a university. Last year, about 1,200 students participated in Kids to College .

"We expect to surpass our goal due to the overwhelming interest from local school districts," Kamimura-Jimenez said. "More than 5,200 students from 17 schools in the Anaheim, Fullerton, Garden Grove and Santa Ana school districts are expected to be served over the three-year program."

As part of the program, teachers attend workshops and learn a curriculum that helps them teach their students about college life before arriving on campus. The curriculum provides teachers with information and activities on preparing for a college education, including teaching students university -related vocabulary such as "degree," "higher education" and "college requirements."

When students visit the campus, they often meet Cal State Fullerton staff members who tell them about the benefits of getting a college education, as well as answer their questions.

"No longer is college an option; but a must," university outreach counselor Brenda Gamez recently told sixth-grade students from McFadden Intermediate School in Santa Ana.

Gamez added that young students are the future of this country and they need to be well prepared in order to have a better future. "As educators, we need to instill in them the passion for education and teach them different ways to get there," she said.

Roberto Gonzalez, director of the university's Upward Bound program,
designed to prepare underserved high school students for postsecondary
education, also stressed the importance of programs that expose young students to college.

"The earlier we get the message out to young students about pursuing a college degree, the better," he said.

Gonzalez also gave a talk to the Santa Ana students responding to questions such as "How many years does it take to earn a doctorate," "Did you live in a dorm when you went to college" and "Why did you choose the colleges you attended?"

"I always tell them that college is affordable and doable," said Gonzalez, who is working on a doctorate in education from USC.

Gonzalez, who grew up in Santa Ana and whose high school counselor told him that he "wouldn't amount to anything," told the young students not to listen to others, but rather follow their own dreams: "You make the choice about whether you are going to college."

Students from other local schools will visit Cal State Fullerton as part of the Kids to College program: April 23, Sunkist, Abraham Lincoln and Francis Scott Key elementary schools in Anaheim; April 25, Palm Lane Elementary School, Anaheim; April 27, Willard and Carr intermediate schools in Santa Ana; and , May 25 , Francis Scott Key Elementary School, Anaheim.