Unbeatable Historians
History Honor Society and Journal Undefeated as Best in Nation
October 13, 2009
By Mimi Ko Cruz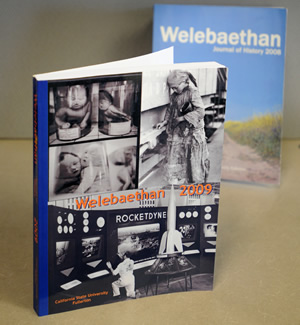 The 2008 and 2009 editions of Welebaethan. Photo by Kelly Lacefield
Cal State Fullerton's history honor society, Theta-Pi, has won best chapter honors again. And, its journal, the Welebaethan, has been named the best in the nation again as well.
Students involved in Theta-Pi, a chapter of the national Phi Alpha Theta History Honor Society, and the Welebaethan have been receiving the top awards from Phi Alpha Theta every year for nearly three decades.
"The history students perform at a professional level to produce a winning history, present outstanding research papers at professional conferences, and critically comment on the work of students from other universities at regional meetings," said Gordon M. Bakken, professor of history. "The guidance of history professors and the department's high standards for critical thinking and professional writing fosters student growth in the knowledge of history and its professional interpretation."
History of Theta-Pi
Theta-Pi was chartered in 1962 and its founding members included the late William B. Langsdorf, founding president of Cal State Fullerton and a professor of history; Lawrence B. de Graaf, a founding faculty member and emeritus professor of history; Giles T. Brown, emeritus associate vice president for academic affairs, dean of graduate studies and professor of history; Earnest W. Toy, founding librarian and professor of history; Warren A. Beck, professor of history; and alumnus Wylie Aitken, attorney.
Honor Society Officers
This year's officers are: Abraham Johnson, president; David Kloster, vice president; Babbette Tyler, treasurer; Nickoal Eichmann, secretary; and Michael Kubasek, board member-at-large.
"With our history, we've definitely established that CSUF's history program is unbeatable," said Johnson, a history graduate student. "We're up against all the large universities, public and private, nationwide, including UCLA and USC, and we've been named Best Chapter for the last 28 years in a row. We keep winning because of the close communication and connection we have with our professors."
He said Theta-Pi hosts special seminars on how to read texts and history books more effectively and how to conduct scholarly research. Members are submitting proposals to present research at several upcoming history association conferences.
Adviser Acclaim
"We work very hard – especially the students, but also my colleagues in the History Department," said Jochen Burgtorf, professor of history and Theta-Pi's adviser since 2002. "Every new president and, continually, the faculty adviser, feel a fair amount of positive pressure to maintain our high profile. You should hear the sigh of relief when the award is announced, because it has become a point of honor to win."
Apart from the annual recognition, Burgtorf said the award he cherishes most is being named Outstanding Faculty Adviser of the Year in 2006 for his work with the History Honor Society.
"There is no professional service that I enjoy more than working with Phi Alpha Theta," he said. "We are fortunate to have, every year, an extremely fine group of young men and women who dedicate their time outside of class and work toward the success of this organization. When I send the e-mail announcing the award to our organization's alumni, I get a flurry of e-mails back, especially from past presidents, expressing the excitement that our proud tradition remains unbroken."
Winning Streak
The winning streak continues for the Welebaethan as well.
The 2008 journal won the national Phi Alpha Theta History Journal Award, keeping it at the top for 22 years in a row. That book featured 19 research papers, including alumna Gail Marlow Taylor's study of alchemy and alumnus Robert Miller's study of California's press. Taylor's paper was the 2008 winner of Cal State Fullerton's Lawrence B. de Graaf Prize for Best Overall Paper. The journal's editor was alumna Nicole Rhoton.
Bakken and Wendy Elliott-Scheinberg, lecturer in history, are the journal's advisers.
James A. Ramage, president of Phi Alpha Theta, said the judges gave Welebaethan the top national award in 2008 for its "excellent and meaningful" content.
"The 2008 Welebaethan stands out in scholarly and literary merit, variety, and design and layout," he said.
Welebaethan's 2009 edition now is being judged for Phi Alpha Theta's best journal prize. The winner will be announced in November.
The latest book, whose editor is history graduate student Blake McWhorter, features 21 research papers and three book reviews.
Among the papers is this year's winner of the Lawrence B. de Graaf Prize for Best Overall Paper, "Mind the Gap: Early Modern English Attitudes Toward Human Dissection" by Nickoal Lyn Eichmann, a history graduate student. Her paper delves into England's Murder Act of 1752 and the Anatomy Act of 1832 and the fear of public execution, dismemberment and dissection of the time.
Related Stories: