Testing Thesis
Graduate Explores History of Scientific Lab Research, Wins Giles T. Brown Award
June 2, 2009
By Mimi Ko Cruz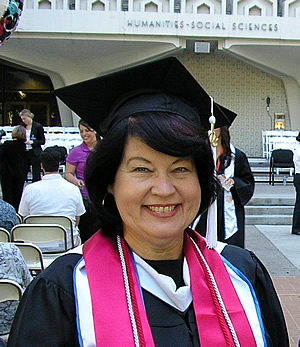 Gail Marlow Taylor
Residence: Coto de Caza
School: UC Irvine
Degrees: PhD in history expected in 2014; M.A. history, Cal State Fullerton, 2008; B.S. biology, University of Pittsburgh, 1966
Family: Husband, Charles, four children and seven grandchildren
Languages: French, German and English
Favorite historic figures: Laboratory pioneers Louis Pasteur, Marie Curie, Robert Koch and Justis von Liebig.
Favorite books: "The Structure of Scientific Revolutions" by Thomas Kuhn, "Laboratory Life: The Construction of Scientific Facts" by Bruno Latour and all other books by Latour
Favorite quote: "Give me a laboratory and I will raise the world" — Bruno Latour
Hobbies: Spending time with family, reading and traveling.
Most everything — from food to clothing to medicine — that exists today is tested in laboratories, and the analyses produced are considered solid.
How labs have gained such credibility is the question Gail Marlow Taylor pondered as a graduate student at Cal State Fullerton. She earned her master's degree in history in 2008, after completing her thesis, a look back into alchemy, which arrived in Europe from the Middle East.
"I found that the Persian physician and chemist Abu Bakr Muhammad ibn Zakariya al-Razi wrote a laboratory manual called the 'Kitab al-Asrar' or 'Book of Secrets,' " Taylor said. "This systematic book from 1,000 years ago describes procedures in terms of required chemicals, equipment, and processes, without the theoretical or allegorical digressions that characterize many alchemy manuals. I was fascinated to find strategies for reproducibility incorporated into his procedures that can be seen in modern laboratory manuals."
The book is available in a few Arabic manuscripts and in a 1937 scholarly German translation. Taylor translated the German work into English.
"It gives us an insight into the work of an original intellect of the past and helps us understand the importance of the exchange of information between cultures," Taylor said.
Her report won this year's Cal State Fullerton Giles T. Brown Outstanding Thesis Award. The honor, named after the emeritus associate vice president for academic affairs, dean of graduate studies and professor of history, was presented in May.
Judges — emeriti faculty members — called Taylor's thesis "a tour de force, an accomplishment at a level that is seldom even attempted at the master's level."
They wrote: "Ms. Taylor has combined her work experience, her linguistic abilities, and her love of history into a highly original study that shows the relevance of medieval alchemy in the Islamic world to the refined laboratory practices of today. She writes in a way that holds our attention continually and uses careful analysis to demonstrate that careful laboratory practices were in place as early as the 10th Century. The thread of continuity that she develops, leading from the physician/alchemist Al-Razi through Faraday, a father of modern chemistry, to the complex and sophisticated medical and analytical laboratories of today, is highly original, convincing, and gives a new perspective into the history of science."
Taylor, who works part-time as a systems analyst at Mission Hospital in Mission Viejo, also wrote papers related to her thesis research and won the 2008 World History Association/Phi Alpha Theta Paper Prize and the Ben H. Procter Award. Her paper, "Tipping the Balance: The Laboratory's Transition to Legitimacy 1600-1900," won the CSUF Ric Miller Prize for Best European History Paper in 2007.
Now a student at UC Irvine, Taylor, who grew up in Tehran and Geneva and speaks French, English and German, is pursuing a doctorate in history. She received her bachelor's degree in biology from the University of Pittsburgh in 1966, and her current research explores the 1937 discovery of West Nile virus in Uganda.
Taylor recently answered a few questions for Inside.
Q: Why did you decide to study history?
History brings together everything I like best: writing, foreign languages, diverse ideas and cultures, and exploring ways of learning from the past. Since everything has a history, you can bring everything you are into it: work experience, life experience, travel, and special interests -- in my case, the history of science and medicine.
Q: What is your doctoral dissertation topic?
I am still exploring possibilities at this point. It will be in the area of history of science and medicine. I just completed a research project on the discovery of West Nile virus.
Q: After you complete your doctoral degree, what are your goals?
I would like to continue writing and I would like to teach. I am interested in teaching online because I like working with technology and because I feel it reaches people who may not be able to attend classes in a traditional classroom for any number of reasons.
Q: Anything else you'd like to add?
I want to thank the people at Cal State Fullerton, especially the history department, for being so supportive and having such a great program available to people at any time of life. My experience has been nothing but positive.