Carnegie Foundation Honors Campus
Exemplary Community Service Efforts and Partnerships Recognized
March 10, 2009
By Debra Cano Ramos
The Carnegie Foundation for the Advancement of Teaching has honored Cal State Fullerton for its community-engagement activities.
The university is one of just 119 institutions across the country to receive the Carnegie Foundation's prestigious 2008 "community engagement classification." Cal State Fullerton was recognized in the joint category of curricular engagement and outreach and partnerships.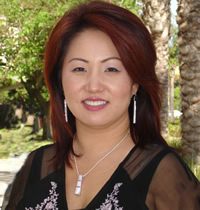 Jeannie Kim-Han
This achievement signifies that community issues and community partnerships are integrated into most aspects of the university's operations — from faculty and student research, curriculum, to strategic planning and even use of campus facilities, said Jeannie Kim-Han, director of the Center for Internships and Community Engagement.
"This classification means that the university, in a deliberate way, connects with the external world and integrates the community in everything we do," Kim-Han said. "It's a very holistic way of looking at how universities are doing engaged work with the community."
Campus Programs Spotlighted
Several programs were highlighted in the portfolio submitted to Carnegie to document how community issues and voices are integrated in all levels of the university's planning and programming.
One example is WINCART— Weaving an Islander Network for Cancer Awareness, Research and Training — cancer disparities project that connects faculty and students with community partners and other universities across several project components, including research, coursework and community health promotion.
Community service and civic engagement takes many forms and exists across the curriculum and all divisions of the university. Here is a look at some of Cal State Fullerton's community engagement offerings:
"Developing our portfolio for the community engagement classification was a bit like preparing for accreditation," Kim-Han said. "A campuswide committee of deans, department chairs, faculty members, student affairs and academic affairs representatives collaborated in identifying and documenting the various components of our submission."
The resulting document reflects how the community engagement goals articulated in the mission and goals statement are realized in all aspects of campus operations, from faculty recruitment and promotion to public events, such as cultural programs, athletic events and library services.
An Opportunity
"The Carnegie classification is an opportunity for the university to continue expanding and deepening its work with community partners, to provide curricular-integrated service experiences for students while responding to community needs," Kim-Han explained.
"Especially now in this economic downturn, Cal State Fullerton is a resource, a partner, and can be part of the solution for the community."
A total of 147 institutions applied for the community engagement classification in 2008, up from 89 in 2006. To date, 195 U.S. colleges and universities have received the classification, which is good for 10 years.
Founded by Andrew Carnegie in 1905 and chartered in 1906 by an act of Congress, the Carnegie Foundation for the Advancement of Teaching is an independent policy and research center with the primary mission "to do and perform all things necessary to encourage, uphold, and dignify the profession of the teacher."
Related Stories:
Students Give 700,000 Hours of Community Service