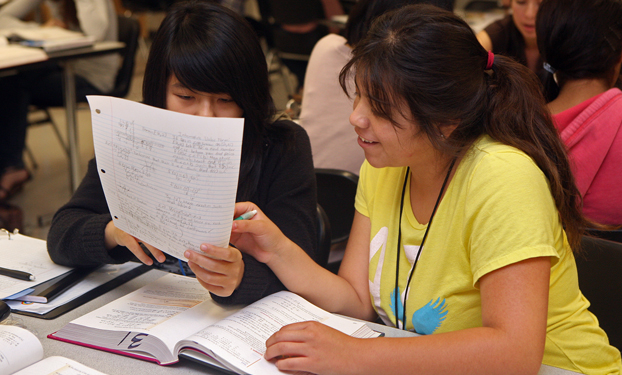 Caption: Agnes Tsang of Fullerton High School, left, and Yasmeen DeLaCruz, right, discuss a math problem during this summer's Project MISS. Photos by Greg AndersenDownload Photo
Project MISS Supports Girls In Pursuing Math, Science Careers
Local Teens Enrolled in Summer Math Program
Step inside a Project MISS classroom and visitors quickly notice that it's a roomful of girls. Even the instructors and tutors are all female.
It's no mistake. Project Mathematics Intensive Summer Session is designed to give young girls mentors, as well as the support and skills to become accomplished in mathematics.
Now in its 22nd summer, the four-week program is in full swing through July 29 with a record 204 students attending from schools in Orange County and surrounding areas.
Project MISS is geared toward underrepresented junior high and high school girls who want to improve their knowledge and grades in math, go to college and have a successful career in either science, technology, engineering and mathematics, the so-called STEM fields. This summer, 76 percent of the participants are Hispanic.
"It's a valuable program for young girls, especially underrepresented students, because they learn math and are armed with the skills to be successful in high school and in college," said David L. Pagni, award-winning professor of mathematics who founded the program in 1990.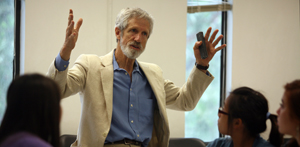 Caption: David Pagni, professor of mathematics and founder of the award-winning Project MISS program, addresses students during this summer's session. Download Photo
Pagni started the program to address the nationwide concern for a shortage of young people choosing STEM-related careers. Today, about 20 percent of the program's participants pursue a college major in a STEM discipline, Pagni said.
More impressive is that 98 percent of the participants attend college and 34 percent of the students enroll at Cal State Fullerton, Pagni added.
Doing the Math
Offered to the students at no charge, the summer program gives participants rigorous instruction in college preparatory math, including geometry, algebra II and precalculus.
Students attend class five days a week and receive six hours of mathematics instruction each day during the monthlong program. Pagni brings in guest speakers, all successful women in business, education and industry, who stress the importance of learning math.
Twenty-eight women teach the courses, including instructors who completed CSUF's math teacher preparation program, tutors who are math majors and volunteer tutors who are high school students and MISS graduates.
This year, participation increased — from 148 to 204 — with the inclusion of 70 students in the university's Gaining Early Awareness and Readiness for Undergraduate Program (GEAR UP) program at Anaheim, Katella and Loara high schools.
"We wanted to provide this experience to GEAR UP students so they can meet and see other girls who are motivated to go to college," Pagni explained.
In 2008, the university was awarded a six-year, $7.9 million U.S. Department of Education grant for the GEAR UP program to provide educational services at the Anaheim schools to help disadvantaged students prepare for and pursue a college education.
Support from GEAR UP and donations from local corporate foundations and businesses fund the summer math program. Faculty and staff members from the Student Affairs Division and the College of Natural Sciences and Mathematics also support Project MISS.
MISS Girls
Young girls in the program agree that they don't mind spending a month of their summer in the classroom because the benefits are worth it.
Harneet Kaur, a student at Oxford Academy in Cypress, applied for the program because she needed the extra help in math.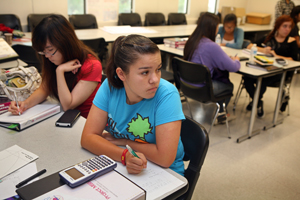 Caption: Nicole Arce of La Serna High School in Whittier works on a calculus problem during this summer's Project MISS program. Download Photo
"It's helped me improve my math skills, and given me that extra, motivational push," said the Anaheim resident who is taking precalulus and considering a career in math or the medical field. "It's not a waste of my summer. It's been fun!"
Nicole Arce of La Serna High School in Whittier, added: "I'm in the program because it will help to me to get ahead in math — and get into college."
Arce also is taking precalculus and plans to pursue a math or science career. She noted that the program makes learning math interesting and builds a sense of camaraderie.
"It encourages girls to succeed in math and inspires us that we can have careers in math."
July 26, 2011