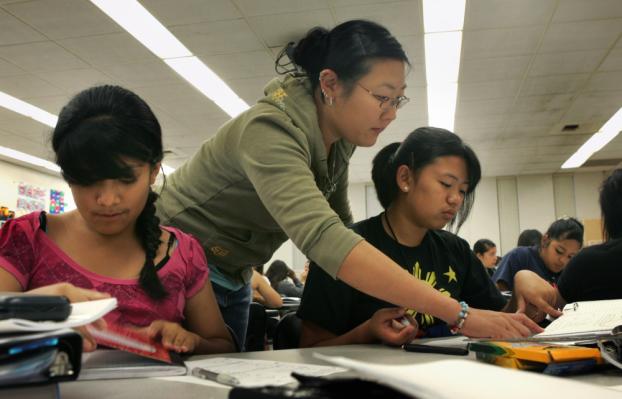 Caption: Maria Serratos of Sycamore Junior High School, left, and Janel De Guzman of Los Amigos High School learn about angles and arcs from Project MISS instructor Candice Harrington. Harrington, who completed her teaching credential in May at Cal State Fullerton, teaches at Capistrano Valley High School in Mission Viejo. Photos by Karen TapiaDownload Photo
A Good Example
Excelencia Foundation Recognizes CSUF, Project Miss
Cal State Fullerton has been named an Example of Excelencia finalist by Excelencia in Education, a Washington, D.C.-based national nonprofit group dedicated to furthering Latinos' education in the U.S. Three overall winners and the finalists were announced Sept. 29 at the group's Celebracion de Excelencia. 
The university, a U.S. Department of Education-designated Hispanic-Serving Institution, and its Project Mathematics Intensive Summer Session for intermediate and high school girls — most of whom are Hispanic — was cited in the recognition. Excelencia will put Project MISS into its Growing What Works database and in its "What Works for Latino Students in Higher Education Compendium." 
Project MISS, under the direction of its creator, David Pagni, professor of mathematics, brings girls from area high schools and intermediate schools to campus each summer for intensive training in mathematics. Since the program was begun in 1990, approximately 98 percent completed high school and went on to college, and about 20 percent of those majored in science, technology, engineering or math.
Project MISS exemplifies one of the university's initiatives to emphasize success in science, technology, engineering and mathematics. 
"I was a Project MISS student in 2005, when my geometry teacher encouraged me to go and I fell in love with it," said Cristian Bueno Correa, a senior math major. "It really worked for me and I gained confidence in everything I do. I have been a Project MISS volunteer tutor every summer since. I became a President's Scholar here at Cal State Fullerton and a math major and hope to soon become a math teacher. I've seen Project MISS help many girls gain confidence and realize they can get an education in whatever field they choose."
Nov. 30, 2010