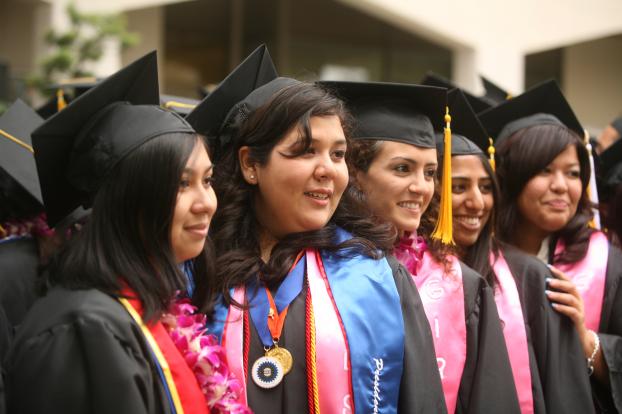 Caption: Project MISS alumna Cristian Bueno Correa, second from left, poses for a photo with her fellow 2011 graduates, from left: Helen Ho, Rita Khadige, Khushbu Bhakta and Roxana Rodriguez. Photo by Greg Andersen
Program Produces Success Story
Project MISS Student Comes Full Circle to Graduate from CSUF
CRISTIAN BUENO CORREA sums up why she has excelled in math: Project MISS.
As a high school student, she enrolled in the Cal State Fullerton summer math program for high school girls in 2005 and studied precalculus.
"It was a life-changing experience. I became more confident in math," Correa said. "I absolutely loved the program since it made math fun!"
The Fullerton resident's own life changed for the better when she came to study mathematics at the university in 2007 as a President's Scholar. Then last month, she became the first in her family to earn a college degree.
Correa earned a bachelor of arts in a double major: mathematics and Spanish, her native language.
"I came to Cal State Fullerton as a 17-year old girl full of dreams and fears. But today, I leave being the best I can be — unafraid of what is to come," she said.
Since 2006, she has served every summer as a tutor in the MISS (Math Intensive Summer Session) program. With grant funding, David L. Pagni, professor of mathematics, created the four-week summer program in 1990 to encourage young women to pursue college studies and careers in math and science.
"I tutor for the MISS program because I hope to be the change in the students' lives," Correa said. "I want to make a difference in their lives the way Dr. Pagni made a difference in mine."
Correa's career goal is to become a high school math teacher to encourage young students to be academically successful and college-bound. She will return to Cal State Fullerton in the fall to start the one-year teacher preparation program for the single subject credential in mathematics. Correa also plans to one day earn a master's degree in mathematics education.
"I owe my success to Project MISS," she said. "I wish every girl had the opportunity to attend MISS. But, mainly, I wish that every girl knew that no matter what their situation may be, there are always people willing to help, and there are always solutions to every problem. And most of all, to know that everyone can go to college if they try hard!"
MISS Education
Correa learned about Project MISS as a sophomore at Buena Park High School. Her geometry teacher encouraged her to apply for the program since he knew she liked math and wanted to build her skills.
Throughout high school, she served as a program tutor, continued to excel in math and had a desire to go to college. But, she faced one obstacle: Her mother could not afford to pay for her college education.
Pagni, however, encouraged Correa to apply to the President's Scholars program, which offers full scholarships to selected high-achieving students.
"Dr. Pagni wrote me an amazing letter of recommendation, and before I knew it, I was a President's Scholar, on my way to a great education in math. Looking back, Dr. Pagni was like the angel I needed. The scholarship helped me to get the education my whole family had dreamed of for me.
"Now, every summer, I volunteer with the MISS program, and I encourage all the students to apply to the many scholarships out there."
Her sister, Alexis, who will be a junior in the fall and is studying biological science and political science, is a current President's Scholar.
Besides the President's Scholars program and Project MISS, Correa said she is grateful for faculty members who mentored her.
Pagni and Margaret L. Kidd, associate professor of mathematics and adviser to SMART Girls Support Group for female math majors, both contributed to Correa's college success, she said.
"In the end, it's professors like Dr. Pagni and Dr. Kidd who truly make a difference in people's lives," said Correa, who also served as president of SMART Girls. "I know for a fact that I'm not the only student who has received amazing support from them. For the rest of my life, I will be grateful to them."
Giving Back to MISS
For the sixth summer, Correa once again will tutor for the math program. Project MISS, in its 22nd year, will be held July 5-29 on campus.
"Each year, Cristian has done a wonderful job as a MISS program tutor, growing in her ability to help the young ladies in the program," Pagni said, adding that he has placed Correa in a leadership role to train new tutors in the program.
Correa enjoys seeing the young girls understand math better, as well as sharing her own experiences in the program, and ultimately realizing a college education.
"I want to share all that I know so that they have access to all the opportunities I had access to, and more. Tutoring high school students is not only a passion of mine, but a bridge that helps me spread the love for math — one person at a time."
June 6, 2011