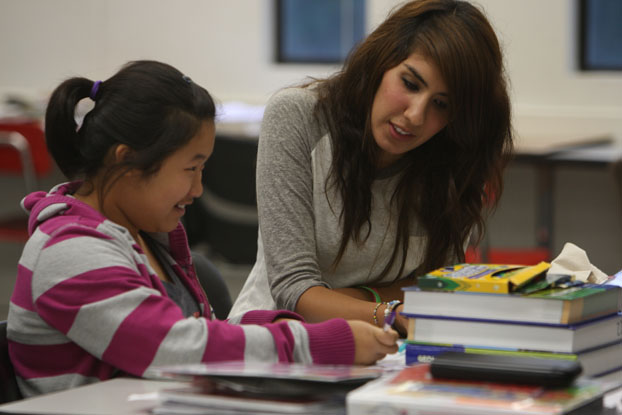 Caption: Chi Kieu of South Junior High School talks over a problem with MISS tutor Neha Arora during the 2010 session of the summer program. Photo by Karen TapiaDownload Photo
Advancing Math Knowledge
Local Schoolgirls Skip Fun in the Sun for Project MISS
June 30, 2011 :: No. 175
What:
During the month of July, 204 young girls from high schools and junior high schools in Orange County and surrounding areas will participate in Cal State Fullerton's Project MISS. Now entering its 22nd year, the program gives student participants intensive mathematics instruction in geometry, algebra and precalculus — and the confidence to succeed and reach the goal of earning a college education. There is no charge for students to attend.
When:
July 5-29

8 a.m. to 3 p.m. Mondays through Fridays
Where:
Cal State Fullerton

800 N. State College Blvd., Fullerton 92831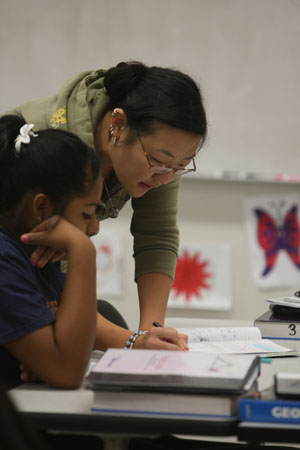 Caption: Project MISS instructor and CSUF alumna Candice Harrington works with one of the 2010 participants in the long-standing mathematics education program. Photo by Karen TapiaDownload Photo
Who:
Student participants come from Anaheim, Katella, Loara, Brea-Olinda and Garden Grove high schools, among others, as well as such Los Angeles area campuses as Gahr, La Serna, Cerritos, Santa Fe and Downey high schools.
Background:
In 1990, David L. Pagni, professor of mathematics and recipient of numerous teaching awards — including the Presidential Award for Excellence in Science, Mathematics and Engineering Mentoring, administered by the National Science Foundation — created the program to provide 10th- and 11th-grade high school girls with specialized math instruction. Over the life of the program, approximately 98 percent of its participants have gone on to attend college, about one-third of whom have enrolled at Cal State Fullerton.
Media Contacts:

David L. Pagni, Mathematics, 657-278-2671 or dpagni@fullerton.edu

Debra Cano Ramos, Public Affairs, 657-278-4027, 657-278-2414 or dcanoramos@fullerton.edu

Pamela McLaren, Public Affairs, 657-278-4852 or pmclaren@fullerton.edu